Innovative NvME VPS in New York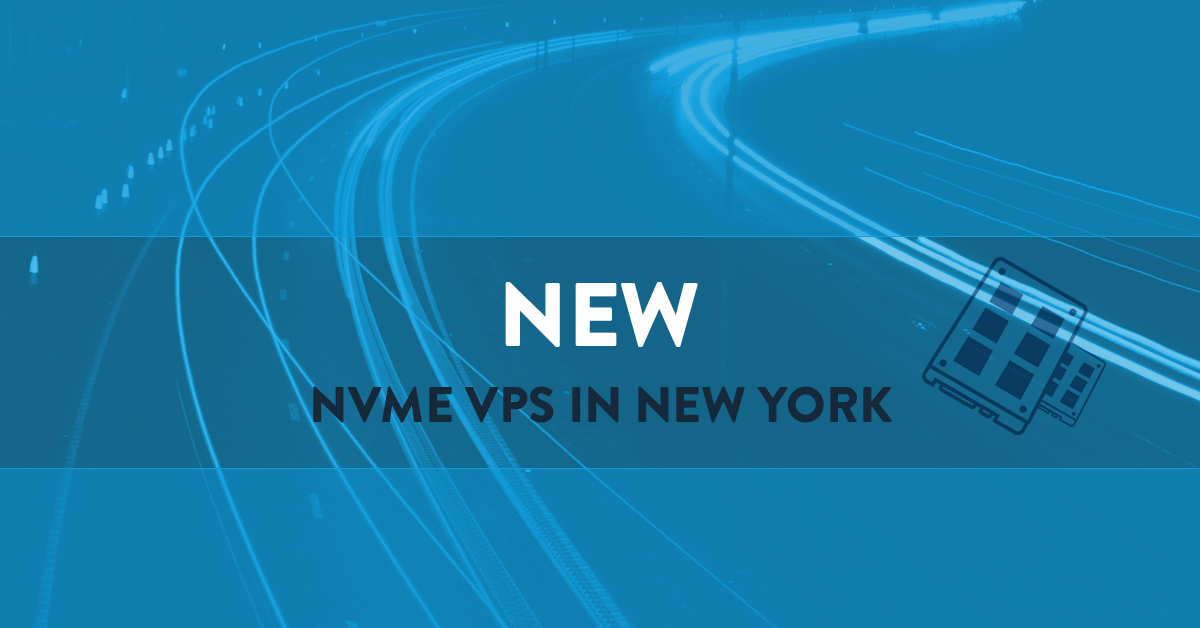 We are always looking for ways in which we can offer more to our loyal customers. This not only ensures you remain happy with our service but also that you get the best VPS hosting on the market. Wherever you are based in the world, we are committed to always upgrading and improving what we do to achieve this.
With this in mind, we are proud to announce news of the latest cutting-edge NvME storage technology being implemented in our New York location. The strategic location of this datacenter already makes it a great choice to deploy your VPS in for the North American region. The addition of this latest storage tech has made New York an even better option to take advantage of!
New York VPS just got faster
Already known as the city that never sleeps, our New York data centre just got faster! In truth, our VPS hosting location has always been a popular choice for VPS hosting. Located close to the lively financial district, it is also connected to all major internet providers via the huge New York internet exchange. The NvME technology that we have recently introduced though takes the service we offer here up another level.
This new NvME technology will be used instead of the industry standard SSD storage solution that was used previously in New York. While SSD is still perfectly fine to use, NvME just delivers more in terms of speed and innovation. As the latest and newest development in this area, NVMe VPS was just something that we had to put in place for our New York datacenter. The simple fact is that NvME is 5 times faster than SSD. This means faster load speeds and more responsive VPS hosting to take advantage of.
Do you want to know what is even better than this latest upgrade? We will make it available at the same fabulous prices we offered before, so you get the best deal around.
NvME tech explained
As the latest development in storage for VPS hosting, you may begin to hear more and more about NvME. This makes it essential to understand what it is and to have an idea of what it is about. As we have outlined above, the speed of access to data is one of the key elements of any VPS hosting. This is what makes your website handle requests quickly and have fast page load speeds. SSD was first developed to help achieve faster access speeds and still does a decent job to this day.
However, as people want faster and faster data access speeds then new tech has been developed to help. This is where NvME comes in. Standing for 'Nonvolatile memory express protocol', it connects via PCI Express buses or new connectors like U.2 or M.2. As these connections are more direct, the end result for the user is lower latency speeds, a reduction in power use and greater IOPS. The bottom line is that the NvME storage tech at our New York location will deliver faster speeds and other great features as noted above.
Silicon Valley upgrades and new European locations
It has been a very busy and exciting time for everyone here at VPS Server lately. As well as introducing NvME into New York, we have also been working on our Silicon Valley location too. The end result of this work is that Silicon Valley will be upgraded to a full location this month.
This is great news for any individual or business that lives on the West Coast of the USA. Silicon Valley is a real hotspot for business, especially tech and web development companies. By upgrading our datacenter there to a full location, we can do more to meet the expectations of our customers in the region. This is a great location as it connects to the California internet exchange which is one of the major ones in the West Coast region.
Not content with offering more in our North American locations, we also have plans across Europe for the future. Although we cannot release specific details of any new location as yet, we expect brand new locations to be operational in Europe soon. These will go with our other current datacenters in the continent, such as Frankfurt and Amsterdam, to offer more choice in VPS hosting for our European customers.
New features from VPS Server
We also have some cool new features to report that we are sure our customers will love. This allows us to constantly update what we do, in line with the feedback we receive from our fabulous community of users. From service updates to simple cosmetic changes, we are always looking to ensure the UX we offer is top-class.
But what new features are there to tell you about now? The major one is not quite ready yet but worth mentioning anyway. To help improve our service and functionality even more, we plan to release an API within the next 3 months. As with all API's, it will make it easier for websites to communicate with one another via the programming interface. If you have not heard already, we have also introduced a cool new start-up script feature. This allows you to deploy your VPS server with scripts on Windows and Unix servers.
Quality VPS hosting around the world
What all the above shows is how committed we are to providing the best quality VPS hosting on the planet. The team at VPS Server are always at the cutting-edge of the latest developments so we can offer them to our customers. Wherever you are in the world, there is a VPS Server datacenter close by to use for VPS hosting. As we open more and more locations, this will only become truer.
As well as continuing to open new locations in major cities and regions, we also promise to add new features that respond to our communities feedback. Our customers are our top priority and we do all we can to offer the best VPS hosting service around. Get in touch today for more details on our superb value packages and to see how we can help you.