Best Text-to-Speech Websites in 2023 [Your Complete TTS Guide]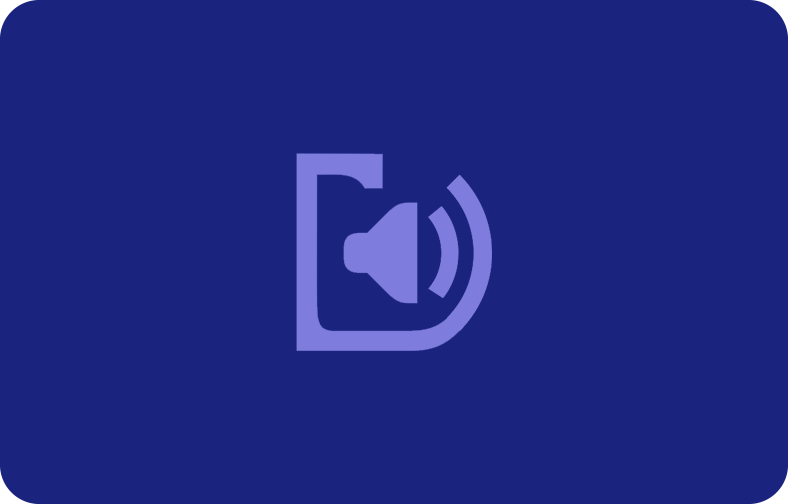 A text-to-speech software appealing to your audience is essential for a successful natural-sounding speech synthesis that brings your users to smooth-sounding audio files. Whether you are looking for a voice to cover an audiobook or a voice actor for a YouTube video covering news on a video game, we know the best text-to-speech websites that offer the best voices for your needs.
If you want natural-sounding voices, you should check out our recommended text-to-speech web pages that completely change how you approach audio and promote audio files to the world. All it takes is some user-based experience to give you the resources for the best options.
Not everyone has the budget to hire another individual for human voice-overs, so some websites have provided a natural-sounding AI voice generator to give your text some natural voices and expressions. Let's take a look at what are some of the best text-to-speech websites in 2023.
WellSaid Labs
WellSaid Labs web page is one of the best text-to-speech web pages that offer some of the best AI voices that sound incredibly natural. Although a bit pricey, you have massive control over how your audio file will sound with their high-quality text-to-speech tool.
Many users use WellSaid Labs for different professions or occasions, including Youtubers and Enterprise level businesses such as online conferences, tutorials for large companies, or any other legal-based operation looking for a professional and valuable website for natural-sounding voices.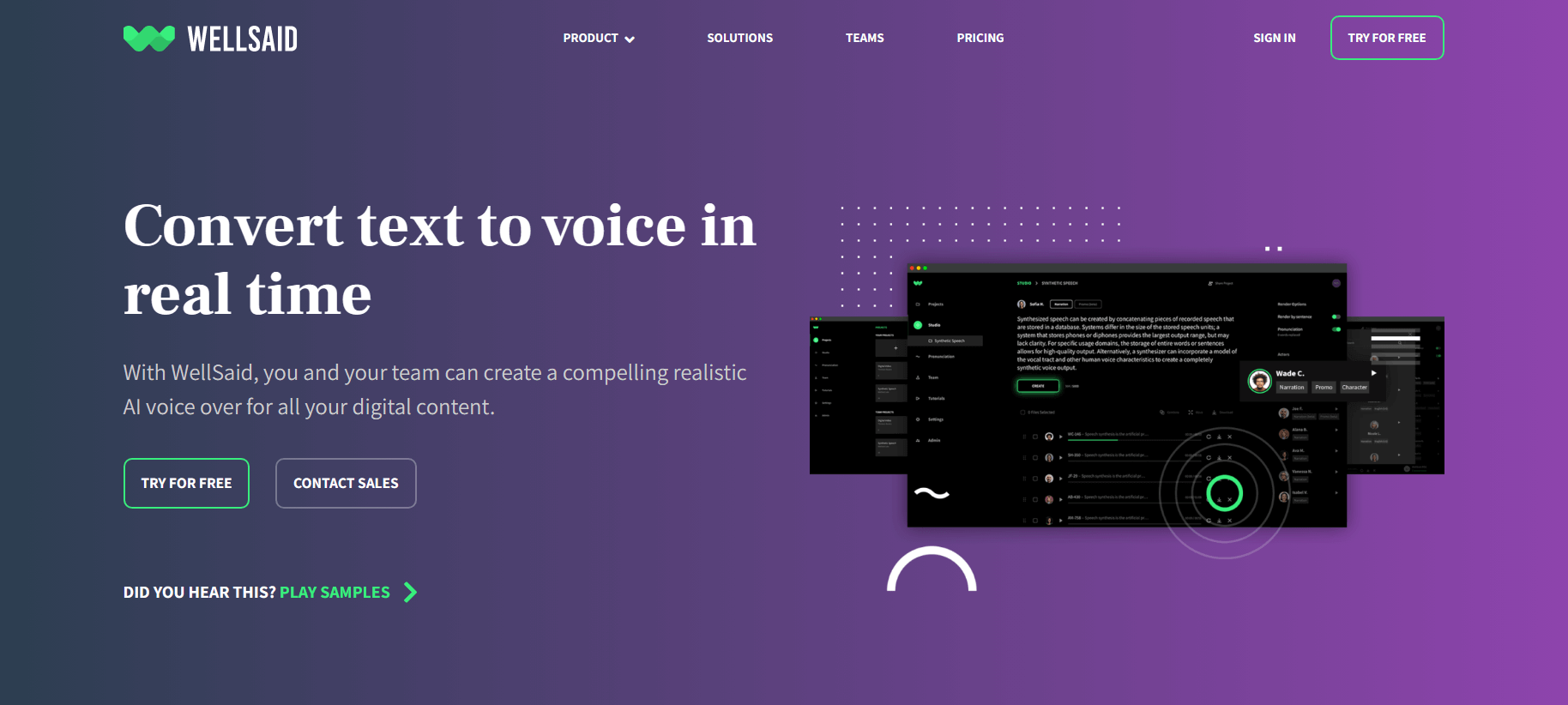 Pros
High-Quality AI Voices with Multiple English Accents

Extremely Professional Voices and Business

Large Quantity of Choices from Personal Use to Enterprise Use.

100% Legit Company with Reliable Resources

Create up to 50 Audio Files with 53 Different Voices on a Free Trial
Cons
Only Provides the English Language

High Prices between $50-$200 Monthly

Cannot Sign-Up with Personal Email ID
Our professionals recommend WellSaid Labs as they offer some of the best options regarding freedom of speech styles of use and professionalism. The best text-to-speech software styles WellSaid Labs provides are Narration, Conversational, Promo, and Character. However, most users prefer it as we recommend their Narration and Conversational options.
Website: WellSaid Labs
Murf.ai
Murf.ai offers more than just text-to-voice software but also a video editor that allows you to implement custom voice-overs into your video. So whether it's generating voiceovers for YouTube videos or presentations, Murf.ai is recommended by us for some of the most realistic voices.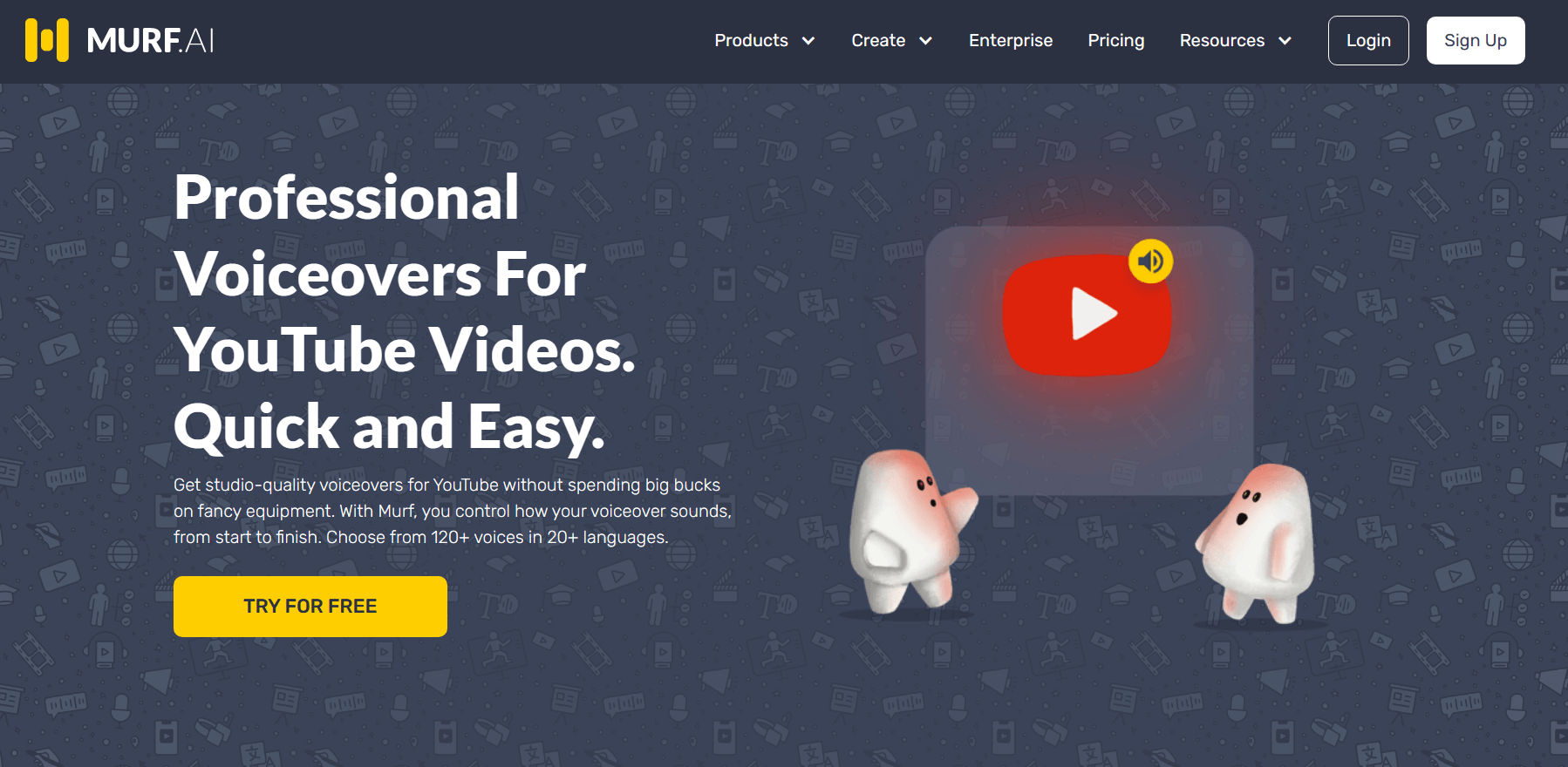 If you choose to use Murf.ai, you will experience many different options, and in our opinion would be an excellent choice for:
Foreign Language Learners. With over 20+ languages, this is an excellent platform for language tutorial videos.

YouTube Influencers or Gaming Tutorials. Murf checks for grammar errors in the script, free background music, trimming music and video, and much more that YouTubers look for.

Beginner Friendly Editor. If you are a beginner, Murf offers straightforward editing prompts to achieve what you need.
Pros
Free Plan Offering 10 Minutes of Transcription and Voice Generation with Access to 120+ Voices

Customize Voice Over, Add Pause, or Completely Edit the VoiceOvers

Text to Speech Software for Female and Male Voices in Over 20 Languages

100+ Alteration Options to Each Voice to Perfect it to Your Standard

Great Voice Quality

Low Price for a Huge Service
Cons
Many Different Rules on What Words You Use (Possible Bans)

Limited to Professional Use
There have been many complaints about Murf.ai regarding their flexibility in personal use, which has turned many heads away from this product. On the other hand, we have experienced a top-tier response from Murf.ai with great custom voice settings and optional full voice recordings and samples.
Website: Murf.ai
Speechify
Speechify is one of the best text-to-speech websites for fast AI-powered text-to-speech conversion. If you want to convert text quickly and experience a free and cost-friendly platform, Speechify does the job the best.

If you pick Speechify, here are some of the possibilities you can explore while using this platform:
Great For Beginners. Compared to other platforms, Speechify gives free users access to up to 1500 characters and natural-sounding voices and easily converts text to speech software.

Convertsguage Learners. With the ability to change the reading speed, the versatile AI voice generator allows the listener to practice fluent audio files in over 15 languages.

For Audio Books. Speechify offers unambiguous and direct converted text to AI voice for easy listening audios for those with ADHD, Vision Impairment, or Dyslexia.
There are many pros to using Speechify, and it has been one of our favorites in 2023 as a highly professional and easy-to-use free trial. However, before continuing to use Speechify, be sure also to consider the cons as there can be some limitations and values of the price compared to other competitors that do not reach as decently.
Pros
High-Quality Voice Overs with Natural Sounding Voices

Adjust Reading Speech to your Desired Speed

Save the Converted Audio File on any Devices you wish

Over 30 Different Human Male Voices and Female Voice-Over Options

Scan and Convert Text Options

Various Languages for Learning Opportunities
Cons
Free Version only Accesses the Basic Voice Overs

Only Offers the Free Version or Premium, which is $139 Per Year
We recommend Speechify as one of the best for easy beginner use, with great natural-sounding voices. With over 15 languages to explore, fast scan and convert options, and adjustable reading speed, there isn't much more you need to have successful and natural-sounding audio files.
Website: Speechify
Synthesys
We love Synthesys for how easy it is to use this platform. Not only is Synthesys user-friendly, but has excellent commercial options involving fantastic natural sounds that can boost your text-to-speech files.

If you choose to go with Synthesys, consider below the most famous options of use for this specific business:
Podcasting. This is the best text-to-speech option if you are looking for a smooth, quick synthesiser for natural-sounding speech.

Radio Commercials. Synthesys is exceptionally user-friendly, allowing a quick 3 step solution to get commercials up and running on the radio.

Documentaries. With the optional tones and accents that are practically unlimited, you can find the perfect smooth BBC-style manner that fits any documentary type of your liking.
Synthesys offers some great features, including a fantastic user-friendly interface that we love to include in some pros. Make sure you look at some of the pros and cons of using this platform to ensure you choose the best options for your company or personal use.
Pros
Cloud-Based Application

Large Variety of Natural Sounding Text to Speech Software

Create and Sell Unlimited Kinds of Voices

Extremely User-Friendly Interface
Cons
It is a Bit Pricey, Ranging From $29-59 Per Month

Not Good for Agency Users

It can Take Time to Generate Videos
Overall, there is no bad coming from Synthesys, as many users have reviewed this platform as an excellent resource for many text-to-speech files. We highly recommend this website as a fantastic long-term option for converting your text file over to speech software with great AI voices and overall quality.
Website: Synthesys
Speechelo
Speechelo is an excellent and affordable alternative to many text-to-speech tool competitors. Not only is Speechelo affordable, but you will only spend a few minutes completing a perfected audio file with everything you need. If you struggle with speaking a defined English accent, Speechelo will perfect it for you and give the voice sound of your audio a sense of professionalism and character.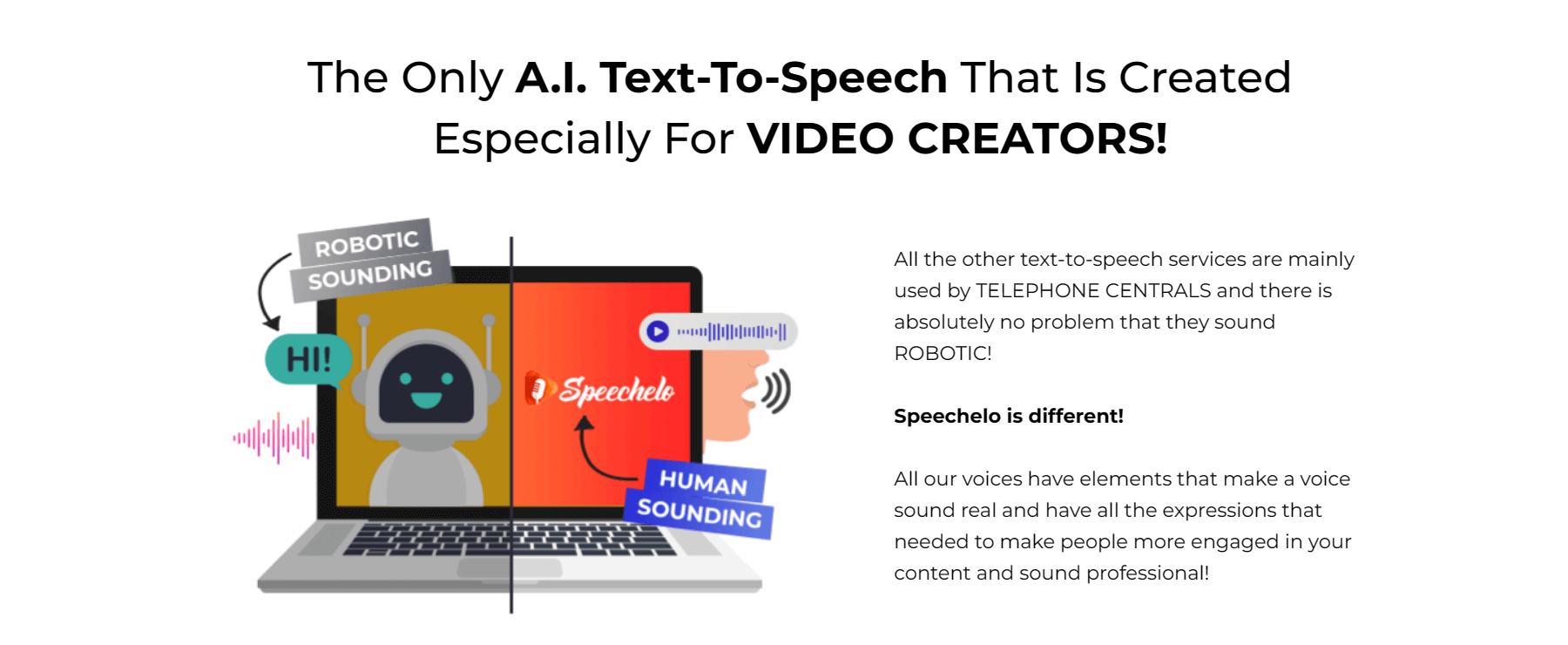 If you are considering Speechelo as your primary text-to-speech software, consider the following reasons users love to choose Speechelo:
Great for Any Video Creation. Speechelo works with any video creation software such as Camtasia, Adobe, Premier, or iMovie, which gives it superiority when used for many different kinds of videos.

Fantastic for Professional Production. You can explore three different tones: normal, joyful, or serious. Depending on your field of requirements, this can be highly beneficial.

Great for Foreign Languages. Up to 26 languages are given on this platform, including English, Arabic, Russian, Swedish, Spanish, Portuguese, and much more.
Not only is Speechelo used by Youtubers, but it is also one of the best regarding voice clarity and fast conversion. So if you are looking for software that does speech voices and is fast to respond with excellent quality, we highly recommend Speechelo for its performance.
Let's look at some pros and cons of using this software to learn how well it functions.
Pros
Best voice clarity and tone for AI voice structures.

Include breathing noises or additional pauses for natural human voice compositions.

Fast software to convert text to audio (within seconds).

Includes a speech-to-text app so you can use the text-to-speech software.

Extremely simple to use for beginners.
Cons
The maximum video size is limited regarding the length of the voice-overs.

Without Speechelo Pro, you can only translate up to 23 languages.
Speechelo is an excellent choice for anyone looking for multiple options within a free version of text-to-speech software. You get many of the most basic needs for any text-to-speech platform for a reasonable price compared to its competitors.
Website: Speechelo
Nuance Dragon
If you are looking for the best text-to-speech software with speed and accuracy, Nuance Dragon is the best AI-Powered full speech solutions text recognition solution. This platform can be easily used for personal or professional services. Nuance Dragons run on cloud solutions and data centers that are geographically dispersed.

If you are considering using Nuance Dragon, here are the considered reasons users prefer to use this text-to-speech software over other competing platforms:
Great for Companies. Nuance Dragon uses Microsoft Azure as their infrastructure, giving your audio files the confidentiality and certifications you need for highly secured text-to-speech files.

Great for Independent Video Editors. If you have many clients or use text-to-speech software at a professional or industry level, Nuance Dragon is one of the best to consider.

Great for Legal Purposes. Nuance Dragon is perfect for users looking for a platform that ensures the security and safety of their text-to-speech files, such as medico-legal fields.
There are other excellent pros and cons that we and some users have faced when using Naunce Dragon. Be sure to consider these before making a large purchase on this platform, as we know not every platform is for everyone depending on intentions.
Pros
Supports HIPAA requirements essential to ensure the highest security in public sector settings.

The best-diversified platform for multiple different professions

Compatible with apps like Dropbox and Evernote

Wide-set feature, including web search or documentation
Cons
Expensive for personal use

Not useful for only a one-time solution

Requires a few times before AI voices and the reader understands the text
Nuance Dragon is excellent for those in legal fields or creates text-to-speech audios for a living. We recommend this text-to-speech software to provide the most professional voices and security there is out there. Although, you should consider the Legal/Professional prices at $500 while the Individual sits at a hot $200 price tag.
Website: Nuance Dragon
Natural Reader
If you are looking for a great personal use option for your text-to-speech files, Natural Reader is great for personal use and ease of learning for newer users. It also has an excellent free opportunity for free rein to Natural Reader's features.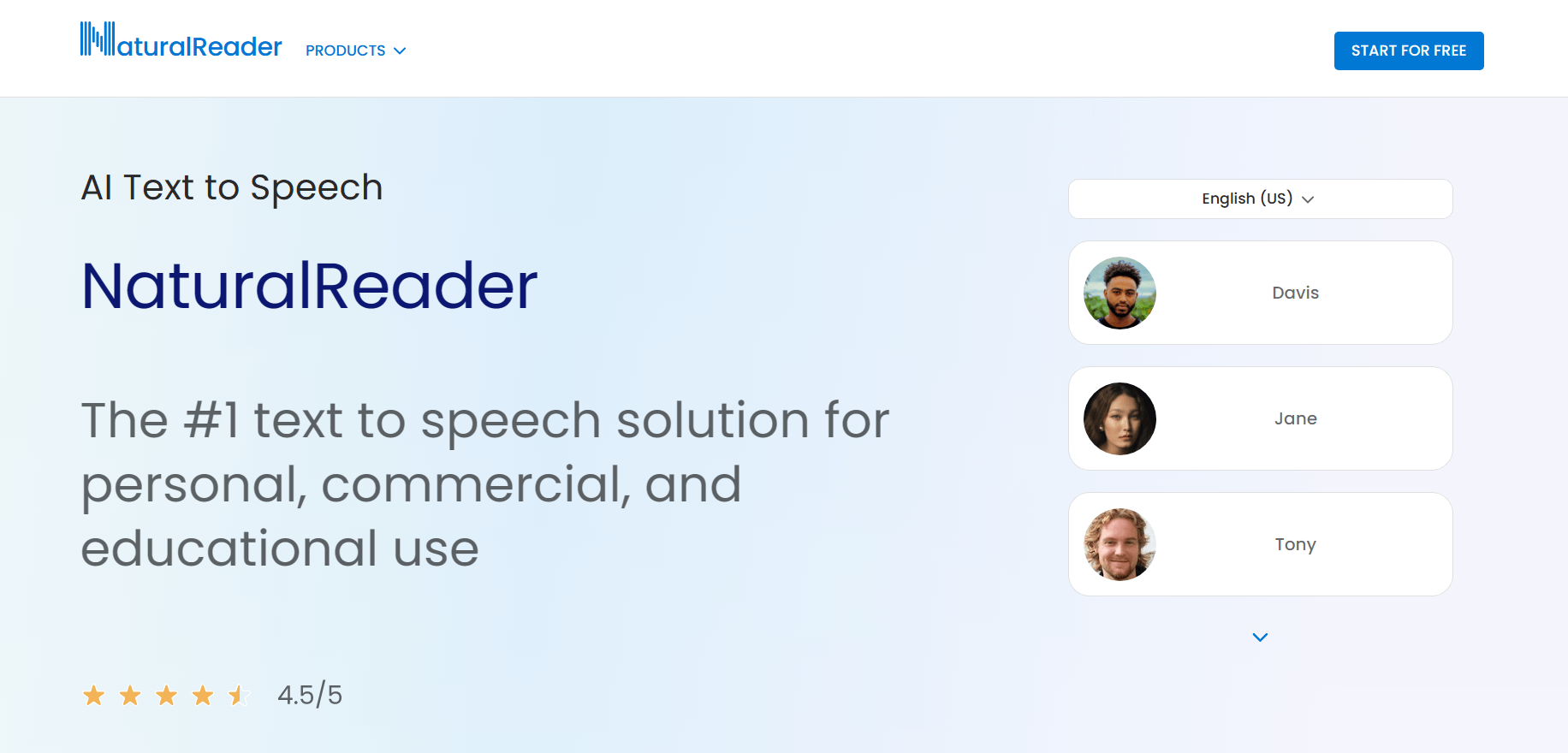 If you are considering using Natural Reader, here are the typical users who enjoy this platform and all of its features:
Great for Teachers or Learners. Many teachers and language learners love to use this text-to-speech software to teach their students or learn different languages.

Dyslexic Friendly. The font in this text-to-speech software has been notably great for dyslexic readers.
There are many simplistic reasons many individuals love to use this AI-powered speech synthesis besides the significant factor of a free trial.
Pros
Free 7-Day Trial

Easy to use for students or beginners

Built-in browser feature

Variety of interface choices

Built-in OCR
Cons
Voices can sound mechanical.

Outdated interface and could use a good upgrade.

High prices on an annual setting
Regarding Natural Reader, expect it to be one of the most basic text-to-speech software options available. Although you should expect prominent language tones, this software is not the best text-to-speech option for recording YouTube videos or other professional audio. This text-to-speech software is perfect for those in the teaching profession with a group of students.
Website: Natural Reader
Voice Dream Reader
If you are looking for a mobile option that is free and with some excellent quality, Voice Dream Reader is the best option. Although it was designed for Apple iOS users, you can still purchase the app on android for $9.99, although do not expect as high quality.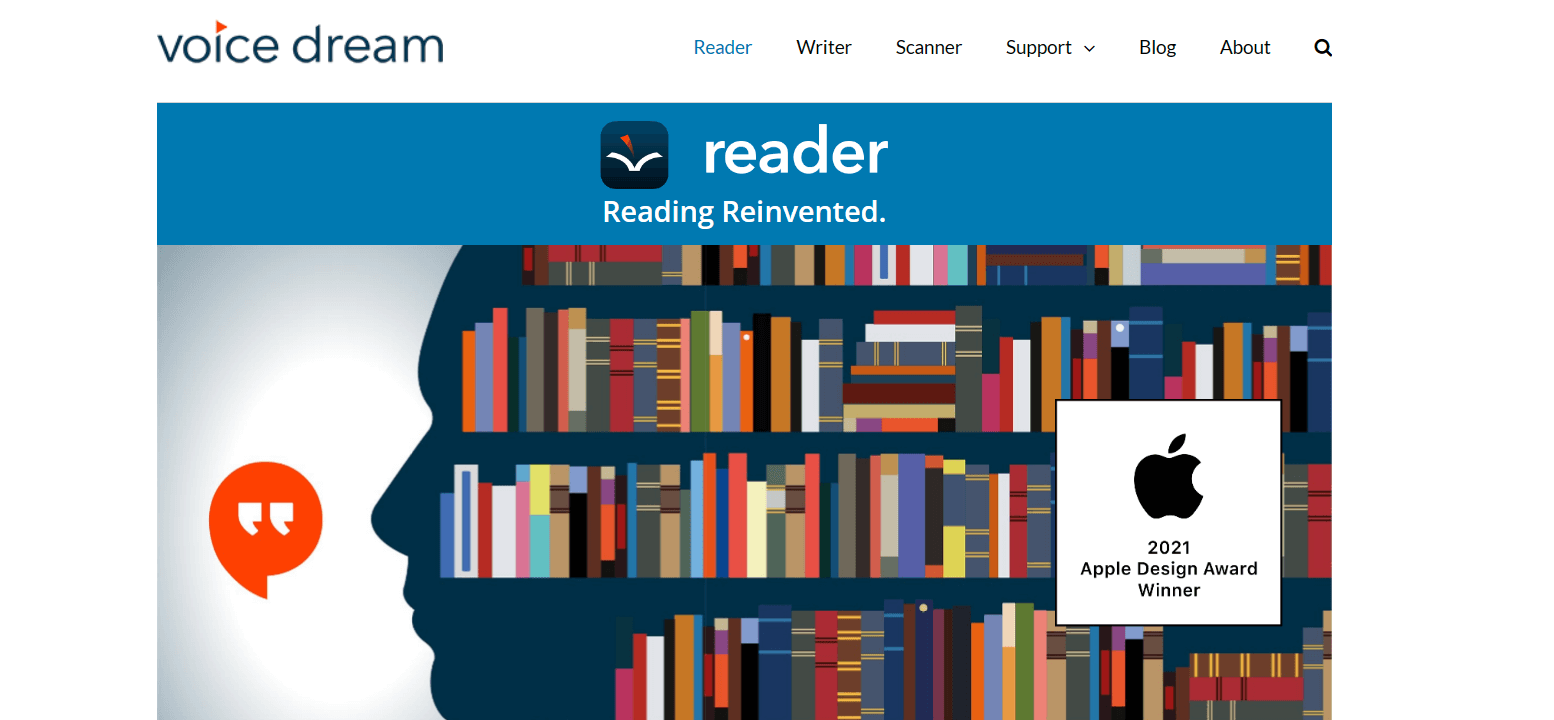 The main reason many users enjoy Voice Dream Reader is not only because it is compatible with Apple but also the fact that it is entirely mobile. Mobile text-to-speech software can be challenging, especially one with a free version. Typically, most users are your day-to-day people just looking for a quick conversion.
Pros
The free Version offers an extensive library of options despite not being the paid version.

Extra features include text highlighting, full-screen reading mode, dictionary research, and even creating or pinning notes.

Clean and optimized interface

Content can be uploaded from Google Drive and iCloud.

Over 30 languages and 200 voiceovers.
Cons
Optimized mainly for iPhone/Apple users

Not great for businesses or professional use for an extended period

Optimized mainly for mobile users only
Voice Dream Reader is one of the best text-to-speech options for those on the go or needing something optimized for their Apple products. With a built-in OCR and visual and audio controls, this is one the best text-to-speech options for mobile or anyone needing a quick and easy platform.
Website: Voice Dream Reader
Capti Voice
Capti Voice is a fantastic platform that incorporates universal design for speech solutions any person who needs to use it can. If you have any vision impairment or dyslexia, this platform has been known to have easy-to-read fonts and a quick-to-learn interface. You also can experience Capti Voice Narrator, which can audibly guide you through the platform and how it works.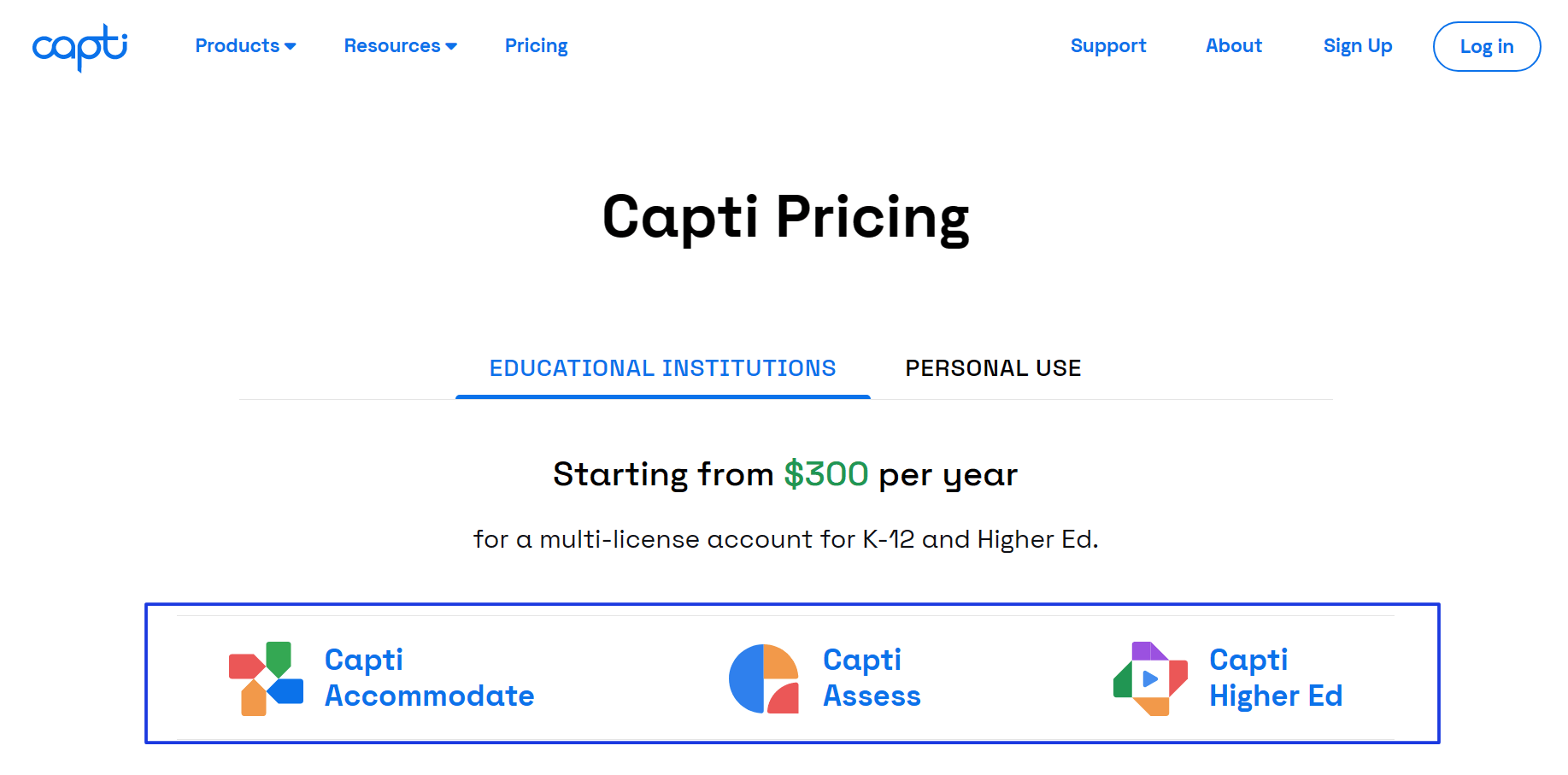 If you are considering Capti Voice as your text-to-speech software, consider these common reasons users use this platform:
Education or Easy Learning. With an easy frontal interface and even an offline feature, the educational components of this application are highly beneficial for young or old. So whether you are downloading e-books or need a language guide, Capti Voice offers it all.

Dyslexic Readers. Capti Voice is straightforward to use for those with dyslexia or visual impairments. With access to an audible narrator when you convert printed text to speech.
There are many pros to using this application, along with a couple of cons to consider when attempting deep learning to use this application. Keep in mind, though, that Capti Voice provides an app that is extremely rare to find for larger text-to-speech platforms. Depending on your device and compatibility, this can be a great plus or a waste of time.
Pros
Easily convert a universal range of documents such as HTML, PDF, Word, EPub, or Daisy.

Speech tracking word by word

Cross-Platform synchronization for optimized use on multiple devices.

Meager prices, with one week of free trial and a minimum of $2 per month (personal use only)

One of the best e-learning tools for all ages to quickly learn
Cons
Adding content from iPhone can be difficult.

The .pitch of the voice cannot be altered.

Some network connection issues
Capti Voice is an excellent option for educational institutions or personal use. Not only is the price relatively fair, but you have access to many different languages and voiceovers that thousands of users have used.
Website: Capti Voice
Depending on your reason for using a test for speech synthesis, there are many options to weigh depending on price, purpose, and overall quality. If you are looking into the best quality for the price, we have given some of the best selections, such as Capti Voice or Murf, which are just a couple of the most popular and best text-to-speech websites in 2023.
Frequently Asked Questions
What is the best text-to-speech for YouTube?
A few most popular websites for Youtubers are:
Speechify

Murf.ai

WellSaid Labs
Many other options are used, such as Amazon Polly and Azure, which are both great alternatives.
What is the most realistic text-to-speech?
Speechify, and Speechelo give great high-quality voices and many different alteration options to provide each audio with its own voice and a realistic tone.
What is AI text-to-speech?
Also known as neural for speech online text-to-speech, AI voices are leveraged by neural network and machine learning technologies, which create synthesize natural-sounding speech audios that can be provided through different web pages with or without better quality than the other.
How does AI Voice work?
AI voiceovers are completed by listening to the user's voice and converting it to text or a more direct voice line. AI voice can also read a specific text and give an audible life-like voice to written text within minutes through computer technology. AI voiceovers are very simple to use and do not require too much from the user, depending on your chosen platform.