How to Turn on Incognito Mode in Chrome, Edge, Firefox, Safari, and Opera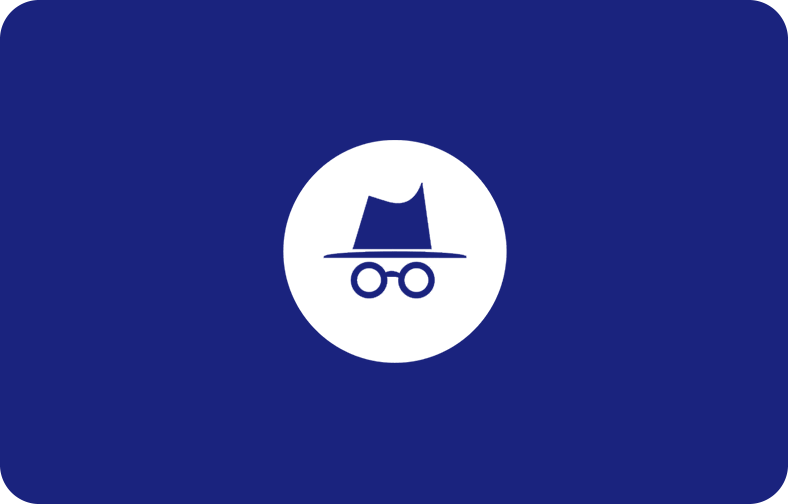 Incognito window is a private browsing mode that enables users to access the web without leaving any traces behind. It prevents browsers from recording the browsing or search history of the users. This unique feature started by Google does not save cookies or other footprints of the session, making it an exclusively private space to use the internet sneakily.
Incognito is a helpful tool that smartly conceals your data and the websites you visit. Almost every significant browser window offers the private browsing mode; however, its name may vary in each browser. It is named:
Incognito Mode in Google Chrome,

InPrivate in Microsoft Edge, and

Private Browsing in Safari, Opera, and Firefox.
The feature has the same function in all browsing windows regardless of its different names. Read more about Incognito browsing and how to open it in Google Chrome, Microsoft Edge, Mozilla Firefox, Apple's Safari, and Opera.
What is Incognito Mode?
Usually, web browsers store a record of the pages and websites you visit because of their default setting. However, the unique incognito windows feature limits these records and allow you to browse privately without leaving any trace. When you end private browsing sessions, the browser does not save cache, cookies, passwords, or browsing history.
Although the incognito window offers a private browsing mode, it is done only on the local device. It means the browsing history and other data are hidden only from people using the same machine. Your ISP (Internet Service Provider), the websites you visit, and even the servers you use to access your internet history.
The incognito mode does not entirely mask or block your IP address. However, you can use the anonymous method with more safety features in some browsers. Several browser extensions such as VPN (Virtual Private Network), Tor Browser, or proxy servers prevent your ISPs from tracking your web surfing. Choose an optimum VPS Server to stay secure while going incognito.
How To Open Incognito Windows in Different Browsers?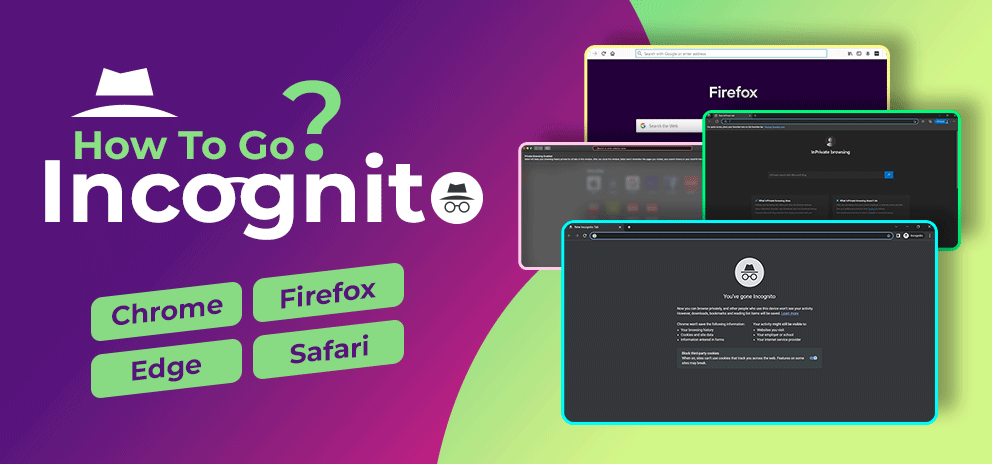 Irrespective of your web browser, almost all popular ones offer private browsing mode with an easy on-and-off system.
In most browsers like Chrome, Edge, and Firefox, you can turn on incognito mode within the same session. In these, all tabs and windows are a part of the same private browsing session and share the browsing data.
Other browsers like Safari consider every private tab and window a separate session. It does not amalgamate the incognito window within the one being already used and instead opens a new incognito window for the users.
Below are some popular web browsers and the steps to enter a private mode.
How to Open Google Chrome Private Browsing Window?
You can open Google chrome incognito or private browsing modes through two simple steps.
Click or tap on the three vertical dots ("Customise and Control Google Chrome" menu) in the window's top right corner.

A drop-down menu shows the third option as "New Incognito Window." Click on it to open a new incognito window.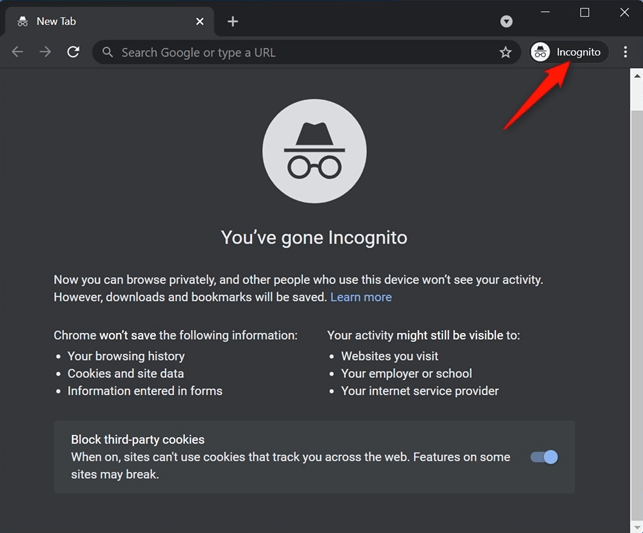 TIP: You can also use the shortcut key 'ctrl + shift + n' to open incognito mode in Google Chrome.
These steps can be used on all Windows, iPhone, and android devices. It is opened in a dark theme in Chrome to distinguish incognito mode. You can also recognize the incognito window by its logo (a creative image of a hat and glasses) on the upper right corner, on the left side of the three dots.
Once opened, the page shows the incognito icon with the message 'You've gone incognito.' All other tabs or tab groups opened in this window will also be incognito.
To exit private browsing mode, close the Chrome window. For iPhone and Android devices, click on the tab list in the upper right corner and complete the incognito tabs from that list.
How to Open the Incognito tab in Microsoft Edge?
Edge is the new name of Microsoft's earlier browser, Internet Explorer. Incognito mode in Microsoft Edge is called InPrivate Window.
To open a new incognito tab on the Microsoft Edge browser:
Click on the three horizontal dots in the top right corner ("Settings and More" option).

A list of the menu will open. Click on its third option, "New InPrivate Window", to open a new incognito window.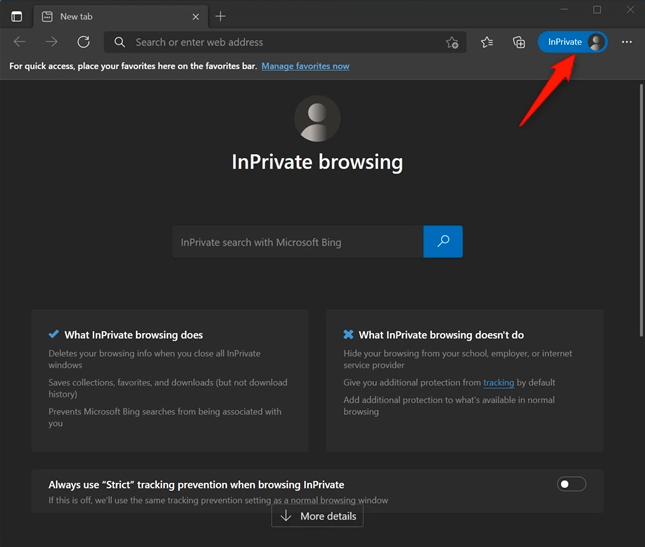 TIP: You can also press 'ctrl + shift + n', a keyboard shortcut command to open Microsoft edge InPrivate mode.
As the Edge InPrivate browsing mode page opens, it appears in the dark mode or black background. Moreover, there is a blue InPrivate logo on the left side of the three dots in the top right corner to help you check if you're using the private browsing mode of Edge. The page also shows instructions about what InPrivate browsing does and doesn't do.
Once you've finished browsing incognito, close the InPrivate browsing mode by clicking the X in the upper right corner. This would complete the entire window without saving any traces of your browsing.
How to Open Incognito Mode in Mozilla Firefox?
Mozilla Firefox browser's private mode is called Private browsing. Follow these steps to open a private browsing window in Firefox:
Click on the hamburger button ("Open Application Menu" option) placed on the top right corner of the Firefox menu bar.

Click on the third option, "New Private Window", from the drop-down list to open a private browsing window.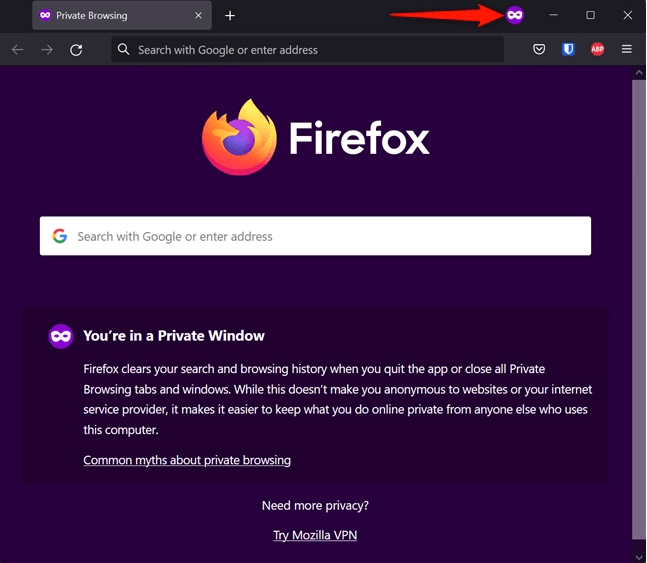 TIP: Use the keyboard shortcut 'ctrl + shift + p' to directly open the private browsing window. MacOS X's shortcut is 'command + shift + n'.
This would open the private browsing tab in a separate window with the message 'You're in a Private Window'. The browser expresses incognito mode by turning the window and bar color dark. Also, a purple mask icon appears in the top right corner and as the tabs icon.
To exit incognito mode in the Firefox window, close the private browsing window through the X in the upper right corner.
How to Open Apple Safari Private Browsing?
Safari is an Apple web browser that enables Apple users to browse the web privately on their MacOS X and iPhone/iOS. They also named incognito mode Private browsing.
MacOS X users can open Safari private browsing through the following steps:
On the menu bar, click on the File option.

Select the "New Private Window" option.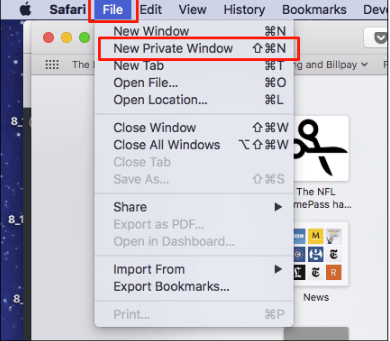 TIP: Open private windows directly using the shortcut 'command + shift + n'.
Those using Safari app on a mobile device, iPhone or iOS, can access private browsing by doing the following:
Open the Safari app on your device.

Click on the tabs icon in the bottom right corner.

As the following screen opens, click 'Private' in the bottom left corner and push it to the + sign in the middle.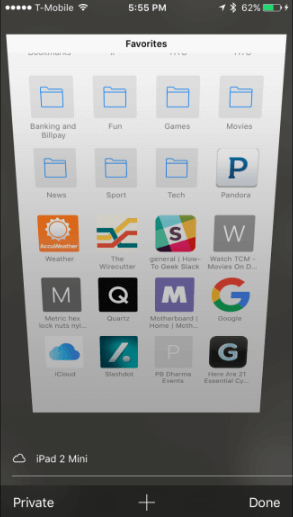 A private window will open that says 'Private browsing mode'. It reiterates that the Safari app will not remember your personal browsing history, the pages you visit, and AutoFill information.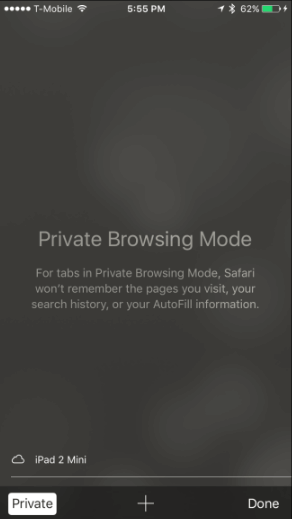 How to Open Private Browsing in Opera?
The incognito mode in Opera is called Private Window. Follow the steps to open a private window in Opera on your Windows, Linux, or MacOS X device.
Click on the Menu option in the top left corner, called Opera icon 0.

From the drop-down menu, select the third option, "New Private Window".

A new window will open with a purple theme to express private mode. It will contain the incognito hat and glasses icon in purple and show information about the private browsing mode.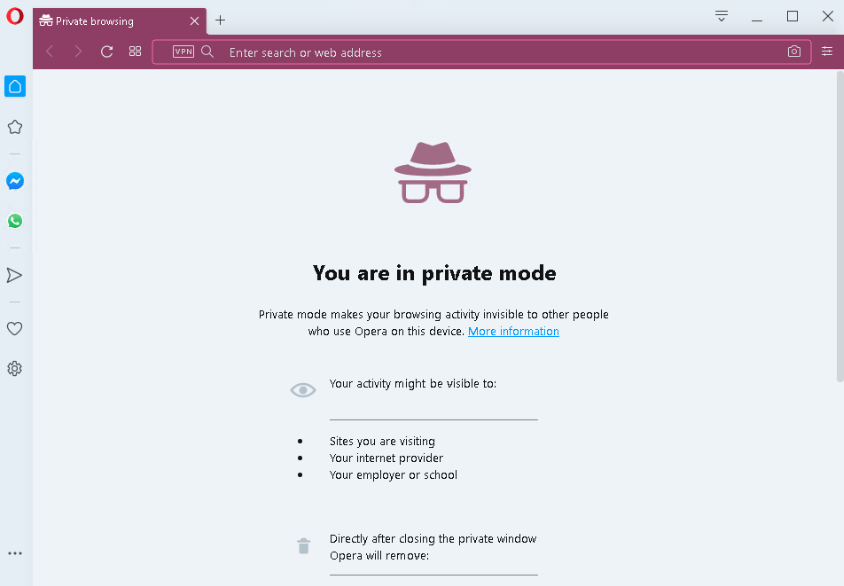 TIP: Alternatively, you can use incognito mode by pressing the shortcut keys 'ctrl + shift + n'.
For those using Opera on an Android device or iPhone, these are the steps to open a private window:
Open the Opera app on your device

Click on the tabs icon in the bottom right corner.

A screen appears with the 'Normal' and 'Private' options.

Tap 'Private', and a dark-themed new private window will open.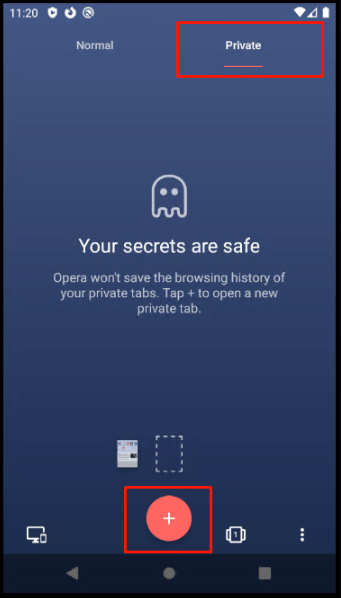 Close the incognito tabs or the entire window to exit the private window.
Incognito browsing or private window is convenient, especially when using a public computer. It hides your browsing history from other people using the same device. Accessing the web in incognito tabs stops the browser servers from saving your internet activities of that session.
Several web browsers offer this feature to go incognito, giving users online privacy. Now that you know how to open incognito mode in Chrome, Edge, Firefox, Safari, and Opera, check each to see which suits you the best.
Even though the feature is helpful, it is essential to remember that it does not ensure complete privacy. People sharing the same device may be unable to access your history, but it is visible to other operators like your ISPs, network admins, etc. While you can block third-party cookies on some browsers, not all can handle the advanced tracing tools.
So, browse privately to save yourself from unwanted internet ads and keep your search hidden. You can also opt for a VPS Server that can use browser extensions like VPN for more safety in your private browsing window.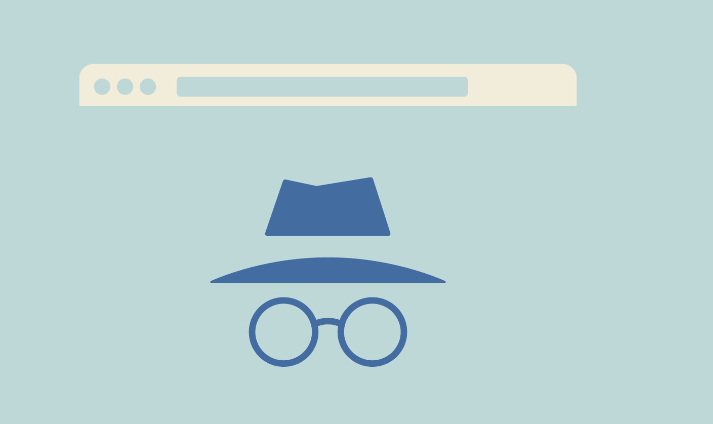 Frequently Asked Questions
Why should you use incognito mode or private browsing?
Private browsing offers privacy by restricting other users from checking your browsing history. Accessing the web on a private window prevents websites from collecting cache and cookies to trace your online activity. As a result, you won't see any online ads related to your search history and the websites you went through.
Can I activate incognito mode on my Android device?
Incognito mode is available in almost all popular browsers and can be accessed on your Android device, tablet, or desktop. You can go incognito to hide the traces of the websites you visit during that session.
What is the shortcut key to open incognito mode?
Apart from opening a private window by going through the menu options, you can also use the respective shortcut keys for different browsing windows. Usually, the shortcut command for opening an incognito tab is 'ctrl + shift + n'.
Are there any merits and demerits of the private mode of web browsing?
Following are the merits and demerits of incognito browsing:
Merits of incognito mode: privacy on shared devices, prevents web-tracking to some extent, manages browser extensions, protects sensitive information, allows you to log into multiple accounts on a single website, etc.
Demerits of incognito mode: IP address bar remains visible, network admins can monitor your activities, keeps you vulnerable to malware, etc.
Who can check your incognito history?
Even if you browse privately to hide your internet activity, it is still accessible to the website you visit, your internet service provider, network administrators, and search engines.
How safe is it to browse privately?
Although browsing the web privately hides your internet activity from other users locally, it does not necessarily mean you cannot be tracked. Private window browsing is unable to conceal your search activities from third-party websites.
Even though you can block third-party cookies in some browsers, they cannot stop advanced tracking tools like browser fingerprinting. The private window fails to hide your IP address also. Thus, it is not always safe or keeps your internet activities hidden.