Top 10 Remote Management Tools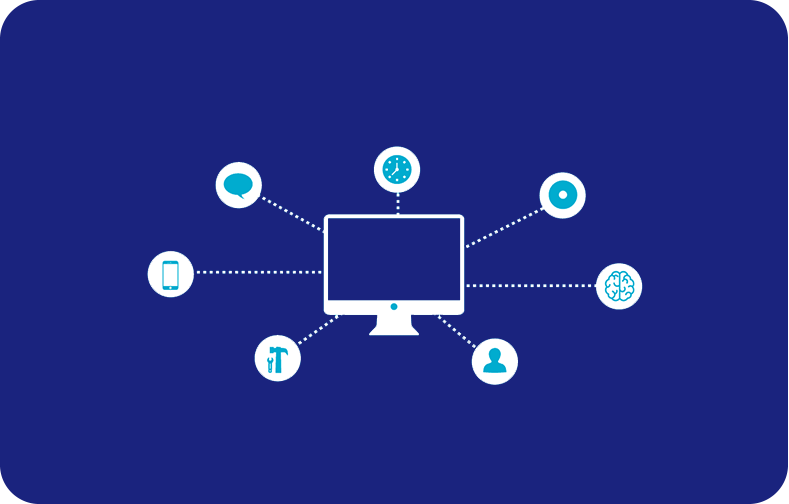 Remote management tools allow the users to control their computer from another computer, sitting at any remote location. Commonly known as Remote Monitoring and Management RMM tools, it helps managed service providers offer proactive and remote computer, network, asset management, and endpoint protection.
Earlier, support technicians had to visit each computer physically to examine desktops in different offices. They had to install the software in every system personally, look after patch management, and explain the software usage procedures to people. However, accessing other computers remotely relieves them of this roaming around to different locations.
Understanding the usage of RMM tools and accessing systems remotely is not that complex. It comprises two components - a Host and a Client. The computer in which the software is installed is called the 'Host.' The other computer that connects with the host and controls it is called the 'Client.' Clients must have the proper credentials to connect and access the host.
4 Characteristics of a Good Remote Management Tool
An excellent remote management tool is easy to manage and use. As numerous types of software can handle remote monitoring and management, choosing the one that offers the best services and is most useful for your operating system becomes complicated. A few essential characteristics can turn any remote monitoring software into a 'good' one. A few of those characteristics include:
1. Convenient
One of the significant characteristics of management software is that it should be easy to use. Although your IT guy handles the responsibility of installing and managing the operating system and monitoring, the interface of any remote access app should be convenient and easily understandable even to non-technical individuals.
2. Agile and Secure
Management software needs to be fast and safe. You should look out for laggy software and avoid them at all costs. The superior remote access software quickly connects your device to end-users and other unattended computers. It also ensures high-end security during the connection.
3. Easy to Set-up
The time of slow downloading speed has gone. The current times have loads of super fast software set-up methods, which makes them easy to install on a device. Some remote ones take only a few minutes, if not seconds, to set up. This software must be installed just once on the remote management device. Afterward, you can access the rest of the computers from within the browser. You can easily find the installation option for Windows in the Manage optional features menu of the 'Manage op' section.
4. Affordable
Even if centralized remote monitoring and management software offers multiple features, they are useless if the software is too costly or out of your budget. When looking for remote monitoring and management software for yourself, check the price it offers for one session. Since most businesses do not need IT professionals to be on continuous active sessions, you can deduct the pay-per-seat option.
Top 10 Remote Monitoring and Management RMM tools
Several remote monitoring and management tools offer distinctive features for users. Although each has its qualities, many share a mutual connection of easy installation and easy-to-use features. With these secure and stable networks, you can access your or someone else's devices and services remotely.
Here are some of the top RMM tools used by managed service providers:
1. TeamViewer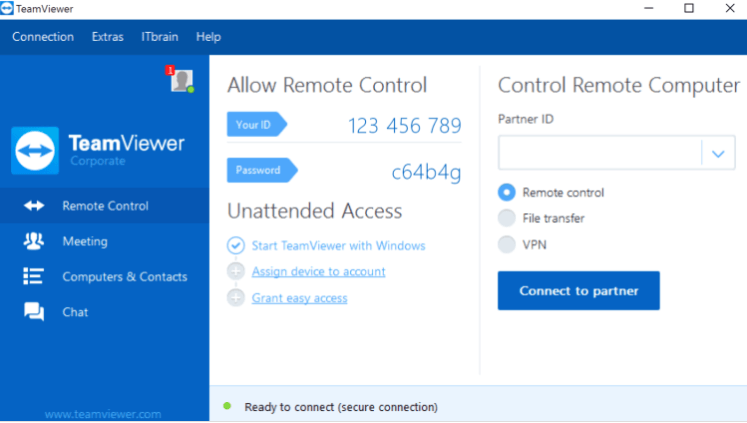 TeamViewer remote management is a complete remote control, remote access, and support solution. It provides a comprehensive and centralized teamviewer remote management, monitoring, and management platform. This platform enables you to work from home efficiently from a central location, enhancing employee and customer loyalty.
The TeamViewer remote management solution also assists in monitoring business-critical aspects of IT infrastructure. It is a patch management tool that detects and patches software vulnerabilities and protects the system from external threats.
Prominent features of this remote management TeamViewer this remote management teamviewer include remote access deployment of RMM software over distributed devices and networks, a single dashboard for asset management, and monitoring availability and problems of network devices like routers and printers. In addition, it handles web monitoring that analyzes and improves website transactions and load speeds.
2. RemotePC
RemotePC is an effortless remote monitoring software with a "flat learning curve." It has an absurdly intuitive interface that is exceptionally convenient to use. RemotePC is among the most affordable tools that give up to a 50% discount on first-time sign-ups.
Apart from being affordable, it offers speedy file and folder transfer between Mac and Windows servers, an always-on access remote, and a multiple monitor display system. Moreover, users only have to install RemotePC on remote computers. They can access the other PCs from within the browser.
3. AnyDesk

AnyDesk is one of those management tools that check out all basic-requirement boxes. It is a pocket-friendly, convenient, and super-fast software that can manage various tasks. It does not hog your CPU and is a straightforward remote desktop services tools. Although it does not entertain advanced features like other remote desktop service tools, it accomplishes the basics of a software tool's needs.
AnyDesk has features like multi-screen support, view-only mode, and file transfer. It also offers various handy conveniences that are still unknown to many users. These include swift recording and viewing of session recordings. Moreover, it allows users to automatically find all AnyDesk clients within the local network and devices connected previously.
4. Splashtop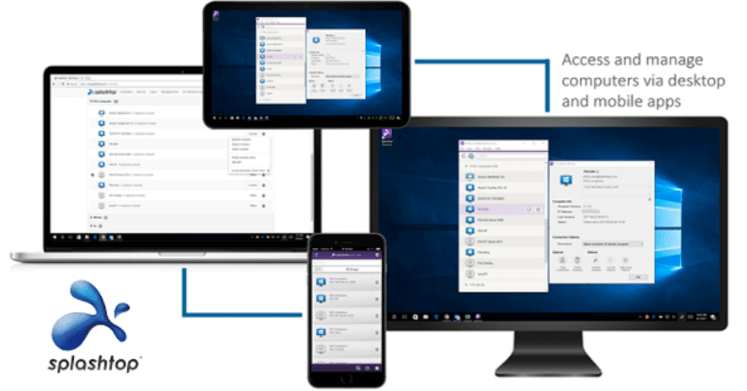 Another popular management system with multiple platforms is Splashtop. It is affordable for many as it has a much cheaper annual plan. Many users name it a "hidden gem." The most prominent feature of Splashtop is that it can handle multiple devices without a hitch. It can support over 250 devices simultaneously.
Splashtop's other perks include speedy customer support, efficient user management, and a multi-to-multi monitor system. Thus, the multiple systems platform helps MSPs manage several devices simultaneously while keeping their data secure and pocket-friendly.
5. Zoho Assist
Zoho Assist works as the best remote software for Zoho users. It has a tight integration with the Zoho desk, allowing system administrators and IT teams to identify and troubleshoot customer problems. As a result, it accelerates the ticket resolving time.
Zoho Assist can be combined with Zoho SalesIQ to enhance interaction with clients and other prospects by administering their devices and offering services remotely. It also connects easily with Zoho Lens, an AR remote support app that helps MSPs guide customers through their smartphone cameras.
6. Atera
A cloud-based platform that manages IT infrastructure and services, Atera is an optimum all-rounder RMM tool. It offers customers an integrated management solution that includes remote access, patch management support, a ticketing system, professional services automation, reporting, remote monitoring, management RMM solution, etc.
Atera is built for IT infrastructure consultants, other departments, and managed service providers. Some key features include an intuitive UI that is easy to use, affordable pricing, no-contract solutions, and an all-in-one integrated system monitoring. Atera is the ultimate remote software tool that every IT professional must use.
7. NinjaRMM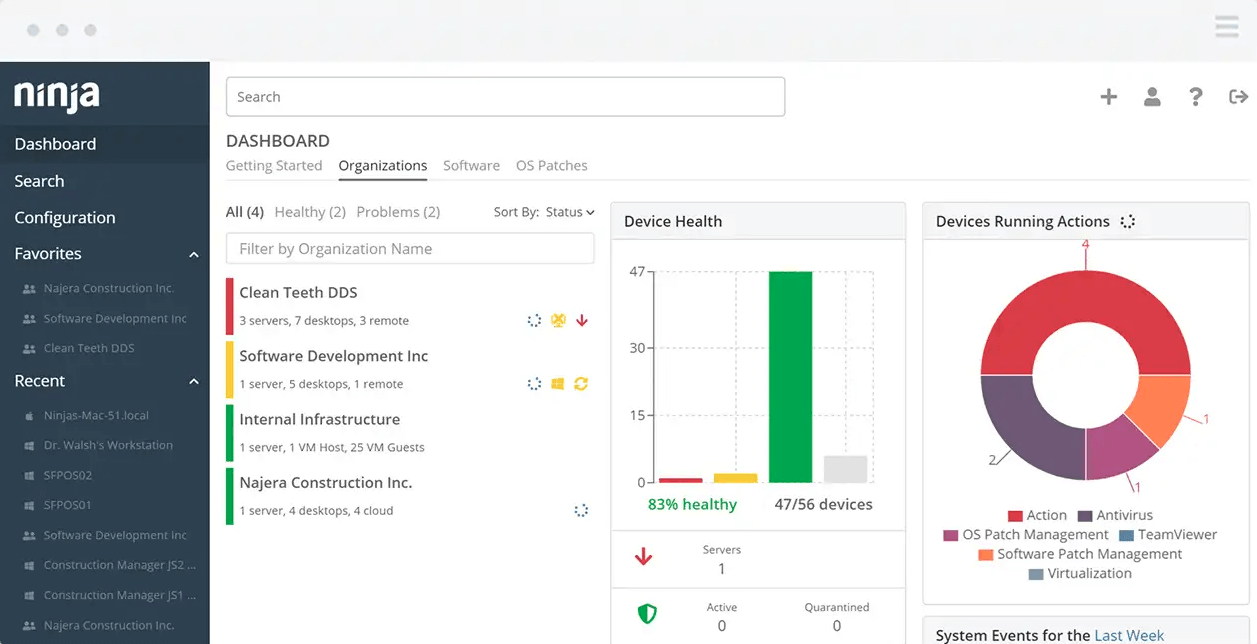 Another top-rated remote management tool, NinjaRMM, provides the best RMM solution with robust management and real-time monitoring. It offers endpoint protection for all VPS servers, including Mac, Linux, and Windows, and helps manage VMWare and Hyper-V virtual machines, networking devices, and cloud IT infrastructure.
This monitoring system offers users security, patch management, and monitoring ability and enables users to work with any network-connected endpoint without requiring a company domain. The patch management service of NinjaRMM enables users to resolve issues across Mac, Linux, and Windows operating systems. It also offers third-party app patching for over 120 apps on a Windows server.
Key features of NinjaRMM include secure one-click remote access, seamless cloud backup, single console security management tools, cross-platform access for monitoring and managing RMM tool, end user self-service, cross-platform access, etc.
8. Dameware
Dameware remote monitoring and management is an easy-to-use remote desktop control system. It helps IT, system administrators, and support technicians manage IT infrastructure. Dameware also offers Android and iOS mobile apps to access remote monitoring of devices.
Apart from remote services, Dameware offers several other features, such as rebooting, copying, and deleting files on remote systems. Moreover, it can initiate remote monitoring and management with other devices over LAN and the internet. It also offers Transmission Control Protocol (TCP) and system tools to troubleshoot without a complete remote monitoring session.
9. ConnectWise Control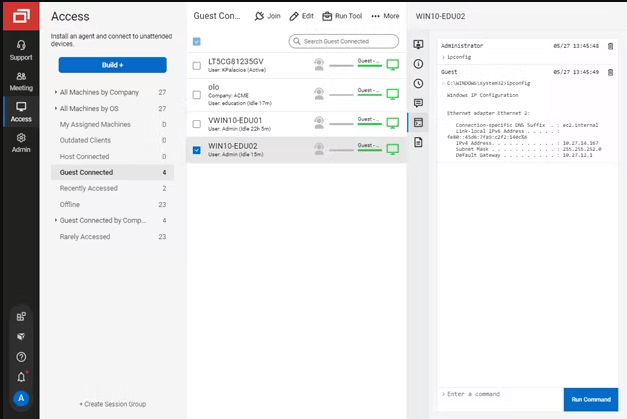 Formerly known as Screenconnect, ConnectWise Control is highly rich in features. It offers a comprehensive remote desktop control solution. It is divided into three solutions: ConnectWise Control Premium, ConnectWise Control Access, and ConnectWise Control Support. These are individually tailored per clients' requirements, ranging from individuals to MSPs.
Its prominent features include drag-and-drop file transfer, safe mode restart, lightning-fast connectivity, resizing session windows, and lockout control. This agent software provides top-notch security, customization, role-based security architecture, and hundreds of integrations and extensions.
10. SolarWinds RMM
The SolarWinds RMM offers remote management tools that allow users to monitor, maintain, secure, and improve IT infrastructure on a single dashboard. This RMM tool supports remote monitoring and management of several devices and multiple systems, including servers, laptops, mobiles, etc., across operating systems such as Linux, Windows, and Mac.
SolarWinds RMM services are also enthralled with multiple features such as reports, remote device access, network discovery, password management tools, etc. In addition, it consists of a documentation Manager that standardizes clients' documents. The agency provides data-driven insights on efficiency, security, and site blocklists. It also entails facilities like alerts and performance, auto-discovery, security monitoring tools, bulk actions, etc.
Managing a remote network from a distant location is easier said than done. Maintaining visibility over your systems becomes even more challenging if you are not physically present on-site. However, having the best remote monitoring and management support systems on your VPS Server can simplify managing it.
RMM software gives you the most incredible visibility possible, ensuring you are always prepared to encounter any sudden security threat or performance challenges. It also allows MSPs to target their core competencies. Moreover, remote management systems simplify IT infrastructure functions and ease workflow.
Choose the one that suits your needs perfectly among the numerous remote management software systems. Look out for the essential services along with handling capabilities. You can easily get confused among the various support systems available since they all share several features.
The easiest way to choose the best RMM software is to understand your system monitoring requirements. Opt for the one that offers the most suitable professional services automation and fits your remote monitoring and management requirements.
Frequently Asked Questions
Which is the best RMM Software?
The industry contains several RMM software vendors, such as NinjaRMM, TeamViewer, Zoho Assist, etc. While each has its specialization, the best RMM software for your enterprise depends on your specific requirements. Look for the services of each tool on its website to understand which suits your business needs the best.
How to choose the best RMM solution?
The perfect Remote Monitoring and Management (RMM) solution aligns with the structure of your enterprise and is scalable. It would be best if you opted for the RMM that regularly monitors and manages the users and devices irrespective of their size and type, fulfills essential factors like ease of use, affordable price, customer support, etc., and give zero-day support for new enterprise management features. In addition, look for the ones with positive reviews and feedback from other users.
What are the optimum critical features of a remote monitoring tool?
Every MSP looks for some specific features while selecting the appropriate RMM. Every RMM software must have Network monitoring, Server monitoring, Automatic script and patch management, Asset management, Remote access support, Reporting, etc.
How to compare the features of different RMM tools?
Most MSPs divide their feature requirements into 'must-have' and 'good-to-have.' By breaking down the features of each RMM into these categories, you can check which one covers all the basic or 'must-have' requirements. Then, look for the additional features each offers apart from these essential ones. This way, you can easily judge the software that would benefit you the most.
What is the importance of PSA integration in the RMM tool?
Integrating PSA (Professional Service Automation) system in RMM helps expand automation and improve the software's efficiency. A seamlessly integrated PSA eliminates redundancy, reduces complexity with streamlined workflows, and leverages automation with proactive ticket management.
Which RMM software is better – Cloud-based or on-premises?
It has always been a debate among MSPs about which RMM is more secure for your business, cloud or on-premises. The answer to this debate varies per individual situation and depends on who administers and configures the tasks. Almost every RMM leverages agents to monitor various devices, so choosing between cloud and on-premises is more of a personal question for each MSP. The ultimate goal is one dashboard for all monitoring and management needs.