A Comprehensive Guide to Google VPS Pricing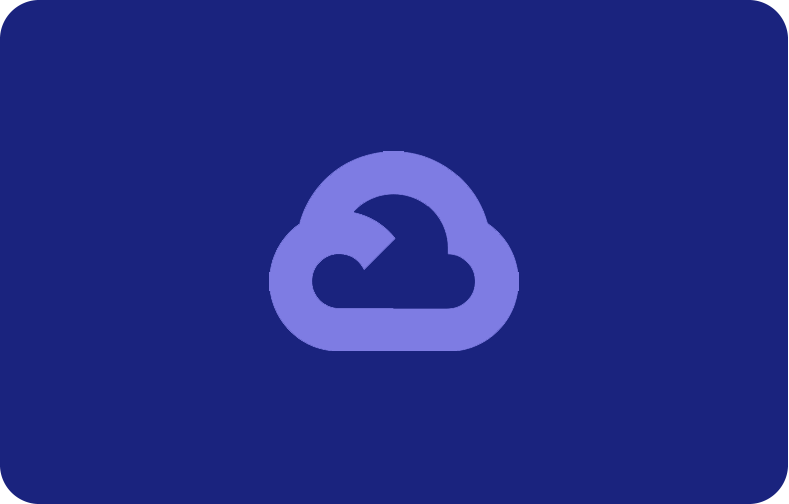 Businesses and individuals in today's digital landscape require reliable and scalable hosting solutions for their online applications and websites. One such solution is a Virtual Private Server (VPS). This virtual machine runs its copy of an operating system, providing users with dedicated resources and control similar to that of a physical server.
Regarding VPS hosting, the Google Cloud Platform is a prominent name in the industry. It offers a comprehensive suite of cloud computing services, including its VPS solution. While the features and performance of a VPS are crucial, understanding the pricing model for the Google Cloud platform is equally important for making informed decisions.
In this blog, we will explore Google VPS costs in detail, examining the factors influencing pricing, the various pricing options Google Cloud offers, and cost optimization strategies.
Why Use Google Cloud Platform?
Google Cloud Platform (GCP) has emerged as a prominent and preferred choice for millions of customers in recent years. Here is a list of reasons to choose Google Cloud Platform over other cloud providers.
1. Availability & uptime: Google Cloud Platform ensures maximum website availability. With Google's reliable infrastructure, your website experiences minimal downtime, providing uninterrupted access to visitors and preventing potential revenue loss.
2. Uptime monitoring: Google Cloud hosting offers the advantage of an operations suite, enabling you to easily monitor your platform's and applications' performance. Setting up uptime checks and alerting policies is a straightforward process
3. Leading global infrastructure: GCP stands out from its competitors due to its expansive global network, one of the largest in the world. It rivals the global infrastructure of Microsoft and Amazon, solidifying Google's position as a major player in the cloud hosting industry.
4. Performance optimization: GCP offers a unique advantage by allowing you to optimize your network based on performance or price with Network Service Tiers. Leveraging its extensive real-world infrastructure, the Google Cloud Platform enables seamless connectivity for users to access your resources
5. Enhanced security: Google Cloud protects your data beyond standard security practices. It employs AES 256-bit encryption to encrypt data at rest and uses TLS for data in transit. Two-factor authentication and integration with SSO services are also available. Its stature as one of the largest tech companies globally sets Google apart, ensuring an additional security layer.
Google Cloud Computing Platform Pricing Models
Google Cloud provides a range of pricing models, such as pay-as-you-go, product-specific pricing, and a free tier. Determining the suitable Google Cloud pricing model based on your allocated resources and computing requirements would be best.
Moreover, considering additional components that impact pricing, including storage, compute, SQL, and network, is essential.
Let's explore the different pricing models of the Google Cloud services platform.
Pay-as-you-go Pricing Model
The Google Cloud Platform services offer a pay-as-you-go pricing model that provides flexibility and cost-effectiveness for organizations of all sizes. With this model, Google Cloud users pay for the resources and services they consume based on the duration and extent of their usage.
The Google Cloud pay-as-you-go pricing model includes usage-based billing without any upfront cost, management tools, and transparent pricing. While it offers flexibility and cost-effectiveness, it's important to note that your resource consumption can influence the pricing.
Free Tier
Google Cloud Platform offers a free tier that allows customers to run workloads at no cost, with over 20 free products available. New customers also receive 300 in free credits in the free tier to fully explore Google Cloud. Additionally, businesses can receive additional free credits by verifying their business email.
There is no charge for eligible customers up to the free usage limits in the free tier. For instance, the free tier provides 5GB months of standard cloud storage. It's important to note that the free limit, while subject to change, does not have an expiration date. This unique offering allows you to leverage Google Cloud products without incurring costs within the specified usage limits.
Product-Specific Pricing
The Google Cloud Computing Platform product-specific pricing model allows users to pay for a specific container product they use, such as Compute Engine, Google Cloud Storage, Google App Engine, Google Kubernetes Engine, Google Cloud SQL, etc.
Each Google Cloud product's pricing structure is based on compute resources, storage usage, network traffic, and specific functionalities. This product-specific pricing model ensures that customers only pay for what they use, optimizing cost efficiency.
Google Cloud Compute Rates
Compute Engine, a flexible computing service provided by Google Cloud, empowers you to create and manage virtual machines (VMs) on Google's infrastructure. The machine types are thoughtfully organized and categorized to meet specific workload requirements. These machine types include general-purpose, compute-optimized, accelerator-optimized, and memory-optimized, catering to diverse computing needs.
Compute Engine adopts a usage-based pricing model. At the end of each billing cycle, you will receive a comprehensive bill summarizing the charges for your Google Cloud services.
In terms of calculation, Compute Engine considers disk size, machine type memory, and network usage, measured in gigabytes (GB). The conversion standard is set at 1 GB, equal to 230 bytes. This standardized unit enables accurate assessment of resource consumption and subsequent cost calculation.
Google Cloud Storage Rates
Google Cloud Storage is recognized as a robust enterprise-grade public storage designed to accommodate vast unstructured datasets. It is a reliable solution for organizations seeking Google storage options for infrequently accessed and primary data.
The storage pricing model incorporates the following to determine costs:
Data processing: Cloud Storage pricing also includes charges associated with the processing performed by the service. This includes operation fees, any applicable retrieval charges, and costs related to inter-region replication.

Data storage: This encompasses the data quantity stored in buckets. Storage rates vary depending on the assigned storage class of the data used and the geographic location of the buckets.

Network usage: The pricing structure considers the data volume from or transferred among your buckets. Network usage charges reflect the data transfer within the Cloud Storage service.
Cloud Storage Always Free Usage Limits
Google Cloud Free Tier provides free resources but has certain usage restrictions. These limits apply during and after the free trial. However, any usage that exceeds the allocated limits outlined in the Always Free offering will incur charges based on the pricing tables. This ensures transparency and allows users to understand the costs associated with Cloud Storage beyond the free usage limits.
Google Cloud Networking Pricing
Let's explore the pricing models for the Google Cloud Network.
Virtual Private Cloud (VPC)
VPC (Virtual Private Cloud) costs are determined based on your setup's specific traffic and storage tiers.
Ingress Traffic
Regarding data flow, ingress traffic refers to incoming data directed toward a Google Cloud resource, such as virtual machines (VMs). Transferring traffic between two VMs is considered egress traffic when departing from one VM and then transforming into ingress traffic upon reaching the second VM.
While there is no direct charge for ingress traffic, it's essential to note that certain resources responsible for processing ingress traffic, such as cloud network address translation (NAT), protocol forwarding, and load balancers, may incur usage-based fees.
Egress Traffic
The pricing for egress traffic is determined by various factors, such as the usage of an internal or external IP address, does it cross-zone or region boundaries, remains within the Google Cloud computing platform, or leaves the network and the network tier of the outgoing traffic.
When data exits a Google Cloud resource, such as a virtual machine (VM) hosted within a Google region, it follows specific routes that determine the associated costs. These routes can be summarized as follows:
Within Google's buildings at the location: Traffic traveling within the buildings of a specific location solely utilizes Google's network, incurring intra-zone and intra-region pricing.

To another Google building in a different location: Traffic traveling to another Google-operated building in a distinct location also utilizes Google's network, resulting in inter-region pricing.

To a non-Google location via Cloud Interconnect: If the traffic is directed to a non-Google location through a Cloud Interconnect connection, Cloud Interconnect pricing is applied.

To a non-Google location without Cloud Interconnect: When the traffic is destined for a non-Google location without using Cloud Interconnect, internet egress pricing is applied.
Cloud CDN Pricing
Google's Cloud Content Delivery Network (CDN) leverages its vast global network of edge Points of Presence (PoPs) to cache external HTTP or HTTPS load-balanced data. Google strategically caches content at various locations within its network, resulting in faster user delivery and reduced serving expenses.
Pricing for Cloud CDN components is structured as follows:
When Cloud CDN sends requests to external backends, the internet egress rates for Compute Engine determine the billing.

The charge for HTTP/HTTPS web cache lookup requests is 0.0075 for every 10,000 requests.

The pricing for cache egress varies from 0.02 to 0.20 per gigabyte (GB).

Filling the cache ranges from 0.01 to 0.04 per GB.
Google Cloud SQL Costs
The Google Cloud platform offers different SQL rates based on the following components.
Storage & Networking Pricing
The pricing for storage and Networking is contingent upon the specific region in which your instance is situated. Costs associated with storage and networking services can vary depending on the geographical location of your instance within the Google Cloud platform for cloud computing services.
CPU & Memory Pricing
Dedicated-core instances allow you to select the desired number of CPUs and memory for your specific needs, with options available for up to 96 CPUs and 624 GB of memory. The cost of CPUs and memory for your instance depends on the region you choose to deploy it in, which helps optimize expenses according to your preferred location.
In addition, Cloud SQL provides committed use discounts (CUDs) that offer significant price reductions in exchange for your commitment to utilizing database instances continuously within a specific region for either a one- or three-year term. These CUDs present an opportunity to access deeply discounted prices, enabling you to optimize costs while maintaining your long-term database requirements.
Instance Pricing
There are two types of instances available: shared-core and dedicated-core. The pricing structure is different for each. Shared-core instances have a fixed price, while dedicated-core instances are priced based on the amount of cores and memory they have. Dedicated-core instances can have up to 96 vCPUs and 624 GB of memory.
When the activation policy is set to ALWAYS, billing is calculated per second of runtime. Cloud SQL uses seconds as the unit of measurement for usage. This means that each second of utilization is counted towards a full billable minute. This precise measurement ensures accurate billing based on actual instance usage.
3 Ways to Identify the Google Cloud Platform Services Cost
Here is a list of 3 ways to identify the Google Cloud platform costs.
1. Google Cloud Pricing Calculator
The Google Cloud pricing calculator is a useful tool if you want to know how much your Google Cloud services will cost.
It's simple to use - select the service you need and customize it to meet your specifications. Then click the "Add to Estimate" button at the bottom of the page. In seconds, you'll see an estimated cost on the right side of your screen, giving you the information you need to plan and make decisions.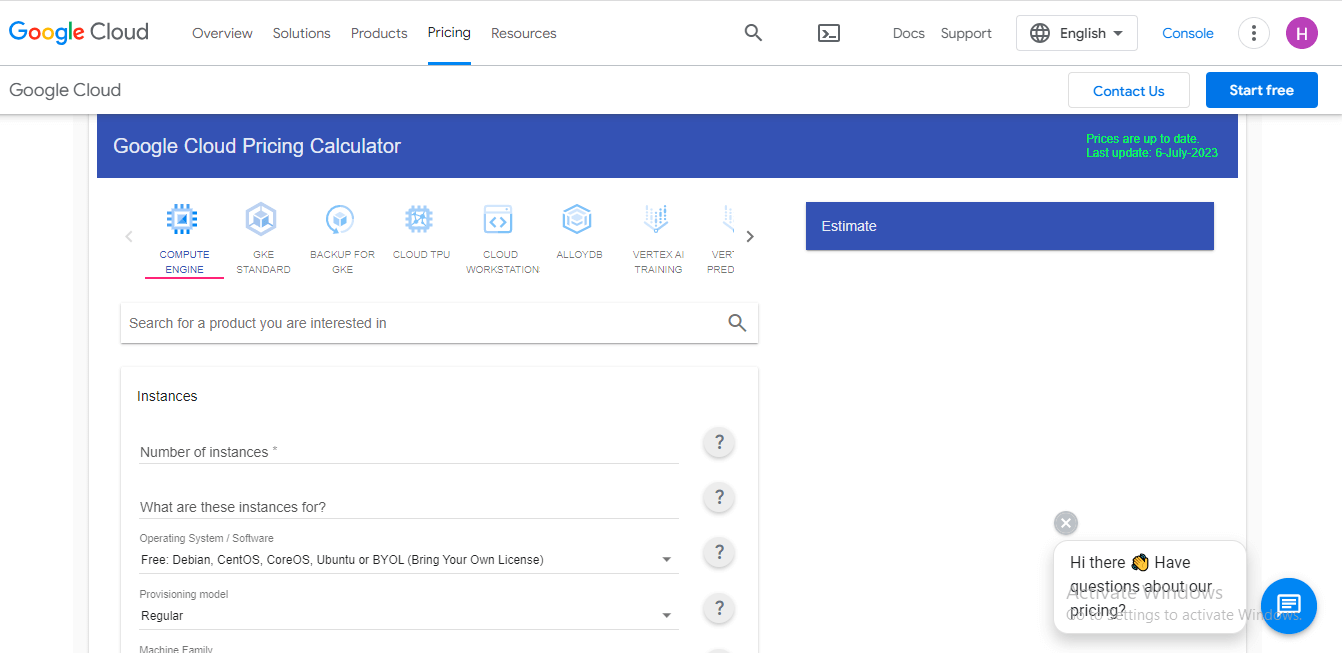 2. Price List of Google Cloud Services
Visit the Google Price List page to know the pricing details of Google Cloud Platform services and products. As a cloud customer, you can enjoy 300 worth of free credits to run, test, and deploy your workloads. Moreover, all customers can access over 25 products for free within monthly usage limits.
3. Contacting the Sales Specialist
To receive a personalized quote, you can contact a Google Sales representative. You can contact them by completing a sales request form or by calling/messaging their sales team directly.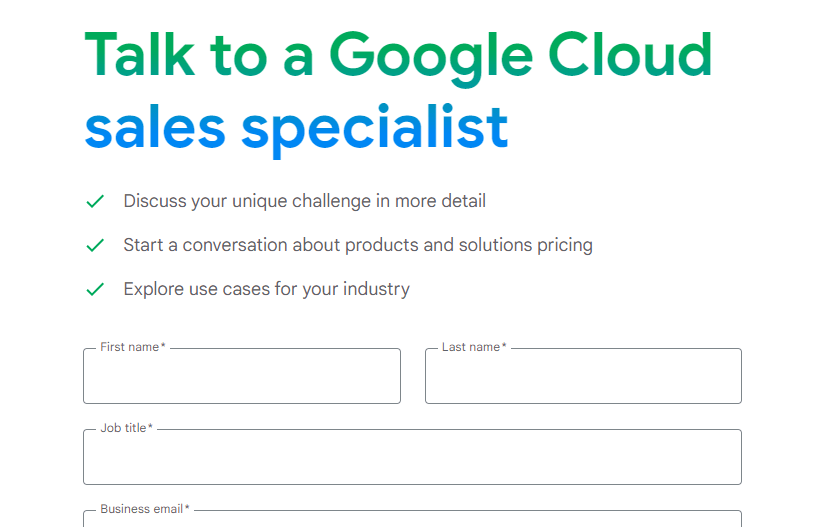 Final Words
Understanding Google Cloud platform pricing is crucial for organizations considering Google Cloud services. With its diverse pricing models, including pay-as-you-go, free tier, and committed use discounts, Google Cloud offers flexibility and cost optimization options for businesses of all sizes. By carefully evaluating your organization's specific needs and selecting the appropriate pricing model, you can effectively manage costs while benefiting from the powerful features and infrastructure provided by Google Cloud.
Frequently Asked Questions
How can I estimate my Google Cloud costs?
Google Cloud provides pricing calculators and cost management tools to help estimate and monitor your expenses based on your specific usage requirements.
Is there a free tier option available for the Google Cloud Platform?
Yes, Google Cloud offers a free tier option that provides limited usage of certain products and services at no cost.
Are there any discounts or cost-saving options available?
Yes, Google Cloud offers committed use discounts (CUDs) for long-term commitments, allowing for significant price reductions in exchange for continuous usage.
Can I control and optimize my cloud costs?
Yes, Google Cloud provides cost management tools, budget alerts, and insights to help you monitor, control, and optimize your cloud expenses.
Are there any additional charges besides resource usage?
In addition to resource usage, there could be extra fees for services such as load balancing, managed databases, and network egress.
Can I upgrade or downgrade my pricing plan?
Yes, Google Cloud allows flexibility to upgrade or downgrade your pricing plan based on your evolving needs, providing scalability and cost optimization.
What happens if I exceed the free tier limits?
If you exceed the free tier limits, you will be charged based on the standard pricing rates for the resources and services used beyond the free tier allocation.
How are storage costs calculated?
Storage costs in Google Cloud are calculated based on several factors. The primary consideration is the amount of data stored in your storage buckets or objects. The pricing structure varies depending on the storage class you choose for your data, such as Standard, Nearline, Coldline, or Archive.
Additionally, the duration for which you store the data plays a role in determining the cost. Longer storage durations will result in higher costs compared to shorter durations.