Secure Your Data and Protect Your Passwords with the 10 Best Password Managers of 2023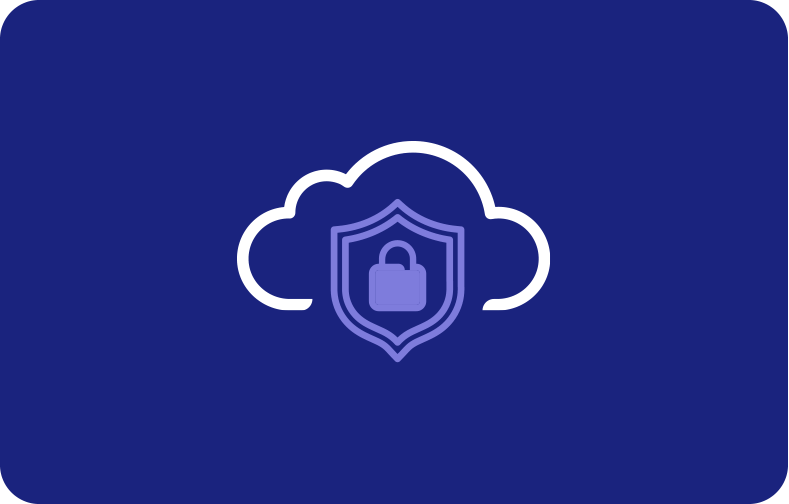 Gone are the days when a simple, easily memorable password was sufficient. Increasing online personal and financial information has necessitated solid passwords and secure storage methods. This has given rise to the popularity of password managers.
These tools allow users to create robust passwords and securely log in to websites without remembering them. Many password managers also evaluate password strength, monitor accounts for potential breaches, and offer secure private browsing networks. According to IBM's Cost of a Data Breach Report 2022, the average cost of a data breach for a company is a staggering $4.35 million.
Using a password manager can better protect your personal and financial information. The article explores the best password managers in 2023 and how they help secure your passwords.
Is Password Manager the Best Way to Store Passwords?
We visit many websites daily, almost all requiring you to create an account. Doing so and using the same password for every account can risk your data and pose threats, such as account hacks and data leaks. To prevent such a misfortunate situation, you must use a different or one-of-a-kind password on each website.
But it's out of our human capacity to remember so many different passwords for multiple websites. Hence the best solution in this regard is password managers, making your life easier by generating unique and unbreakable passwords for each website you log in to.
The password manager will keep all your credentials and data secure, such as sensitive information, credit or debit card details, and notes. It will prevent any data leakage or hacking attempt from harming your data and requires you only to remember one master password.
The must-have password managers will be of great help if you are not fond of screen logging or keylogging, as they will make your life easier by auto-filling passwords for different sites on reliable devices. While to prevent any data breaches and password leaks, best password managers often scan and enable dark web monitoring to ensure your password is not public.
How Do Password Managers Work?
Think about all the websites you use that demand a login. You may always need to remember several to tens of passwords for everything from social media profiles to internet banking. Password managers operate by saving the login and password details for each account you have.
The best password manager allows you to store all login accounts, bank details, and credit card details in an encrypted password vault that is only accessible by one master password, saving you the trouble of remembering logins for each account. A single password is sufficient to avoid hassles and significantly reduce hacking worries.
Downloading the best password manager on your computer is the first step. You generate a master password during the installation procedure that will be utilized to encrypt and decrypt the database of passwords.
Auto Form Filling
You add information to your password manager when you establish a new account or alter an existing one. The data is encrypted and kept in the database by the password manager. It will recognize a website where you have an account and automatically fill in your username and password when you access it.
Two-Factor Authentication
The best password managers also incorporate two-factor authentication solutions, adding an extra security layer. To access the database, you must input your master password and a code from your phone using this feature.
Backup
Backup and synchronization options are also provided by some best password managers, allowing you to access your credentials from multiple devices or retrieve them in the case of a data loss or data breach.
Are Password Managers Safe?
Password managers are typically safe using reliable password management tools. The finest password managers protect your credentials with powerful encryption methods, making it incredibly challenging for hackers to access them. Many best password managers also give users the option of two-factor authentication, which adds another level of security.
But using a password manager carries some risk, and it's vital to remember that no password storage method is 100% secure. Your passwords would be available to a hacker if they could access your password manager's servers. This is why it's crucial to pick a reliable password manager and to use a strong master password.
Hence to ensure maximum protection, the most recent security patches should always be applied to your password manager, and you should always exercise caution when downloading or installing new programs.
Should You Use Your Browser to Manage Passwords?
Your requirements and preferences will determine whether you should use your browser to handle your passwords. Password managers that can automatically save and fill in passwords for you are incorporated into some browsers, including Google Chrome and Mozilla Firefox.
These built-in free password managers can be a practical choice for those with few accounts and don't require complex features like password creation or two-factor authentication.
A standalone password manager might be a better choice if you have many accounts or security is a significant priority. Password managers are made solely for managing passwords and frequently provide more robust security features like two-factor authentication and encryption.
Your particular needs and tastes will ultimately determine whether you use an independent password manager or the built-in password manager in your browser. Try out various options if you need help determining which is best for you and which you find the most practical and secure.
The Best Password Managers of 2023
Protecting one's password is crucial to maintain financial security and reputation. Investing in the best password management tools is wise to ensure maximum safety. The following are the top-rated password managers for cloud and desktop usage. Discover the best password manager for your requirements by reviewing the top password management applications.
LastPass - The Best Free Option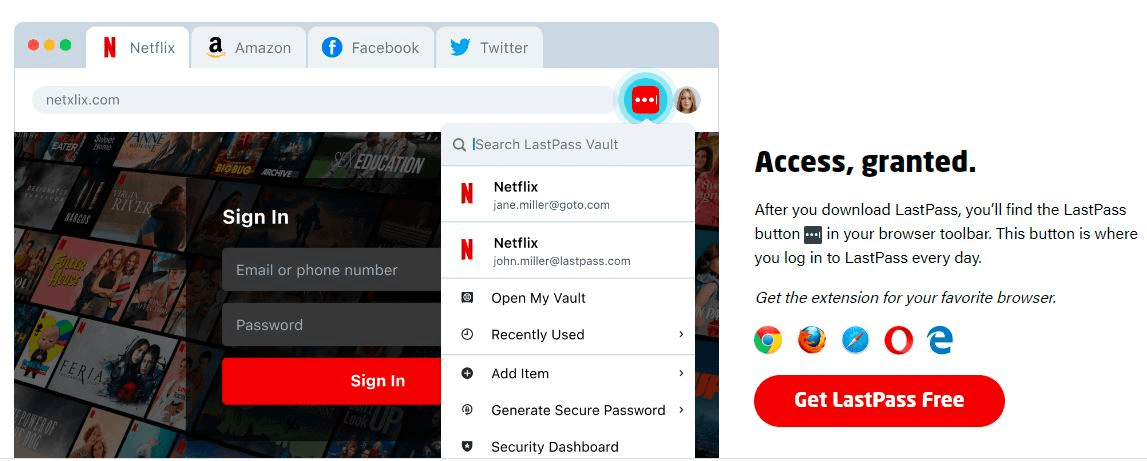 LastPass is a robust free password manager that consistently competes for the top position. It is considered one of the finest password managers on the market. The free version offers great features, but it's worth considering an upgrade to the premium version for the added convenience of app logins. This app is backed by LogMeIn, one of the largest global SaaS companies, and has been operating since 2008.
Plans & Pricing
LastPass offers a unique approach for businesses seeking to manage and secure their passwords and credentials with two different product options. The Teams plan, priced at $4 per user per month, provides each user with a vault, a security dashboard, two-factor authentication (2FA), and dark web monitoring but is limited to 50 users.
The Business plan is available for unlimited users for $6 per user per month. It includes all the features of the Teams plan, with over 100 customizable policies, pre-integrated SSO apps, and SSO apps with multi-factor authentication (MFA).
For individuals, LastPass offers a free version limited to a single device per month. The Premium version, costing $3 per month, allows access on all devices, with a security dashboard, emergency access, and dark web monitoring. The family package, priced at $4 per month, enables the deployment of the encrypted digital vault, enhanced sharing options, a family manager, and personal dashboards.
Setup
LastPass offers powerful apps for various platforms, including Windows, macOS, Linux, Android, and iOS. However, the full potential of LastPass can be achieved through its browser extension. These extensions are accessible on all popular browsers, such as Chrome, Microsoft Edge (including its legacy pre-Chromium version), Firefox, and Opera.
Features
Password import/export: LastPass has improved its import/export feature, eliminating the need for an additional component that often causes issues.

Autofill & autosave: With its autofill and autosave capabilities, you only need to remember your master password.

Password generator: The password generator helps you create unbreakable and secure passwords for your accounts and allows you to specify the password's strength, such as excluding numbers or special characters.

Credit monitoring: Paid Subscription, US users can access free credit monitoring alerts, a valuable tool for protecting against identity theft threats.
Its pros include the following.
User-friendly free version

Online and offline accessibility of password information

Compatible with most browsers and OS

Reasonable price
Its cons include the following.
The free version is limited to a single device.

An upgrade is required to share password information in a group or access passwords on mobile devices and desktops.

Limited support
Norton Password Manager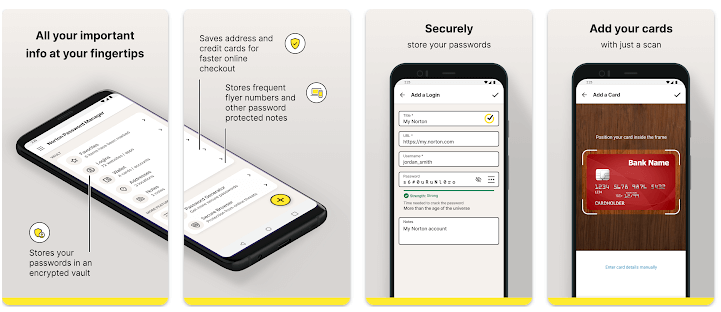 Norton Password Manager is a reliable, user-friendly password management software with a straightforward interface. It stores all your login information in a central location, the "vault," easily accessible across multiple devices. The standout feature of this password manager is that it is free, without any need for additional fees or subscriptions.
Plans & Pricing
Although advertised as free, the platform lists your account status as a "Trial," which might raise some red flags for users searching for a permanent free solution. Norton tends to push users to purchase their security suite package, with a wide range of options and payment plans, adding to the confusion.
Norton Password Manager can be included in the company's comprehensive security packages if you opt for enhanced security. The packages start at $19.99 in the first year and then increase to $59.99 in subsequent years. Norton offers various security plans, so you can pick the one that suits you best. However, it's important to note that the primary service offered for free is limited, and the premium options provide much more robust protection.
Setup
It is easy to set up Norton Password Manager, as it is mainly a web-based service. All you need to do is create a Norton account and establish a strong password for your password vault to keep your sensitive data safe.
Additionally, you can enhance the security of your passwords by downloading the browser extensions for Firefox, Chrome, Edge, or Internet Explorer. These extensions can help you save and automatically fill in website passwords, making it even easier to manage your passwords. Norton also offers mobile apps for iOS and Android, which are available in the app stores.
Features
Password imports: You can import passwords from supported sources, such as your browser, or alternate password management tools, including LastPass, Dashlane, and 1Password.

Free password generator: Enables strong password generation, providing different options, such as using numbers/letters/symbols and length.

Safety dashboard: It displays logins and password health stored in the cloud vault.

Mobile unlock: With the Mobile Unlock feature, you can access your password vault on your desktop browser without manually typing in the password.
Its pros include.
Unlimited storage for storing passwords for all your accounts

Biometric login for mobile users

automatic password changer

Free to download
Its cons include.
Not much enhanced two-factor authentication

No option for sharing passwords

Basic security than other password managers
Bitwarden - A User-Friendly Password Management Software for Beginners

Bitwarden is an open-source secure password manager supported by a community of experienced security specialists worldwide. Its free version lets you store unlimited passwords, credit cards, and notes in a secure encrypted digital vault. You can create strong passwords with its password generator and access your vault on any device without upgrading, as it covers the basics of a good password manager.
Plans & Pricing
Bitwarden offers various password management options, including a free personal plan, an individual premium plan for $10/year, and a family plan for $40/year. The free program includes multi-device sync and unlimited vault items.

The premium plan adds emergency access, advanced two-factor authentication (2FA), security reporting, and priority customer support. The family and team plans offer additional features such as improved storage organization, API access, and custom roles. The Enterprise plan is $5/user/month and includes all features with other admin options and SSO integration.
Setup
Bitwarden is easy to install, with a seamless setup across all platforms, including Windows, macOS, Linux, and mobile devices. The open-source password manager features browser extensions for Chrome, Firefox, Safari, Edge, and more, as well as command-line support and web access. Download the app, create an account with a master password, and securely store unlimited items with multi-device sync.
Features
Bitwarden Send: Bitwarden provides encrypted messaging with the option to share text or files securely through a send link. You can set security parameters like deletion, expiration date, and an optional password.

Password generator enables password generation and creates unique passwords to protect your account.

End-to-end encryption: It secures your passwords using AES-256 bit encryption, PBKDF2 SHA-256, and salt hashing.

Vault Health Reports: The monitoring tool, available with a premium subscription, checks for password repetition and security, as well as security breaches, to ensure the safety of your sensitive data.
Its pros include the following.
Free version available

Two-factor authentication

Secure password sharing
Its cons include the next.
You can't recover the account in case you lose the Master Password

Not much attractive user interface and desktop app
NordPass - Password Manager

NordPass is one of the best password managers and part of the NordSec suite of security products that also comprises NordVPN. The password manager provides browser extensions for Chrome, Firefox, Opera, Edge, and Safari and desktop apps for macOS, Windows, Linux, plus iOs and Android mobile devices. Moreover, it is affordable for anyone looking to secure unlimited passwords and online accounts.
Plans & Pricing
NordPass comprises a free version that provides storage for unlimited passwords and enables you to sync passwords across various devices. On the other hand, the Premium version offers advanced features and costs $1.91 per month. Also, it allows you to share passwords and access them from trusted contacts for emergency access.

The Family plan starts at $2.79 monthly, allowing you to use six accounts with added Premium plan features. The Business plan starts at $3.59 per month per user and proves to b a good password manager for small to medium size businesses.
Setup
Getting started with NordPass is very straightforward. You can start by downloading the app from the website and creating an account with a master password. Once done, you can use your password manager account the way you want.
Features
Password sharing: This password management solution enables you to share passwords with coworkers securely.

Generate Passwords: You can generate strong and unique passwords using this feature.

Monitor breaches: NordPass password manager monitors your accounts and emails for data breaches and provides alerts in an emergency.

Access management: The business plan enables access management. It allows you to onboard new members and provide, remove, or reassign access privileges.
Its pros include.
Free version

Data breach scanner available

Multi-factor authentication

24/7 support

Password recovery is available if you lose your master password
Its cons include.
The free version offers limited features
KeePass - The Best Password Manager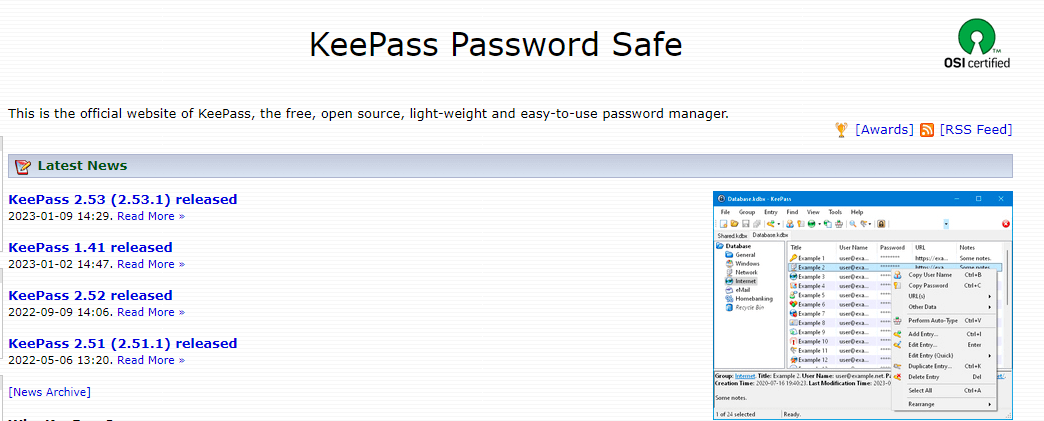 KeePass is an open-source good password manager that adds all your passwords to a single database. KeePass offers comprehensive encryption for its database by utilizing AES 256-bit and the advanced ChaCha20 cipher. Also, it provides a range of plug-ins, adding an extra layer of encryption.
Although some may find its appearance outdated compared to open-source password managers like Bitwarden, KeePass offers ultimate customization for those who value a cost-free solution. For those who wish to support the project's development, KeePass allows users to make voluntary contributions.
Plans & Pricing
KeyPass is one of the best free password managers that is open source and doesn't require any cost. It's free for all to use. However, the development team does accept funds for its development and improvement.
Setup
KeePass is very easy to download and install. However, the official free version of this password management solution is only compatible with Windows. Since it is open-source, other unofficial versions of KeePaas are also available that are compatible with Mac, Linux, and Mano systems.
Its pros are given below.
Free and open source

Encrypted file storage

Several unofficial versions are available that are compatible with almost every OS and multiple devices.
Its cons are given below.
Outdated interface

It presents a steep learning curve compared to most password managers.
1Password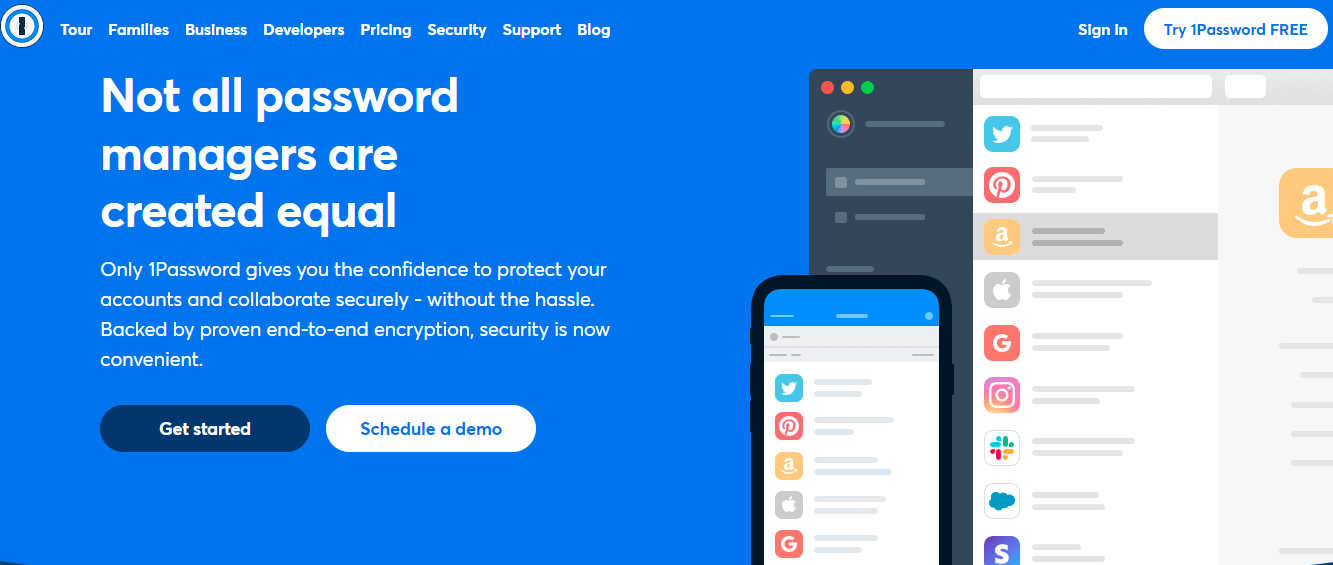 1Password is a paid password manager for securing all login details of your online accounts. You can store unlimited passwords and other data in their account vault. Also, you can share passwords or any data with whomever you want. It provides browser extensions for Edge, Firefox, Chrome, and Brave.
While many best password managers provide advanced security for your data, 1Password secures your company's infrastructure with its secrets automation feature. This feature manages team logins and allows you to store anything, including API keys, private certificates, etc.
Plans & Pricing
1Password's subscription plans are split into two categories: personal and team. The personal options include individual and family packages. The individual plan costs $2.99 per month when billed annually, and the family plan, which can accommodate up to five members, costs $4.99 monthly. Both packages provide unlimited password storage and 1 GB of document storage, and support for multiple platforms, such as Mac, iOS, Windows, Android, Linux, and Chrome OS. They also include two-factor authentication, the ability to recover deleted passwords 365 days later, and the option to upgrade to a family plan with added management features, account recovery, and guest accounts.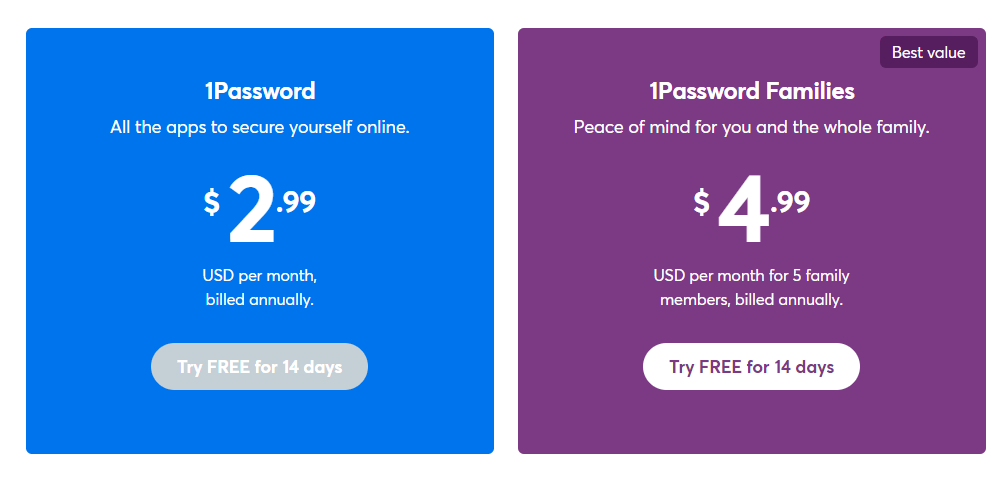 For businesses, 1Password offers a monthly plan priced at $7.99, including VIP support, 5 GB of storage per user, custom security controls, and other advanced features. Large corporations can also obtain a custom Enterprise subscription quote with a dedicated account manager, set up training, and an onboarding engineer.
Setup
creating an account. During the setup, you will be asked to set a master password, the security key to securing your information. Also, 1Password does not require credit card information, allowing you to sign up without risk.
The setup process allows generating and downloading an emergency kit. This PDF contains all the necessary information to recover your account if locked out.
Once you have created your account, you can add items and create a password vault. All changes made to your account will be automatically synced across all your devices, allowing for seamless usage on computers, tablets, and smartphones.
Features
Auto form filling: The password management solution securely plugs your credentials directly into websites without the need to type or paste them yourself.

Security alerts for data breaches: If you violate your saved passwords, 1Password notifies you about it and other security issues with 1Password items.

Secret automation: It protects your secrets, like credit card information and logins, and your company's secrets, including application keys, API tokens, and private certificates.

Travel mode: This enables you to hide sensitive information on your mobile phone when you're not using it. If your phone is lost or stolen, your personal information will be protected thanks to this feature. It is available on all devices and will display only the vaults you've designated safe for travel when activated.
Its pros include.
Trial version available

Checks for compromised passwords

24/7 email support

Advanced security
Its cons include.
No free version

no recovery in case you lose the master password
Keeper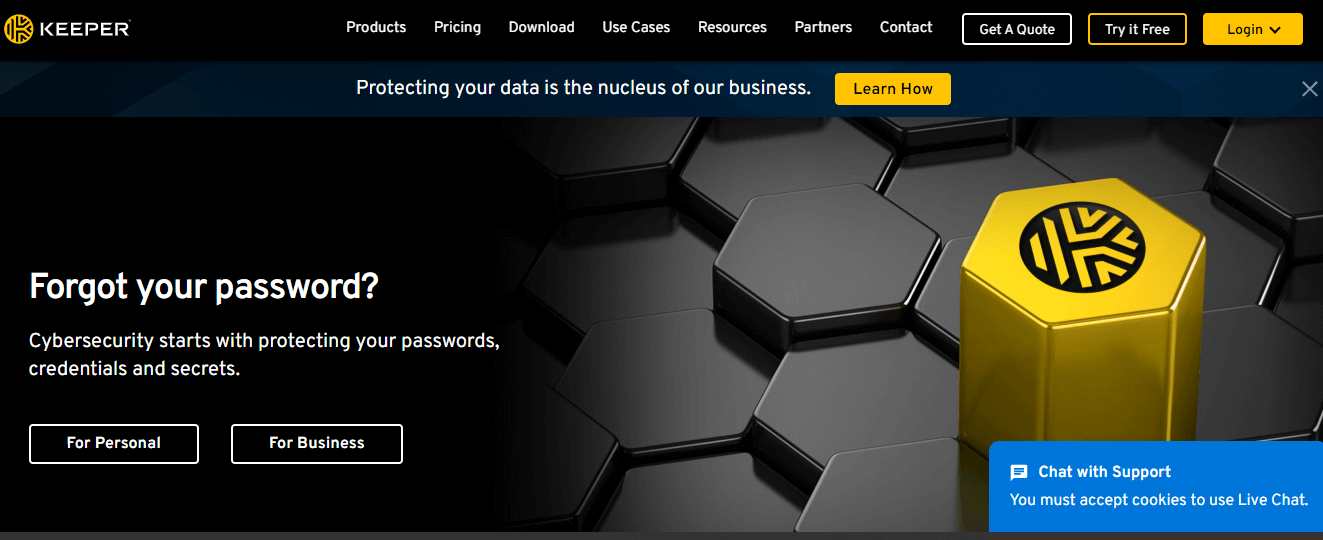 Keeper is one of the best password managers and employs a zero-knowledge approach for added security. This means your data is encrypted on the device level before being transmitted to the provider's servers. A master password secures access to your stored passwords that only you know.
Keeper offers a highly scalable password management tool suitable for companies of various sizes. It also provides customized options for managed service providers and the public sector. This makes it a versatile choice for businesses seeking a comprehensive password management experience.
Plans & Pricing

Keeper offers a range of options to suit individuals and businesses of all sizes, starting with the Keeper Business Starter Plan, priced at $2.00 per user per month, while the Business Plan is priced at $3.75/per month/per user. This plan provides user password sharing and management, while administrators can manage user groups, enforce policies, and conduct security audits. For enterprises, custom quotes are required, and the plans start at $5 per user per year. These plans include additional features like single-sign-on authentication, streamlined team management, and advanced provisioning methods.
Setup
Much consideration has gone into developing Keeper's business products. The process of widespread distribution is simplified with the option of command-line installation on Windows. At the same time, the desktop apps, mobile apps, and browser extensions are simple to install, and most users can get started in a few minutes.
The initial administrative setup process may take longer. However, the process has been streamlined with multiple options for bulk-importing users, such as email auto-provisioning based on the domain name, API/SDK, or single sign-on. Once you have set up your teams and roles, adding users is a straightforward process.
Features
Breach watch: This security feature checks your passwords for passwords on the dark web.

Security audit: This feature of Keeper enables password evaluation, checks their strength, and suggests changing weak passwords.

KeeperChat: It is a secure messaging app for all your devices. KeeperChat stores your messages in a secure digital vault that only you can access through biometric authentication using your fingerprint.

Secrets management: This feature helps you manage and secure your cloud infrastructure by enabling a zero-trust approach to security.
The pros of Keeper password manager are given below:
Monitors dark web

Compatible with major OS and browsers

24/7 customer support is available

Multiple security options, such as two-factor authentication
The cons include:
No free version

Upgrade required for enhanced security features.
Dashlane
Dashlane takes pride in not having suffered a data breach since it was developed. For this reason, it is considered one of the most trustworthy password managers. It enables you to monitor your accounts and resolve password problems, including compromised, reused, or weak passwords.
It keeps your information secure using military-grade AES 256-bit encryption, enables authentication controls, and supports most authenticating mobile apps or universal end factor keys.
Plans & Pricing
Dashlane offers multiple options for its usage. Individuals can benefit from its free version, which supports various passwords on a single device and a password generator. The Advanced and Premium plan cost $2.75 and $3.33 per month and are billed annually. Users can benefit from these plans on unlimited devices.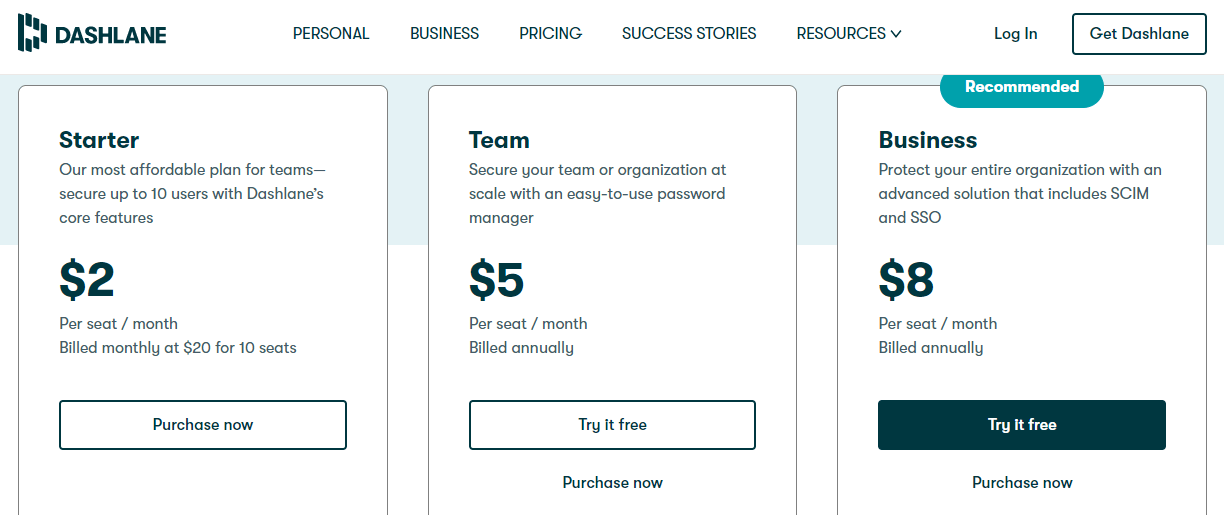 Moreover, three different plans are available for business users: Starter, Team, and Business. The Business plan is the priciest one, costing $8/per user/per month, but offers several features to users, including SCIM provisioning, SSO integration, and on-demand phone support.
Setup
Installing and using Dashlane is very straightforward. The password manager has a well-curated easy-to-use user interface and provides steps to sign up for a new account. Dashlane also requires adding a Chrome extension for ease of use. It is compatible with Windows, Mac, iOS, and Android devices and works with browsers like Internet Explorer, Safari, Firefox, Edge, and Chrome.
Features
Built-in VPN: While this feature is not the best compared to dedicated VPN software, it still is a quality password manager that encrypts your traffic and hides your IP address.

Password health checker: This feature notifies you when you use a weak password or need to change them.

Secure share: Dashlane enables unlimited secure password sharing. You can share your passwords without revealing them and access them anytime.

Dark web monitoring: Alerts automatically if any of your stored sensitive information is compromised.
Its pros include the following:
Free version available

easy to use and understand

great auto form filling

Secure storage
The cons of Dashlane are given below:
Pricey Premium plan

Limited to one or two devices without upgrading.
KeepSolid Passwarden - Best Password Manager for Personal Use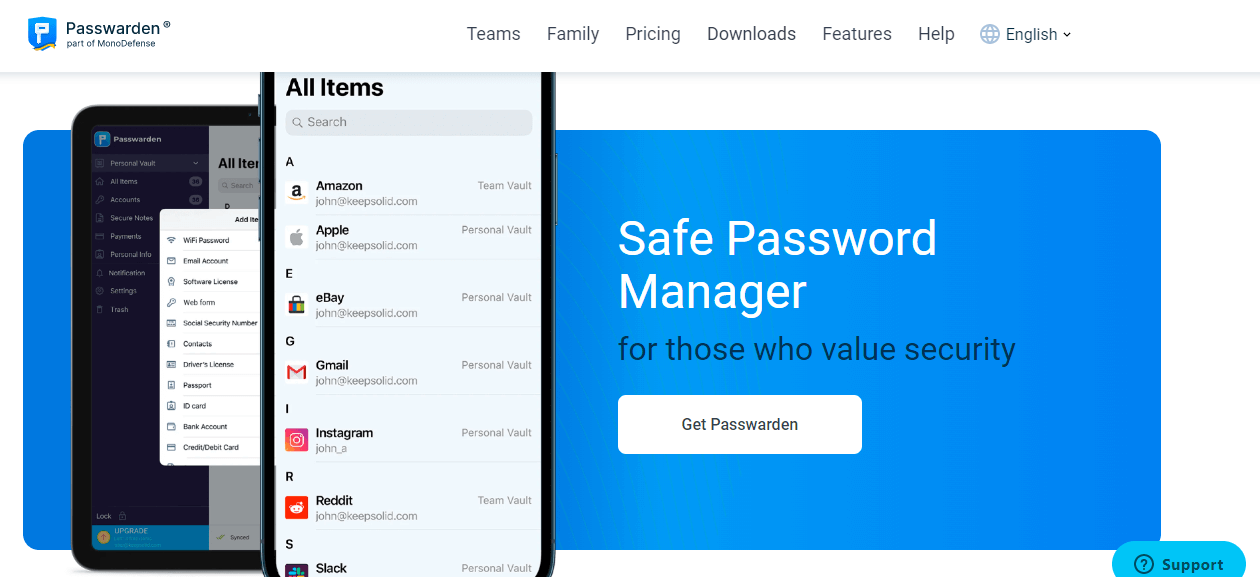 KeepSolid Passwarden is a quality password manager that offers online security to protect your credentials. This password manager allows you to generate strong passwords, store login details, and enable auto form filling.
It offers a high level of security and encrypts your data using AES 256-GCM and EC p-394 encryptions. Moreover, Passwarden follows a strict privacy policy, according to which their team can't see your information. It is compatible with Windows, macOS, Android, and iOS. Also, Passwarden has a browser extension for Firefox, Edge, Chrome, and Opera.
Plans & Pricing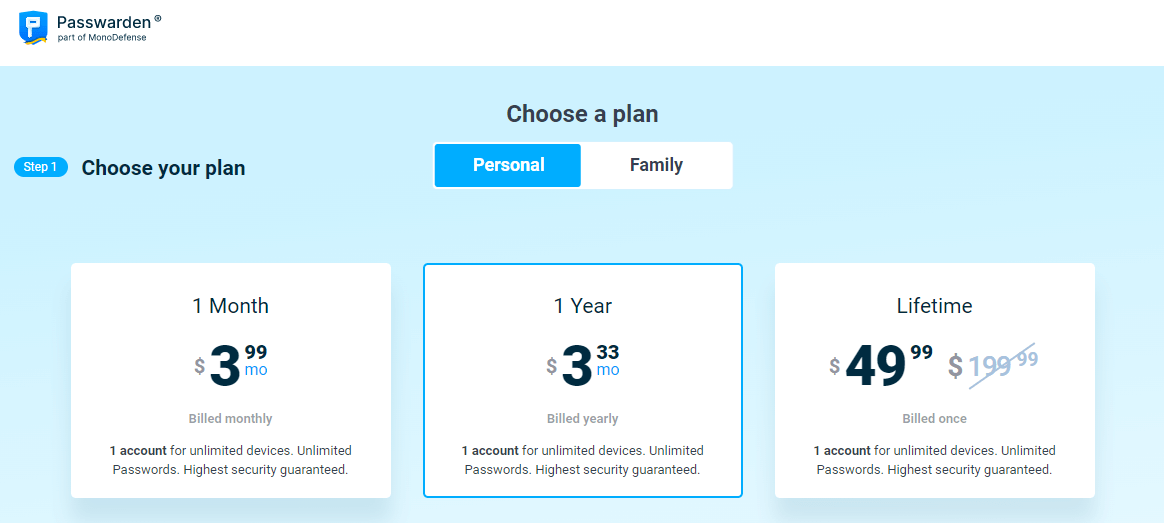 Passwarden is a reliable password manager offering a great free version, different user plans, and pricing options. A Passwarden subscription for one month costs $3.99, while a yearly subscription costs $3.33 per month for personal use. Also, it has a plan for lifetime access which costs $49 and is billed once. The Family plan starts from $4.99 for a one-month subscription billed monthly, $4.16 per month for a yearly subscription, and $249.99 for lifetime access for up to 7 accounts and unlimited devices.
Setup
You can quickly start using Passwarden by downloading the app or getting a browser extension for your browser, including Chrome, Edge, and Firefox. Once done, you can create your account and set a master password. Also, the tool provides your recovery security key, which helps you recover your account in case you lose the master password.
Features
Secure data-sharing & syncing: You can easily share and sync information across all your devices.

Data Import: You can easily migrate data from browsers and password managers to Passwarden.

Auto form filling: If you have saved the necessary login credentials in Passwarden, it enables auto form filling to make the sign-in process easy.

Security dashboard: It provides information about security breaches and other security issues with the information saved in your password vault. If Passwarden detects issues like weak or existing passwords, it notifies you.
It has the following advantages:
Free version available

AES-256 encryption

Good authentication features
Some of its cons are given below.
Expensive compared to other password managers

No single-sign on available
RoboForm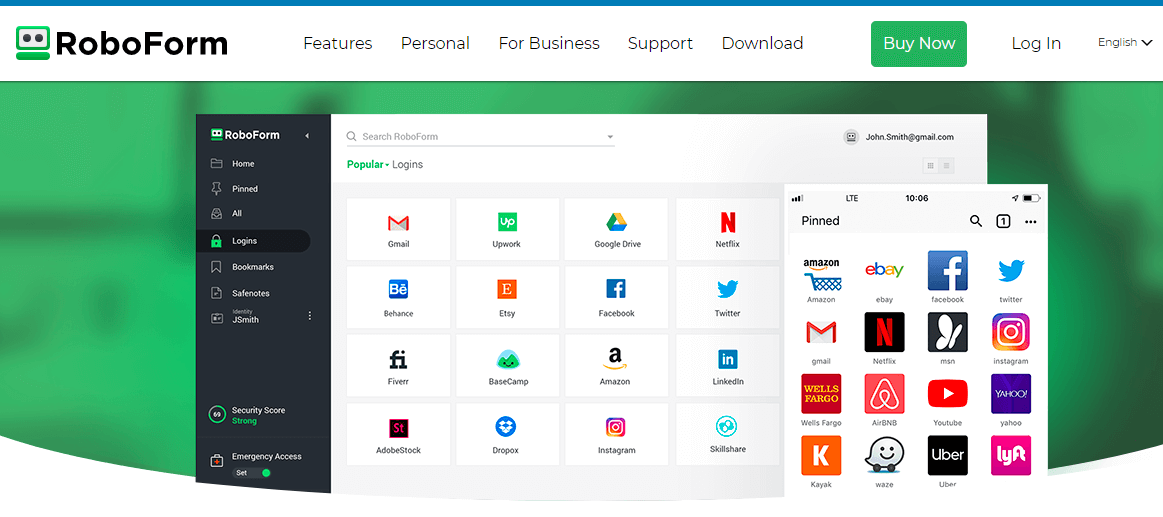 Another password manager is RoboForm which enables businesses to manage their passwords and secure sensitive data. It provides multi-platform support and is compatible with Windows, Mac, iOS, and Android, while it supports almost all major browsers, including Microsoft Edge. Also, it enables 2FA to ensure your password vault is secure and no one accesses it even if they have your Master password. Moreover, RoboForm uses AES 256-bit encryption to encrypt your data.
Plans & Pricing
RoboForm offers a free version for individual use and a paid version for individual and family use. The Everywhere personal plan price is $17.95 for one year and $35.90 for one year for the Everywhere Family plan.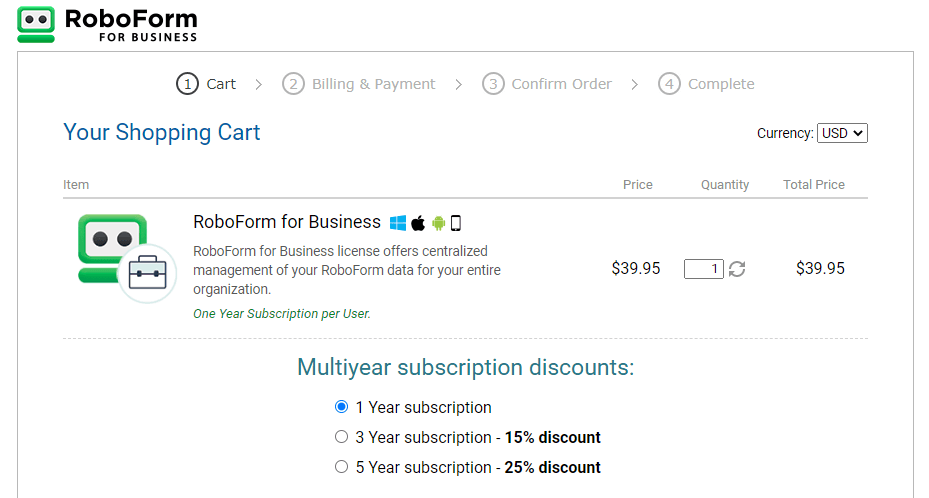 Conversely, the Business license prices vary depending on your company size and individuals requiring access. The price per user is $35.95/per year, so keep in mind the total price will depend on the number of users. However, RoboForm does offer some discount if you avail of a 3-year or 5-year subscription.
Setup
Users can access RoboForm through their desktop or mobile apps or its website. In the case of the free plan, you can download the browser extension in your desired browser. And for the paid plan, you must buy the subscription before utilizing its full functionality. Also, it offers options for Linux users.
Features
Password generator: It helps you generate strong and unique account passwords.

Secure sharing: You can securely share any item or folder using RoboForm without the risk of exposing your sensitive information.

One-click login: This enables you to log in to your accounts with a single click by providing auto form-filling functionality.

Offline access: Mobile and desktop apps provide offline access to your password manager.
Let's explore its pros.
Self-hosting/cloud hosting is available.

Free version available

Reasonable Pricing

Multi-factor authentication
RoboForm's cons include the following.
No option for monthly billing

No free device syncing
Other Password Managers Worth Considering
Here is a list of other password managers we think are worth considering and mentioning.
How Did We Test Best Password Managers?
Our password manager rankings are based on a system where we weigh factors, and each consideration contributes to a final score. We look at the ease of use, Pricing, security, features, and functionality to determine the best options. We prefer products with a modern and easy-to-use interface and good value for money while ensuring they have robust security features like encryption, MFA, and dark web monitoring. We also consider the range of components and compatibility with multiple platforms.
What To Consider When Buying a Password Manager?
To get the best password manager, consider the following factors before settling for one.
Ensure the password manager utilizes robust encryption to safeguard your passwords and other sensitive information. Verify the security protocols implemented, such as zero-knowledge architecture, biometric login, and two-factor authentication.
They store your password in one of two options, vault or cloud servers, so you can choose which one you prefer before settling for any password manager.
Compatibility & Browser Plug-Ins
Another crucial consideration when selecting a password manager is device or browser compatibility, as not all managers use every device.
This is crucial if you're looking for a password manager for a workplace environment. Additionally, confirm that the password manager you choose has an extension for the browser of your choice. Remember that coworkers might employ different browsers when purchasing for a workplace with several users.
Most individuals still have financial limitations despite your digital passwords' value. Evaluate the price of various password managers about their features and security. Consider whether you would rather have a premium version with more features or a free one with fewer features.
To ensure you're getting the most out of your investment, look for limitless password protection and the services you're most concerned about.
It's critical to consider whether your password is accessible to your provider if you use a cloud-based password manager. Your master password, the encrypting key, is never stored on the servers. Because of this, even if your provider's servers are compromised, the attackers can only access encryption copies of your passwords.
Zero-knowledge encryption has the drawback of causing issues in other domains. When zero-knowledge encryption is employed, password sharing is frequently impossible because the recipient also requires access to the encryption key. In zero-knowledge, automatic password update is not possible.
Another significant thing to consider is that your password manager should have a simple interface. Its browser plug-ins should operate automatically, and the technology should speak. Password managers for mobile devices can be used with the help of biometric logins.
For additional security, several apps provide additional features. Some highlight duplicate or password cracking and ask you to replace them, while others do so automatically regularly. Additionally, You can establish password sharing with trusted others if you have applications that you need to allow access to, like a joint bank account.
Takeaway
Given several options available in the market, choosing the best password manager in 2023 may seem like a daunting task. However, considering the factors we have mentioned, such as security, ease of use, and compatibility with your devices, you can find a password manager that meets your requirements. Whether looking for a free or paid tool, a password manager can help you generate strong and unique passwords. We have mentioned the best in our article; I hope it helps you find the best password manager.
Frequently Asked Questions
Can password managers be hacked?
Password managers are susceptible to hacking, similar to any other software application or online platform. To secure users' data from cyber dangers, trustworthy password managers use robust security features, including encryption, biometric authentication, multi-factor authentication, and zero-knowledge architectures.
Nevertheless, no system is impervious to hacking. The integrity of a password manager is only as robust as its weakest component, which may be the user's security procedures or a flaw in the software.
Should you consider a free password manager?
Some free password managers could provide a high level of protection while providing basic password management functions like password protection, password creation, and auto-fill options.
It's crucial to comprehend the restrictions on password managers' free version, as many have constrained storage options and do not offer cutting-edge features like password exchange or first-class customer service. Additionally, some free password managers generate income by selling user information, which may jeopardize your confidentiality. Using a free or paid password manager depends on your specific needs and security concerns.
Does a password manager work on my iPhone or Android phone?
Yes, most password managers are compatible with both Android and iPhone devices. You can access your password vault and use the password manager on your phone thanks to the mobile apps many password managers provide for iOS and Android.
Check the password manager's compatibility with your particular iPhone or Android device, or any gadgets you use, like a laptop or tablet, before deciding on one and before choosing a password manager, reviewing the system requirements is vital because some password managers may have restrictions or compatibility concerns with specific hardware, operating systems, or web browsers.
Is it safe to trust a password manager with all your passwords?
A password manager can offer various security advantages, including creating solid and one-of-a-kind passwords, auto-filling login information, and storing all your passwords in a single, encrypted area. Your credentials could be in danger if a password manager is not adequately protected or its database is compromised.
It is advised to use a password managing service with strong encryption and a solid security track record to assist in securing the security of your passwords. Choosing a password manager that is frequently updated to address any vulnerabilities that may appear is also crucial, as is using two-factor authentication whenever it is practical.
Do password manager apps track or sell my personal information?
Your choice of password manager app will determine this. Some password managers keep track of and gather information about their users for various reasons, like enhancing their service or delivering relevant advertisements.
Although some password manager applications have tight privacy policies that forbid them from doing so, not all of them do gather and sell this kind of data. To understand what information is collected and how it is used, it is crucial to thoroughly read the privacy policy and terms of service before selecting a password management app.