11 Best IP Scanner Tools for Network Management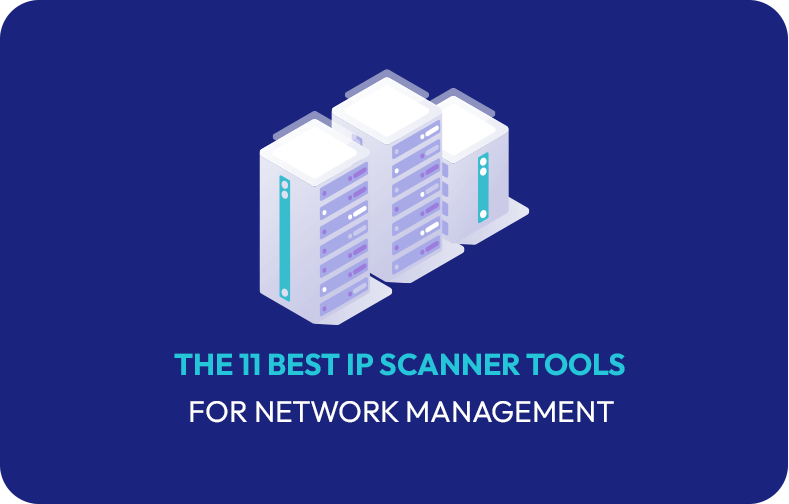 You need IP Scanner tools to manage your network as a network administrator. These programs allow you to control your network and its connected devices.
In this article, we'll review the best IP scanner tools that let you manage devices through their IP addresses. We'll also list network scanning tools that offer many features, like scanning the network for vulnerabilities in addition to network IP address scanning.
Let's get started.
What are IP scanners and network scanning tools used for?
IP scanner tools primarily analyze the network to discover IP addresses. It also offers additional relevant information associated with the devices associated with those IP addresses. These IP scanners utilize ICMP ping sweeps to find IP ranges. It also creates SNMP scans to create map network topology. In short, an IP scanner lets you capture devices' IP, DNS information, and Dynamic Host Configuration Protocol (DHCP) information.
On the other hand, the network scanners give information such as hostname, vendor type, and MAC address. Network administrators can also use network scanners to troubleshoot the network quickly.
Benefits of using IP scanner software
IP scanner software offers IP management with proper IP address usage information. Moreover, they make the network administrators' work easy by automating IP scanning. This way, there is no need to do manual IP scanning; hence, you never have to suffer from error-prone data.
The key benefits include the following:
Quick access to network information

Easy discovery of IP addresses and subnets

Automatic updates of network IP addresses.

Scanning and managing IP subnets

Get vital information for network organization and mapping

Simplified monitoring with IP scanning support for IPv4 and IPv6 addresses

Ensure IP allocation consistency through proper IPv4 and IPv6 scanning.

Provide a centralized console to manage the network devices

Get a full picture of IP resource usage, identifying key information such as mac address, network type, last scan time, asset details, system name, and even physical address.

Improve network performance with proper space utilization and fragmentation using subnets.

IP scanner software makes it easy to manage dynamic networks by IP scanning across multiple subnets and supernets in real-time

Enables proper capacity planning while staying ahead of IP resource exhaustion

Avoiding costly network issues with the IP scanner's proactive monitoring capability
If you want to read more about IP Scanner benefits, check out 5 key benefits of using an IP scanner - ManageEngine.
11 Best IP Scanner Tools For Network Management
IP Scanner tools excel at scanning IP ranges and providing network admins with the tools to manage the entire network. These tools work on the principle of Agentless Asset Discovery which removes the need to install local software on each network device. IP Scanner software deploys multiple SNMP and ICMP methods to provide real-time insights. Moreover, these IP address scanner tools work fast as they can use multi-thread scan technology. Lastly, the IP scanner tools also offer easy port scanning, including the ability to switch ports.
Let's get started.
SolarWinds IP Address Manager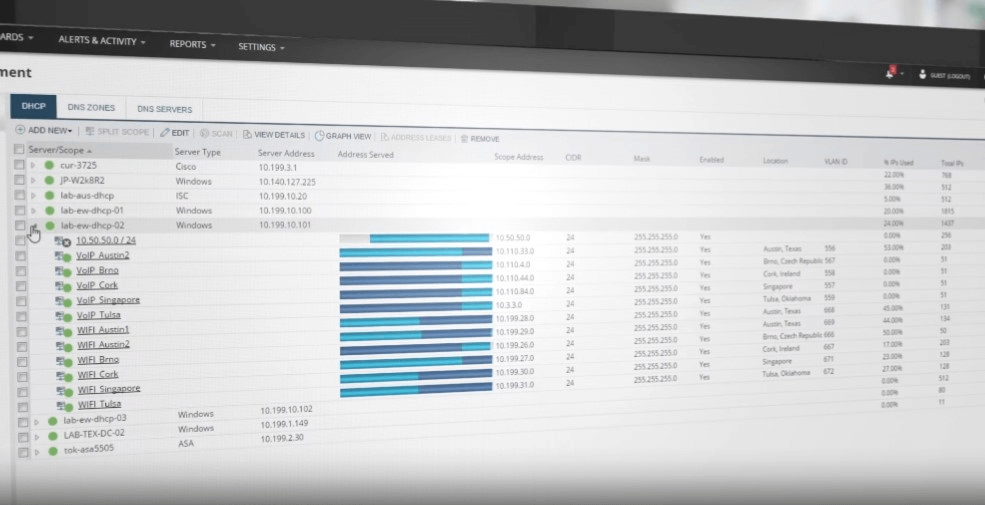 SolarWinds IP Address Manager lets admins maintain, manage and monitor IP addresses within a network. By using it, you can learn about IP address space, its usage, and much more. Apart from that, you can also manage DHCP and DNS.
Its main features include:
Automatic IP Scanning removes the need to do manual checks saving you time.

Admins can work with DHCP, DNS, and IP from one centralized panel.

Excellent user-friendly interface.

Supports IP address reporting, troubleshooting, and alerting

Complete IP address utilization tracking includes current usage, available IP address, and historical data.

Offers integration with third-party software
It is not free to use but offers a 30-days free version.
OpUtils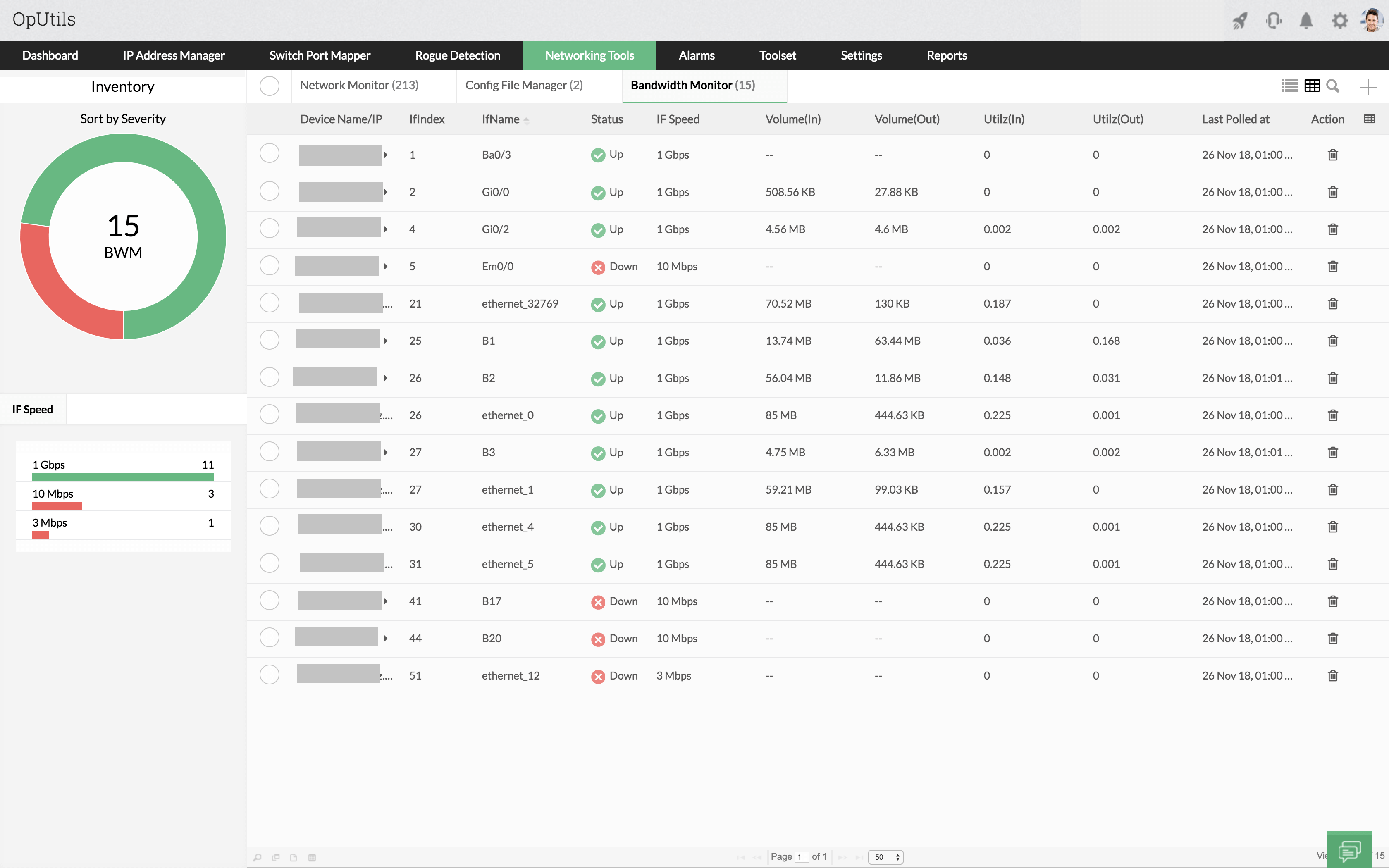 OpUtils by ManageEngine lets network admin manage switch ports and IP addresses. Network engineers get full control as they can easily diagnose, monitor, and troubleshoot the network. Admins can also determine how many IP addresses are available through proper IPv4 and IPv6 subnet scanning. Additionally, it also offers other features like:
Rogue device detection to identify unverified devices and block them.

Bandwidth monitor to keep track of the network's bandwidth usage

SNMP tools enable you to produce graphs for better visualization

Boot inactive machines on the network manually or through scheduling.

Monitor critical servers and get alters for issues that need immediate action.

Supports IP scanning with a particular IP range

Scan TCP ports and SNMP-enabled devices and get vital information such as system details, IP address, etc.
PRTG Network Monitor
PRTG Network Monitor by Paessler is an enterprise-ready monitoring tool that works in different environments of all sizes. It lets admins monitor all systems, including connected applications, connections, devices, and more. It also offers a central management console that saves you time by giving you an eagle-eye view. Additionally, it also supports on-premise installation and is completely customizable.
It offers a lot of features, including:
Works on Windows, Linux, and macOS.

Supports a variety of protocols for IP scanning and management.

Offers real-time monitoring and alerts if network issues happen.

Identify open addresses for easy allocation.

Bandwidth and traffic analysis.

Customizable dashboards.

Mobile app for remote control and monitoring.
Angry IP Scanner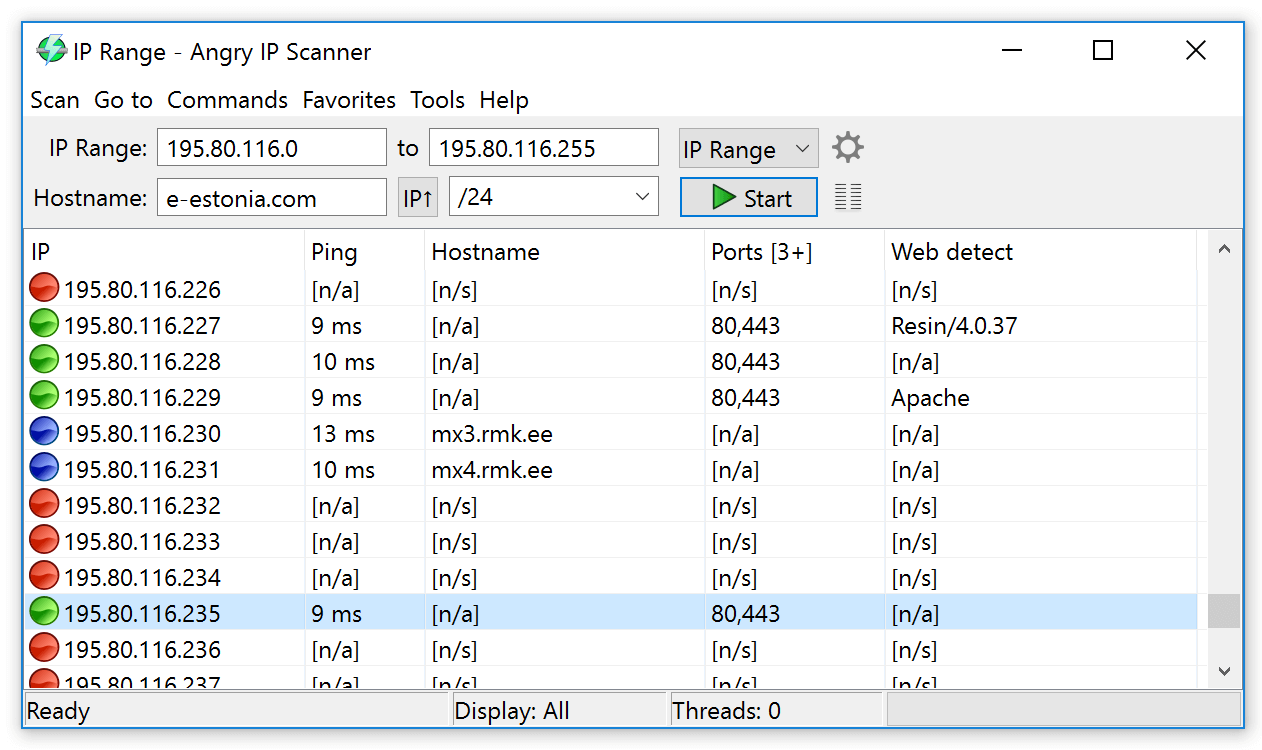 If you're looking for a fast and friendly IP scanner, check out Angry IP Scanner. The scanner is cross-platform and available for Mac, Linux, and Windows. It is capable of scanning IP addresses across any range and ports. Once you start Angry IP Scanner, you can ping every single machine in the network and see if it's alive. It also helps you resolve IP conflicts.
Angry IP Scanner lets you gather additional information, including hostname, scan ports, etc. If you use plugins, you can collect further information. It also lets you export information easily by creating and saving it to TXT, CSV, XML, or IP Port list files.
Angry IP Scanner features include:
Supports multithreaded approach for faster scanning.

Easily export scanning results in TXT, CSV, XML, or IP-Port list files.

Gather NetBIOS information.

Offers web server detection and configurable scanning options.

Find duplicate IPs across the entire network

Works great in hybrid environments
It is open-source and free to use.
IP Range Scanner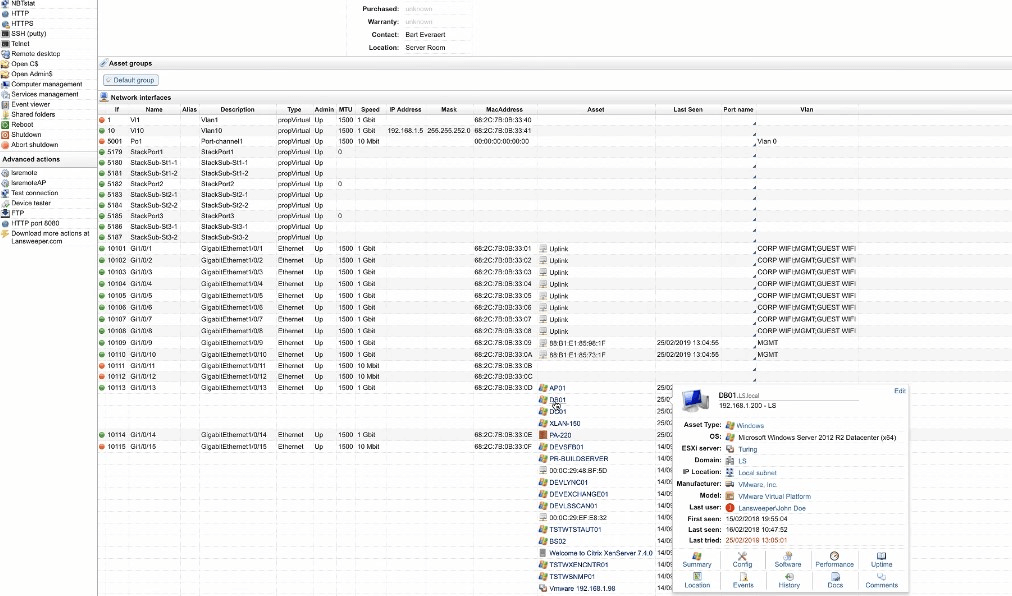 Lansweeper's IP Range Scanner is a free-to-use IP Scanner. With it, users can scan network devices, including computers, routers, etc. The IP scanner offers a configurable and easy-to-use interface. With it, you can save time by getting vital information such as IP address, operating system, hostname, and hardware information.
IP Range Scanner comes with plenty of features, like:
Schedule IP range network scan

Fast and accurate scanning

Ability to extract customizable scanned data.

Easily import network setup using CSV file

Exclude devices based on IP address or Type

It works great on the Local area network(LAN)

Scan results include detailed device information, including open ports, network services, etc.
The free version works for up to 100 devices. If you have more devices, you need to buy their enterprise version.
Free IP Scanner
Free IP Scanner is a free-to-use software that offers a simple and user-friendly way to scan your network for information. Using it, you can check the IP status of connected network devices.
Here, you get the following features:
Fully configurable port scanner

It uses multi-threaded IP scanning for fast output

Save output in text files

Displays NetBIOS information, such as logged users
Advanced IP Scanner
Advanced IP Scanner is another free network scanner that lets you analyze LAN. It comes in a portable edition and hence is easy to use. Alongside IP scanning, it also comes with remote computer control using RDP and Radmin. If you opt to use Advanced IP Scanner, you'll get access to the following features:
Network IP scanning

Remote control of computers

It comes in a portable format

Export scans to CSV

Easily turn
Intrduer
The intruder is a complete network scanning solution that offers more than just IP scanning. It is a cyber-security product that lets you find vulnerabilities in your product. With it, you can monitor risks on all your devices. For example, it can find issues such as misconfiguration, bugs, Cross-Site Scripting, and more. It enables IT companies to stay protected from more than 10K+ vulnerabilities.
Some of its notable features include:
Complete vulnerability scanning

Works with cloud systems

Penetration tests

Customizable monitoring

Monitor ongoing attacks

Intelligent, actionable results with proper context

Supports many integrations such as AWS, Slack, etc.
Intruder software is a paid solution aimed at businesses.
Fing
Fing is a free-to-use IP scanner that lets you list your network devices. Like other IP address scanners, it also provides vital information about scanned devices such as IP address, device name, manufacturer information, vendor, and so on. In addition, it also offers advanced NetBIOS information.
With Fing, you get the following features:
Offers mobile app

Identify network intruders

Run internet speed tests

Supports LAN and Wi-Fi network

Offers network alters

Offers troubleshooting tools such as port scanning
SolarWinds Port Scanner
To maximize network management, you also need a port scanner. SolarWinds port scanner lets you identify port behavior. This way, you can identify network vulnerabilities and fix them.
Here, you get the following features:
Do custom scans based on IP addresses

Multithread scanning for faster execution

Understand network configuration

Get proper port status across the network

Test open and closed ports for vulnerabilities
Using Nmap
Nmap is a handy command-line utility available across all major operating systems, including macOS, Linux, and Windows. It stands for Network Mapper. As it is an open-source tool, it is free to use. Its key features include port rules discovery, network mapping, operating system detection, service discovery, vulnerability scanning, and shadow IT hunting. Nmap falls under the advanced IP scanner category as it also uncovers vulnerabilities.
The Nmap command in Linux is as below.
nmap [hostname/IPaddress]
If you want to read more about Nmap, check out Nmap documentation.
Frequently Asked Questions
What does a network IP scanner do?
The network IP scanner lets you manage your business network. With it, you can discover, identify and manage IP addresses, including working with subnets. It also helps you discover the connected device's MAC addresses.
Can an IP address scanner find duplicate IPs?
Yes, an IP address scanner can find duplicate IPs. It scans your subnet or a defined subnet range using ARP(Address Resolution Protocol). Once done, it lists all the duplicate entries by their IPv4 address, network manufacturer name, MAC address, and hostname.
How does IPAM scan IPs?
IPAM(IP Address Management) offers an integrated suite of tools for IP address infrastructure. It helps in proper end-to-end monitoring, managing, deploying, and planning. It uses SNMP, neighborhood scanning, and SNMP to collect network device information while keeping track of IP address usage.