The Best Antivirus Software for 2023 Linux Server and other operating systems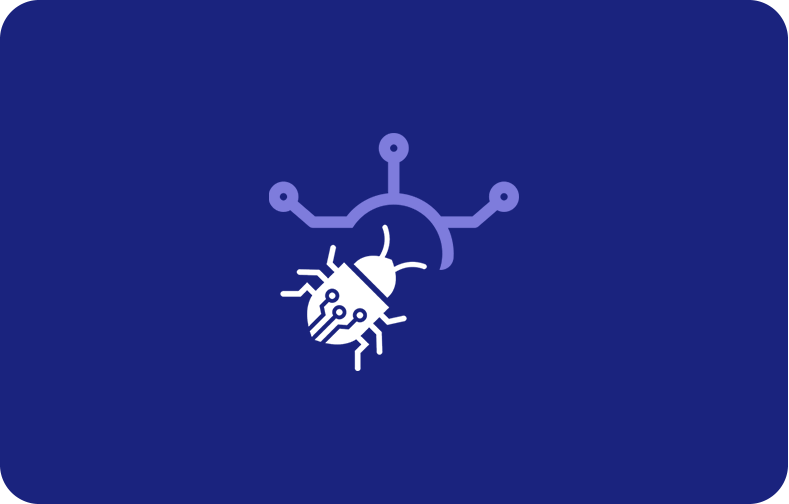 There are countless reasons Linux is considered the best operating system for cybersecurity. From its size and power utilization to the level of support it receives from the community, you'll be hard-pressed to find a more prominent supporter of open-source software than Linux.
But one thing that remains constant across all platforms is protection — so what kind of protection do you need?
In this article, I will guide you about the best antivirus software for Linux and other popular OS. You may have heard that Linux antivirus is safer than your Windows operating system, and now you want to see it yourself.
Main types of cyberattacks targeting Linux and Linux platform security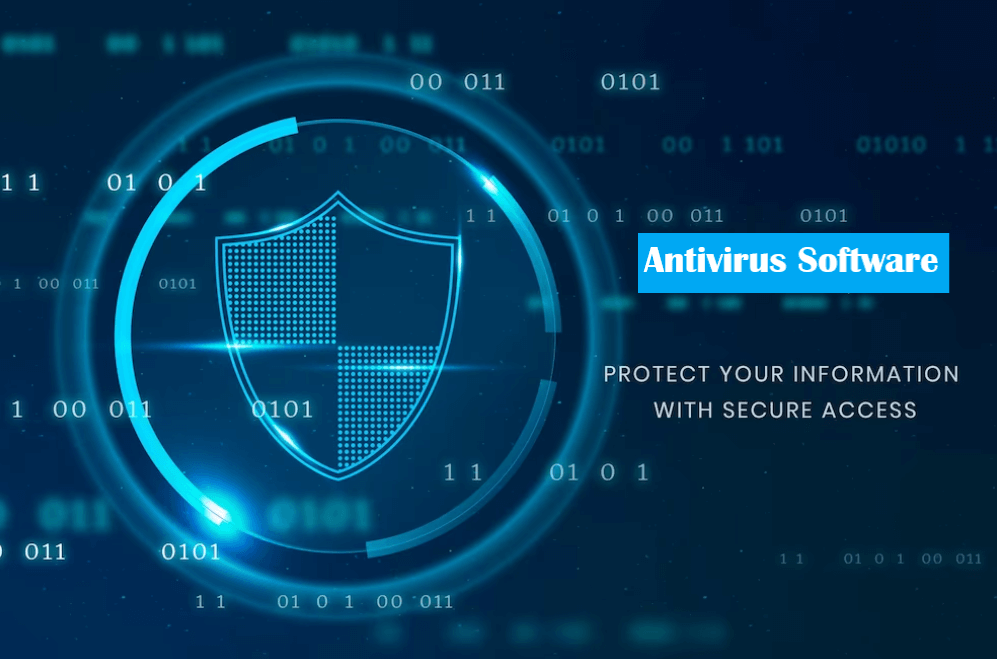 The security benefits of running an enterprise-grade Linux server are likely higher than running a traditional home or small office computer. However, cybercriminals have been frequently observed to attack Linux servers and spread malware to gain system-level access to sensitive information.
While hackers routinely target Windows servers, Linux servers are becoming increasingly popular due to the growing availability of Linux distributions. The number of attacks on Linux servers has increased significantly in recent years, with threat actors using various techniques to carry out operations.
Thus, Linux server security is no longer an issue small businesses and large organizations face. The average home user, too, is now exposed to cyber threats.
That's why it's important to know what attacks target Linux servers and how to prevent them from compromising your systems and business data.
These are six types of attacks on Linux servers you should watch for:
1. Virtual machine images are the target of ransomware
Ransomware groups have recently begun to snoop around in Linux systems. Although there is a wide range in the quality of the malware samples, gangs like Conti, DarkSide, REvil, and Hive are quickly improving their tactics.
2. Cryptojacking is increasing
One of the most common types of Linux malware is cryptojacking, with XMRig and Sysrv being the most well-known crypto-miner families. According to SonicWall analysis, efforts increased by 19% in 2021 compared to 2020. According to the document, cryptojacking increased by 709% and 218%, respectively, for consumers in the healthcare and government sectors.
3. IoT is targeted by three malware families: XorDDoS, Mirai, and Mozi
Most IoT devices run Linux mint, with a few exceptions, and their simplicity may make them more vulnerable. According to CrowdStrike, the amount of malware aimed at Linux devices and file servers increased by 35% in 2021 compared to 2020.
Three malware families, including XorDDoS, Mirai, and Mozi, account for 22% of the total. They always infect devices, gather them into a botnet, and then use the botnet to launch DDoS attacks.
4. Malware on Linux that targets Windows computers
Windows Subsystem for Linux (WSL), a component of Windows that enables Linux binaries to execute natively on this OS, windows malware and enables Linux malware to target Windows machines. WSL can only be installed manually or by signing up for the Windows Insider program, but if an attacker has privileged access, they can do so.
The possibility of launching assaults or establishing persistence on a Windows machine was investigated by cloud security startup Qualys. Proxying execution and installing utilities were the two strategies previously examined, and it concluded that both are very doable.
5. Fileless cyberattacks are challenging to find
Several actors, including TeamTNT, have started using Ezuri, an open-source program developed in Golang, according to security analysts at AT&T's Alien Labs. Malicious code is encrypted by attackers using Ezuri. The payload is performed immediately from memory after decryption, leaving no traces on the disc, making these attacks challenging for antivirus software to identify.
6. Linux environments are the target of state-sponsored attacks
Security experts who monitor nation-state organizations have discovered that they increasingly focus on Linux environments. According to Ryan Robinson, a security researcher at Intezer, "Many Linux malware has been launched with the start of the Russian-Ukrainian war, including wipers."
A few days before the incident, the Russian APT outfit Sandworm allegedly attacked the Linux computer systems of UK and American institutions, according to Cyfirma.
Benefits of using an Antivirus software
Antivirus programs have been around since the early days of computing, but they have become more sophisticated. They guard against malware's destruction of priceless memories, music and photo collections, and crucial documents on other computers. Be sure your security is capable of fending off the most recent threats.
These days, they're much more effective than they used to be, especially with other security measures like firewalls and anti-malware protection software such as Malwarebytes Anti Malware (MBAM).
The list shows some of the benefits of a sophisticated antivirus running on your device:
Identifying, resisting, and removing malware, viruses, and ransomware attacks through their permission-based structure.

Minimizing identity theft and combating fraud and phishing through behavior analysis.

Checking the Dark Web to see if an email account has been hijacked.

Alerting you about potentially harmful webpages and URLs before you click.

Encrypting secure passwords to protect internet accounts.

Delivering basic instructions to show you and your family how to be more secure from online threats.

Adjusting your computer's settings to keep it operating smoothly.
Free vs. Paid Antivirus for Linux
Although free antivirus software can provide essential malware protection and handle some basic requirements, you should pay if you want trustworthy and comprehensive security.
One thing to keep in mind is that antivirus businesses must generate revenue, either from paid versions or from your sensitive data. As a result, an untrustworthy antivirus provider can sell your data to hackers or other outside parties.
Not to mention the possibility of pop-up advertising or even dangerous applications that could infect you with malware being included in some free antivirus software (the last thing you want from an antivirus).
Hence, if you insist on receiving a free service, look for respectable, trustworthy businesses like TotalAV that provide the most excellent and reliable free antivirus services. They still want you to pay for a premium version eventually, but at least they won't do any damage to you.
Yet as you go, be prepared for significant constraints and fewer features. You may frequently do basic system scans with free plans. Yet paid plans are usually the only way to get features like customized scanning, malware protection, and powerful firewalls.
7 Best Linux Antiviruses for your enterprise in 2023
Linux is very popular because it is easy to install software and use and offers a wide range of capabilities that allow you to customize your operating system according to your needs. The downside is that viruses and malware can be hard to detect and prevent from spreading across your network.
Fortunately, there are several antivirus programs available for the Linux OS. Some Linux antiviruses provide full-featured protection against viruses and malware, while others focus on one particular threat type. Some offer only cloud-based virus and malware scanning, while others are easy to install and manage via a graphical user interface or command line tools.
Thus, many Linux users still struggle to decide which antivirus program to employ to safeguard their files and data against infection.
After testing the most popular Linux antivirus software, our team of experts has compiled a list of the best antivirus software for Linux, which are mentioned below. The results are based on performance, features, ease of use, customer support, and more.
1.Bitdefender Antivirus Plus 2020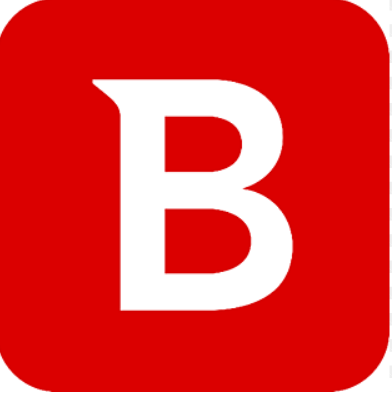 Bitdefender Antivirus Plus 2020 is the best antivirus for Linux since it offers several robust features. In my tests, its artificial learning-based antivirus scanner identified 100% of the malware, including malicious files created to function on Linux, Windows, and macOS. Moreover, its on-access scanner offers advanced users thorough real-time security.
Another powerful feature is Bitdefender's Control Center, a consolidated cloud-based operator management solution. With it, any user can manage firewalls, app sandboxing, website filters, and more while setting security policies to keep their system safe.
In my testing, its firewall was significantly more effective. It eliminates viruses and blocks incoming connections better than Linux's default security features, including Ubuntu's Uncomplicated Firewall (UFW) tool. Bitdefender could identify port knocking, outgoing scripts, man-in-the-middle attacks, and other risks far more accurately than UFW.
Moreover, this Linux antivirus offers a primary Command Line Interface (CLI) option. You can use a range of commands in the graphical user interface to start on-demand scans, see suspicious files, see blocked files, view historical security events, and check Bitdefender's version and status on your Linux machine.
Its pricing plans are shown in the screenshot below: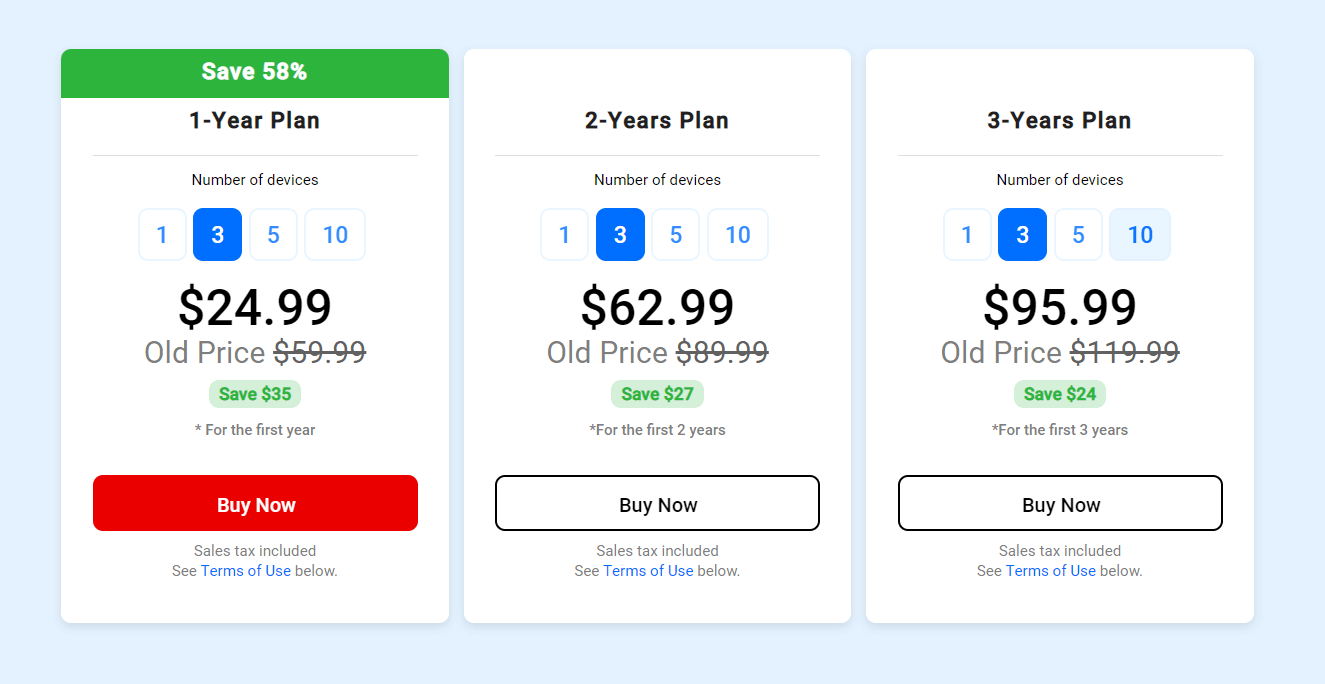 Furthermore, Bitdefender also offers a 30-day money-back guarantee on all its plans.
2. Kaspersky Antivirus software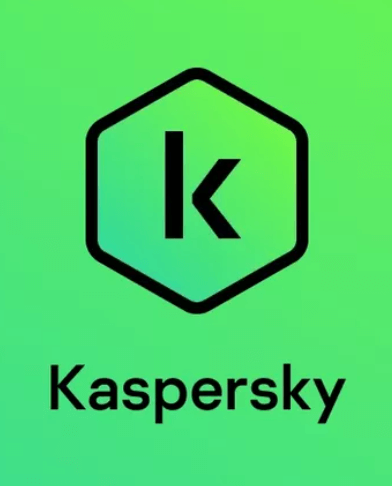 Kaspersky Endpoint Security is a reputable Linux antivirus software solution for IT environments. Throughout my tests, Kaspersky Endpoint Security found and eliminated every malware sample I hid on my connected Linux, Windows, and Mac devices.
These include malware samples buried in boot sectors, file servers, portable devices, and system memory. Also, malware aimed towards my Internet of Things (IoT) devices, such as a Facebook Portal and Google Nest Hub, was found and quarantined by Kaspersky's malware scanner there.
It provides a powerful malware scanner, ransomware security, a firewall watch, and other features. Although the Endpoint Security Cloud plan is the best choice for enterprises, hybrid IT settings with Linux, Windows, and Mac computers benefit significantly due to its access control, server security, and gateway monitoring tools.
Its pricing plans are shown in the snapshot below: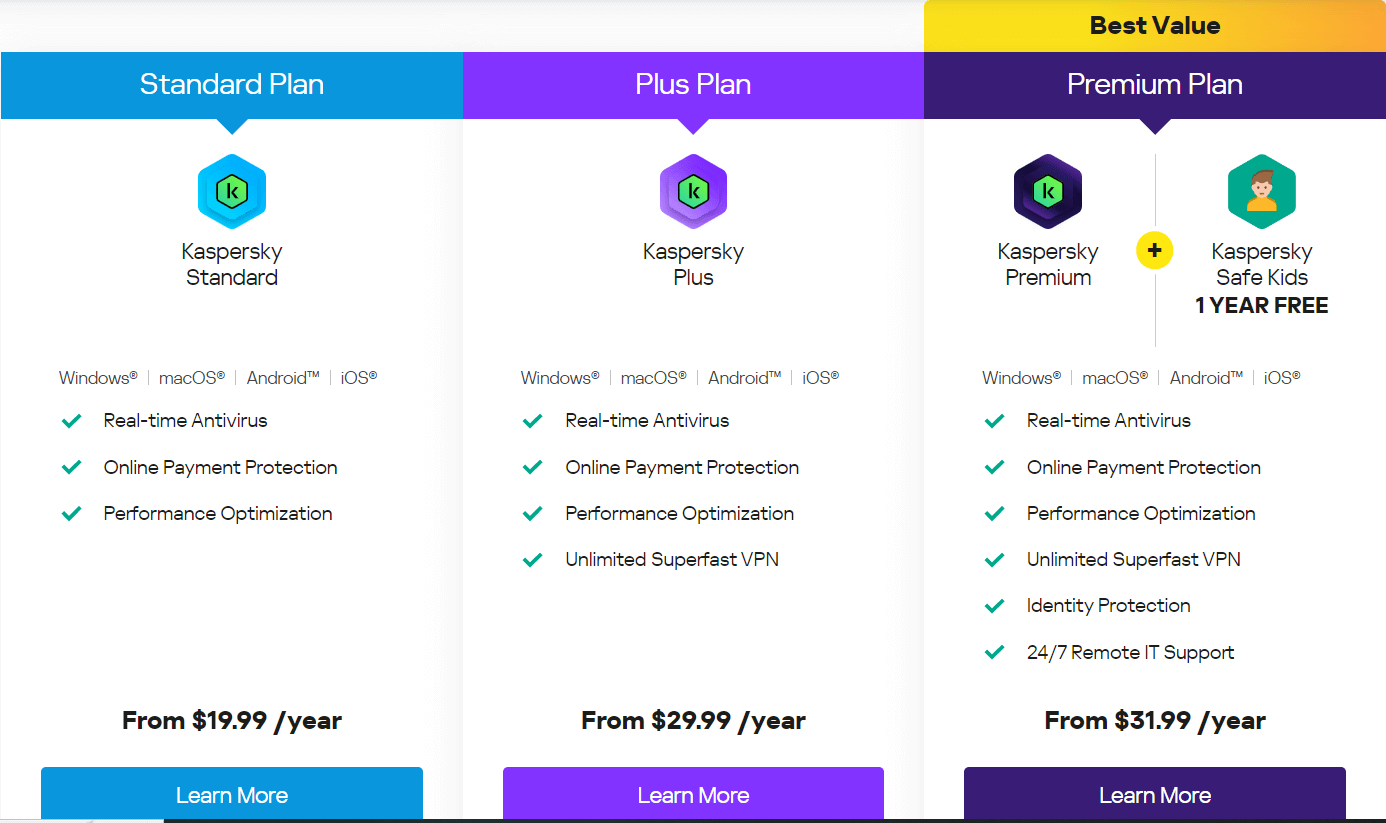 Moreover, a 30-day money-back guarantee is included with Kaspersky's Linux products.
Malwarebytes for Business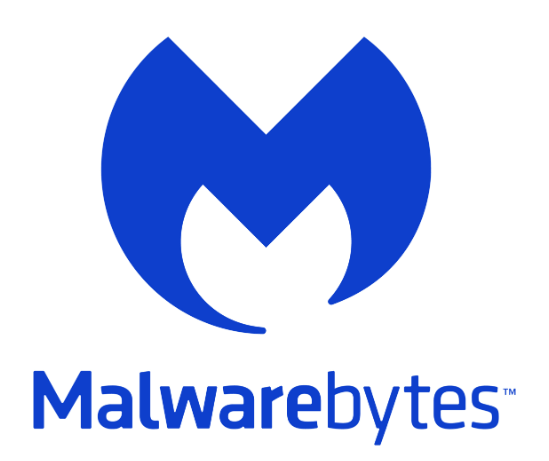 Malwarebytes EDR is another excellent Linux antivirus since it combines the Endpoint Protection solution's preventative features with several additional tools like password managers for infection detection, isolation, investigation, and eradication.
Companies receive real-time protection against security vulnerabilities, including malware, ransomware, zero-day exploits, phishing, and others, and defense against Brute Force Attacks that can disrupt operations.
EDR is housed on the Nebula platform in the cloud, providing centralized control while reducing the agent's physical footprint on each terminal. In terms of remediation, an EDR solution separates malicious code at the network, process, or terminal level so that, in the event of an infection, an investigation may be conducted without exposing the business to additional risk.
Users can stop malware spread by remotely and securely detonating malware in a sandbox environment employing expedited research processes. Its 72-hour Ransomware Rollback functionalities enable users to return to a pre-ransomware state without spending time re-imaging workstations or re-creating encrypted information.
Its pricing plans are shown in the picture below: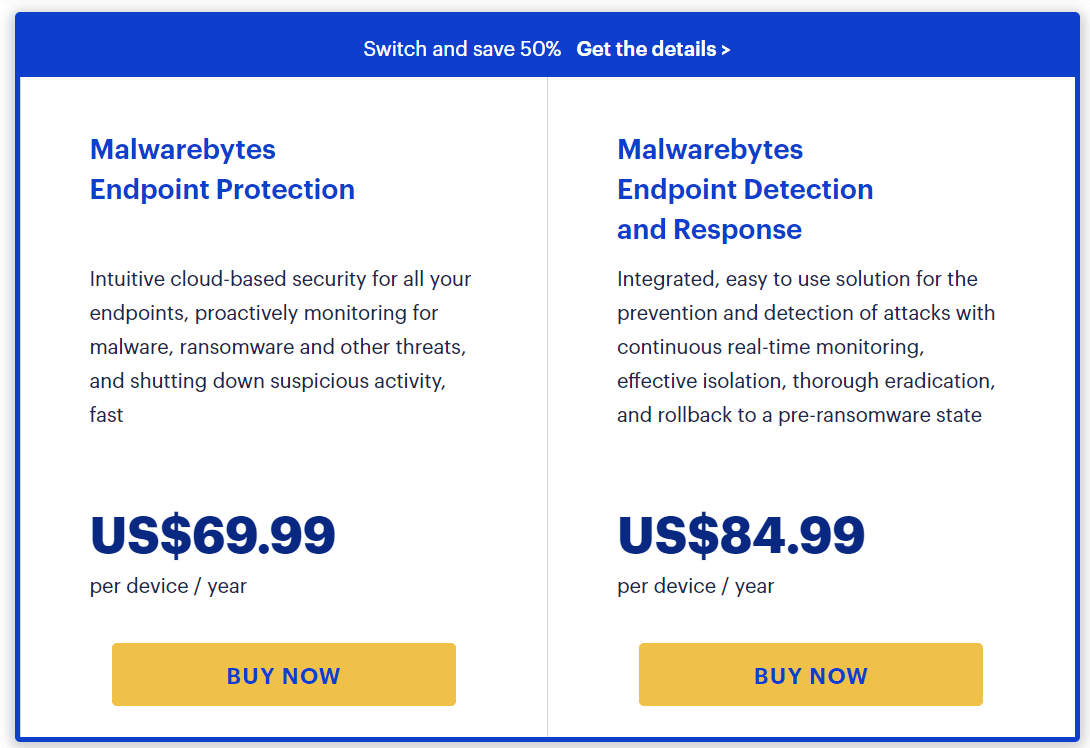 Additionally, a 14-day risk-free trial is also available for Malwarebytes business.
4.McAfee Endpoint Security

Another excellent Linux antivirus is McAfee Endpoint Security which provides market-leading protection and ease of implementation for your diversified endpoint network.
During our testing, IT admins didn't have to manually conduct scans for each webserver and workstation because McAfee's VirusScan Enterprise for Linux performed scans on-access and in real-time. Just running in the background, McAfee VirusScan found malware anytime it entered our network.
It should be noted that the McAfee solution found malware on Linux desktops and servers and Windows and Mac machines. Additionally, it used algorithmic scanning to find and stop new malware strains even before they were added to malware databases.
The fact that McAfee's corporate antivirus solution safeguards IT systems from malicious activities independent of the endpoint's operating system is crucial, given that most enterprise environments are hybrid.
Our IT infrastructure's network traffic was continuously checked for potential threats by McAfee VirusScan. Its primary goal is to keep malware and other risks out of the network. But it also tries to stop malware from spreading and prevent hackers from compromising a terminal to take over the network.
Check out all the features and pricing of McAfee's paid versions from the screenshots below: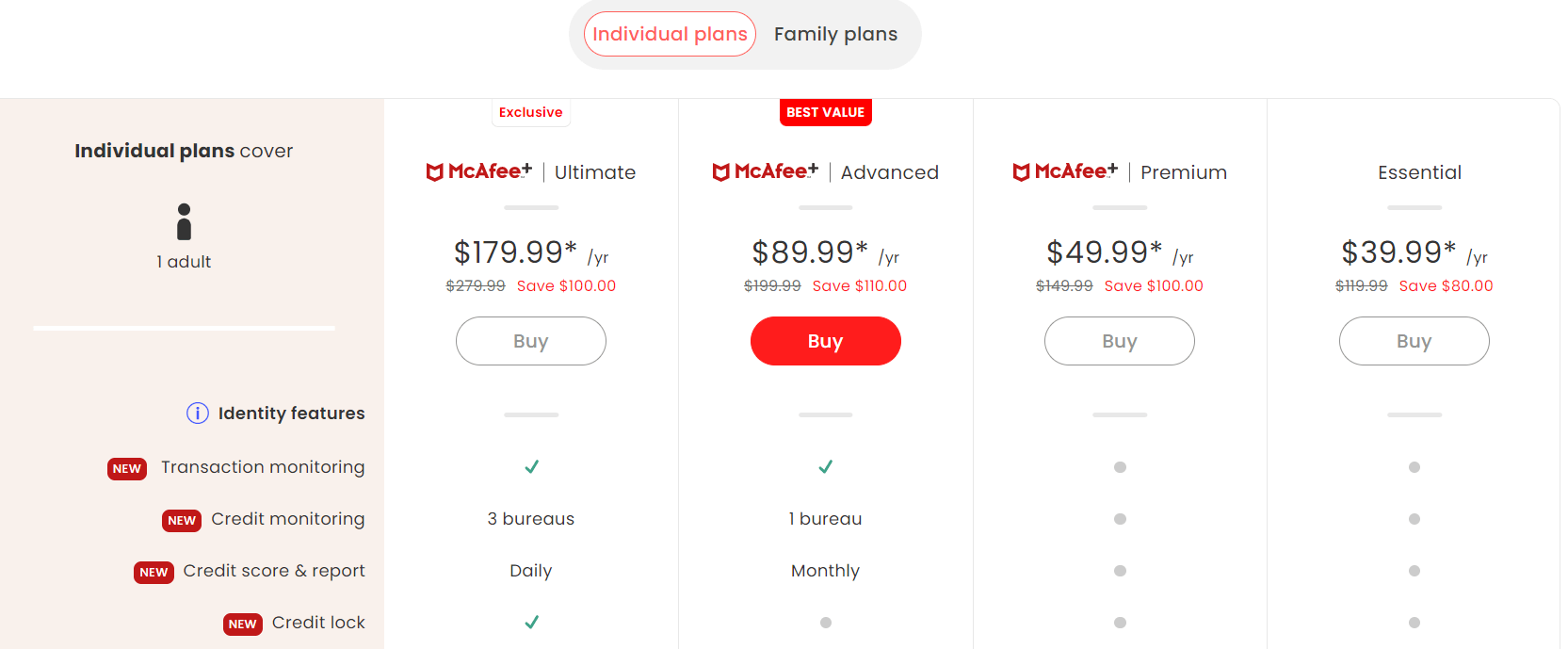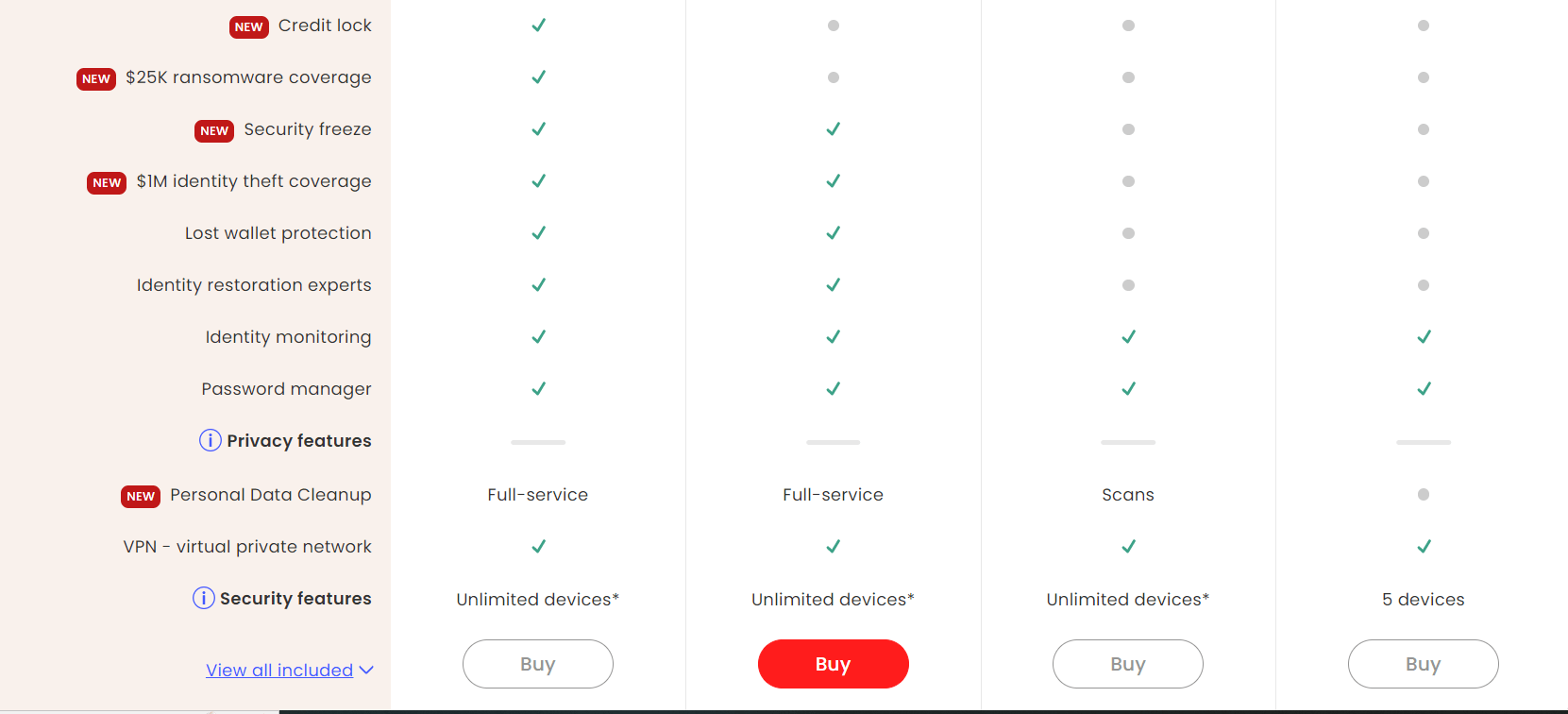 Lastly, this Linux antivirus software offers a 30-day free trial for end users to check whether it suits their enterprise.
Avast Ultimate Business Security - Antivirus for Linux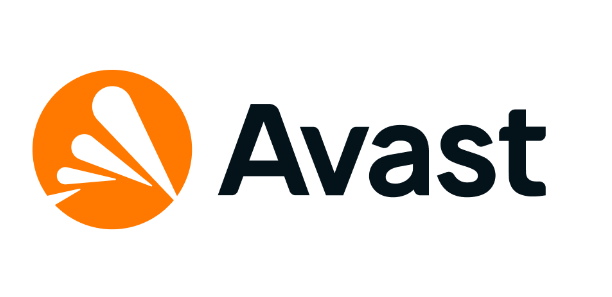 Avast Ultimate Business Security is a potent monitoring and defense tool for online businesses that protect and update hardware and software.
When we tested it for our Linux-based servers, we found that Avast requires continuous updates to its malware database to function as an antivirus. This is to guarantee that it recognizes even the most recent malware attacks.
According to Avast's website, all its Linux security products were created to retrieve updates periodically. That implies that we did not require manual software updating.
Also, based on our experience, the update packages were minimal. As they were all less than one MB in size, even if we were using the Linux-based file server at the same time as the mail server when they were updating, it did not affect the mail server's speed, and we could all carry on with mail server and with it our work as usual.
The screenshot below shows the price of Avast Business: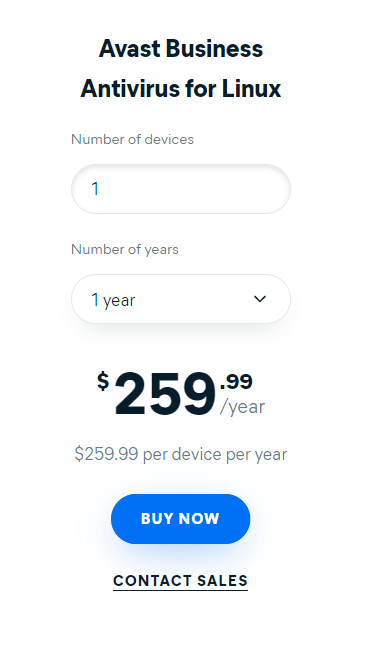 To test whether it can detect threats and provide real-time protection of your file server, you can try its 30-day risk-free trial.
ESET Advanced Protection
With this Linux version of antivirus, endpoints, mobile devices, and servers used by your business are shielded from previously unidentified attacks. It enhances data protection with its permission-based structure. It is empowered by the ESET PROTECT Platform, which successfully balances breach detection, response, and prevention.
Cloud sandboxing and advanced threat defense significantly reduce ransomware and zero-day threats. With the highest detection percentages and minor false positives, sophisticated scanning, machine learning, cloud sandboxing, AI, and in-depth behavioral analysis are used.
The interface is simple to navigate and offers centralized visibility, administration, and insight across all ESET Business security solutions, environments, and operating systems. It can be deployed on-premises or in the cloud. It takes minutes to install software and execute it.
The screenshot below shows the pricing plans of ESET Internet Security: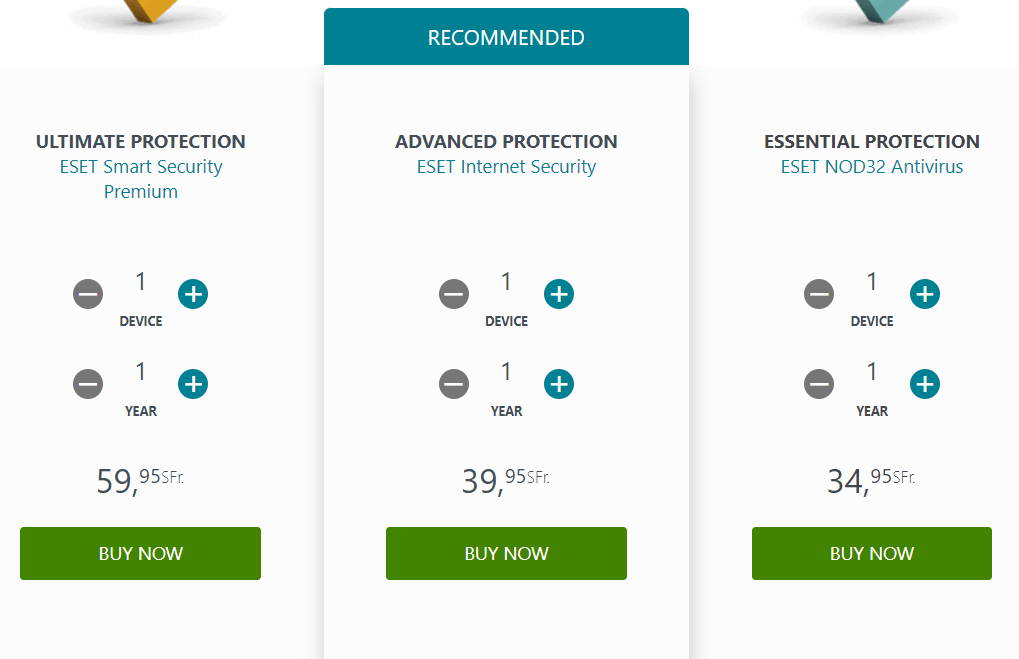 It also offers a 30-day risk-free trial for users to test it out.
Sophos Intercept X: Next-Gen Endpoint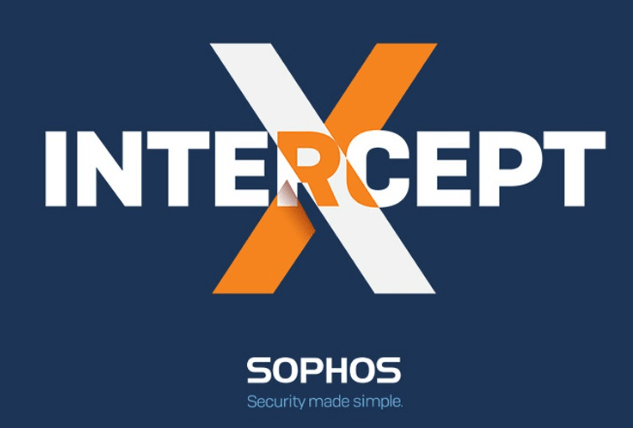 Sophos Intercept X offers the best malware detection and protection for Linux in 2023. It employs sophisticated techniques and a unique malware database to find and eliminate every kind of malware.
Sophos constantly achieved excellent malware detection rates during my testing for the malware scanner and complete defense; it not only identified every piece of Linux-based malware on my system but also completely eradicated Windows and Mac-based malware samples from my Linux machines.
Also, Sophos Anti-Virus for Linux is simple to use. A command-line interface and Sophos Central, a web-based administration platform with a simple graphical user interface, can administer its capabilities (CLI). Nevertheless, Sophos Central will stop providing support in July 2023, at which point just CLI will be available.
Most well-liked Linux distros, including Red Hat, SUSE, and Ubuntu, support Sophos Intercept X. Moreover, it provides compatibility for these distros' customized variations.
The three paid plans of Sophos Intercept X are shown in the screenshot below:

Check out the feature difference between the paid versions of Sophos Intercept X from the snapshots below: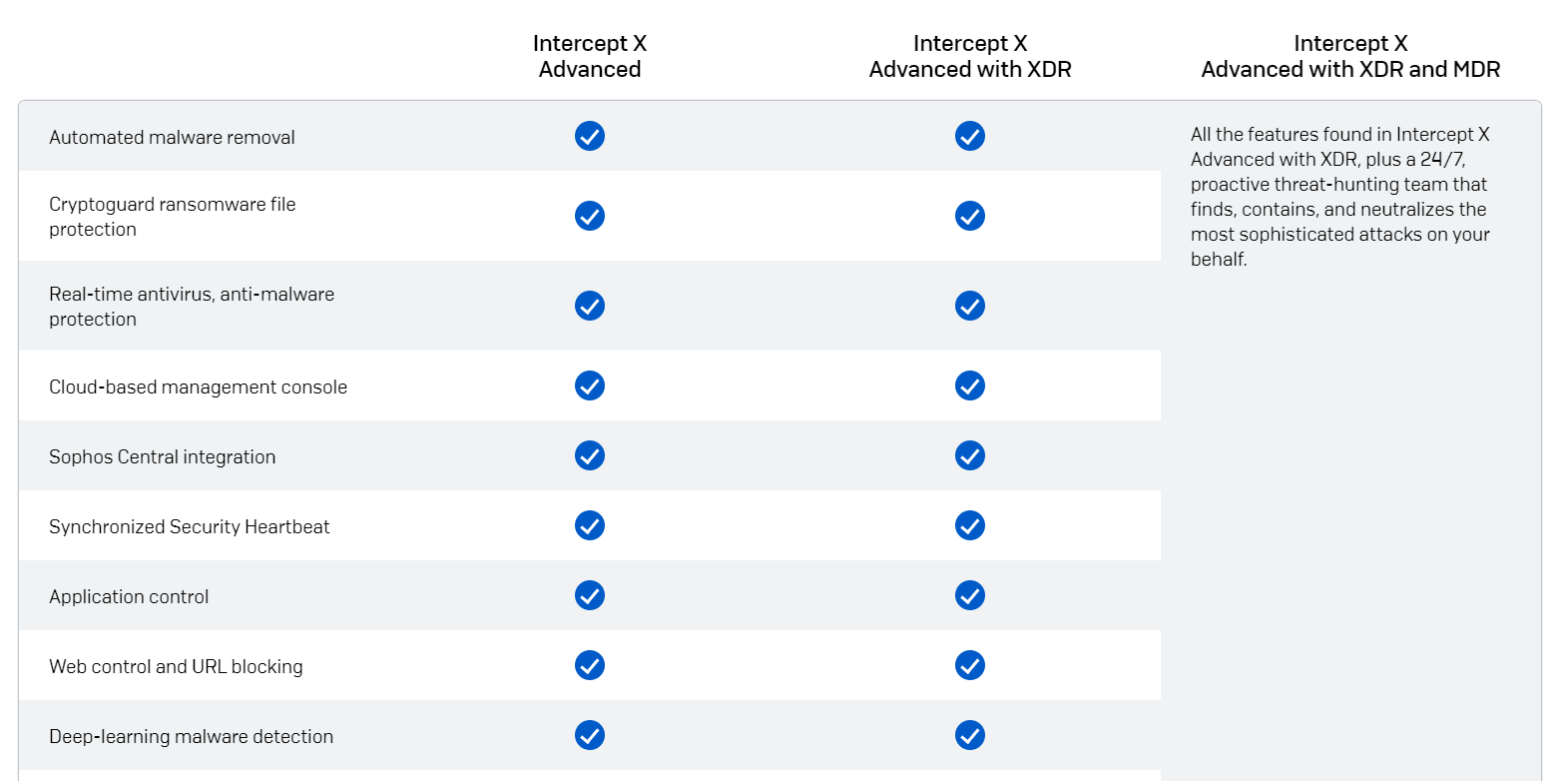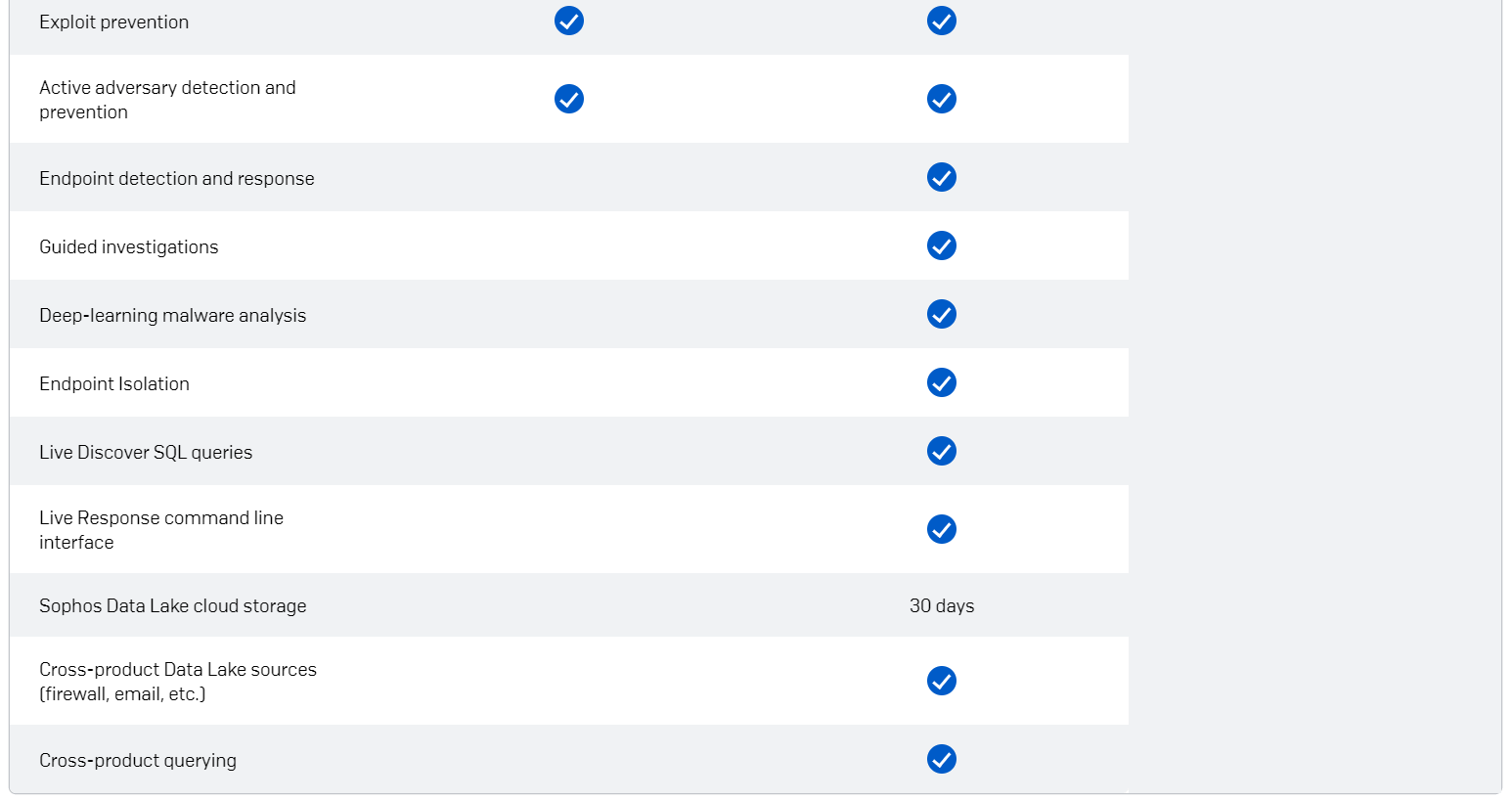 A 30-day free trial of Sophos Intercept X is available for Linux os. After this trial is over, you will have the choice to choose a reseller who will offer you a personalized estimate depending on your needs.
Best Antiviruses for other operating systems
Several antivirus solutions are compatible with various OS. But, antivirus software specially tailored for each operating system performs best.
After many tests, Bitdefender Antivirus Plus was the top choice for the most widely used OS. In addition to a free edition, it has a wealth of features and excellent virus detection rates.
Apart from this, a list of the top antivirus programs for each operating system is mentioned below:
Windows antivirus software:
Most vendors concentrate on building Windows apps and filling them with functionalities. After testing a variety of vendors, we have concluded that the best antivirus software for Windows malware detection includes Vipre Endpoint Protection, ESET PROTECT Complete, Malwarebytes for Teams, Kaspersky Endpoint Security Cloud, and Panda Small Business Protection.
Mac antivirus software:
Several antivirus solutions for Mac laptops have been ported from the antivirus solutions and security software for Windows PCs. Of course, many lack individualized characteristics. Hence, we selected the top five antivirus protection software for Mac, including AVG Antivirus for the Mac, McAfee Total Protection, Intego's Mac Internet Security X9, Clario 1.5 for the Mac, and Norton 360 Deluxe.
Chromebook antivirus software:
Although Chromebooks are believed to be quite secure, malware can infect them. Because of this, we looked into the best antivirus software for Chrome OS and found the best antivirus, including Norton 360 Deluxe, TotalAV, Trend Micro, Avira, and Avast.
Android antivirus software:
Despite having Google's security tools installed, Android devices are not as secure as they should be. You can select a suitable Android antivirus solution for your enterprise from our best picks, including ESET Internet Security, Norton 360 Deluxe, Avast Mobile Security, and Kaspersky Mobile Antivirus.
iOS antivirus software:
Unfortunately, so many antivirus companies fail to create software for iOS. We've compiled a list of the top antivirus alternatives exclusively for iOS devices to assist you in making the right decision. Our top picks include McAfee Mobile Security, Trend Micro Mobile Security, Bitdefender antivirus for Linux, Norton Mobile Security for iOS, and TotalAV.
Frequently Asked Questions
Do Windows Users Need an Antivirus for malware protection for their enterprise?
Every enterprise computer that is running Windows OS needs antivirus software. In the best case, install such software on every server and client machine communicating with the domain controllers. It is best to stop malware as soon as possible, perhaps at the firewall or the client machine where it was first installed. As a result, the malware is stopped before it may affect the infrastructure systems that the clients rely on.
Will ransomware affect Linux users more than Windows users?
Ransomware can affect Linux users due to the open source code of Unix-based systems, which enables the system user to alter the program to limit the spread of the malicious code in the system.
However, developing ransomware that can affect other operating systems would not be a problem. Also, thanks to a vibrant developer community, any systemic flaw is promptly fixed. Users of Windows typically lack the technical know-how to solve such problems on their own and must rely on updates from one firm to assist them. Linux and Unix users are, therefore, less likely to be affected.
Which free antiviruses are the best to use for Linux devices?
For antivirus protection on your Linux computer, you can try many free antiviruses available online, such as Comodo antivirus, Rootkit Hunter, Qubes OS, Chkrootkit, Firetools, and ClamAV. However, the best antivirus for Linux is the premium version of Bitdefender Antivirus mentioned above.
Final Words
Looking at the history of cyberattacks, it should be safe to say that we are no closer to a solution to the problem. If anything, hackers are getting better at what they do. But this doesn't mean we do not have solutions, so we must work harder to keep up with them.
And it's not like we are sitting here with our hands tied. We have a lot of resources, such as anti-viruses and web filters, to protect our systems. These resources are improving daily, and we will likely be in a very different place in 2023 than we are now.
Using anti-virus software to protect your file server is one way to avoid compromising sensitive data. However, before choosing an Anti-virus product, you must ensure it is updated with the latest virus definitions. It should support all kinds of operating systems being used in your enterprise.
Choosing the right anti-virus software for your enterprise depends on several factors, namely the user's needs and the security strategy deployed. Hopefully, this article has given you an idea of what to look for when evaluating potential options and has demystified some general security aspects.