Nextcloud vs. ownCloud - Which Is The Best Cloud Server Solution?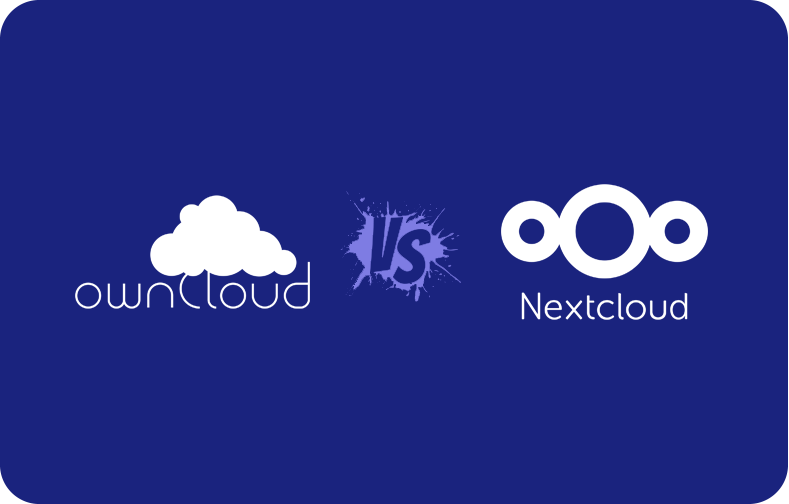 In the not-so-distant past, managing our digital files was a complex task. We had to carry around physical storage devices like USB drives or external hard drives, making sure not to lose or damage them. It was like lugging around a heavy chest filled with our sensitive data stored on precious memories and important documents.
But times have changed. We have entered the era of cloud storage, where our data finds a safe haven in virtual spaces. It's like having a personal storage unit in the sky, accessible from anywhere with an internet connection.
Cloud computing has revolutionized the way we store, access, and manage our data. Cloud technology offers a convenient and secure way to store and share files and collaborate with others, all while providing flexible access from any device with an internet connection, including mobile devices.
Among the vast array of cloud solutions available, Nextcloud and ownCloud stand out as leading platforms that empower individuals and organizations to create their own personal clouds. Is one better than the other? Let's find out!
What Are Personal Cloud Solutions?
Personal cloud solutions refer to online services that provide individuals with a secure and private space to store, manage, and access their digital content.
Unlike traditional cloud storage services that are primarily geared toward business users, personal cloud solutions are designed with individuals in mind. These solutions enable users to create their own virtual cloud storage environment, offering a range of features and capabilities to meet their personal needs.
How Do Personal Cloud Solutions Work?
Personal cloud solutions work by leveraging the power of the internet and cloud technology to offer individuals secure and convenient data control.
Here's a breakdown of the key components and functionalities involved:
Storage Space: Users get a designated amount of storage space to store their documents, photos, videos, and other digital content. This storage space is scalable, allowing users to increase their capacity as their needs grow.
Cloud Synchronization: Personal cloud solutions offer seamless synchronization across multiple devices. Any changes made to files or folders on one device will automatically reflect on all connected devices. It ensures that users have the latest version of their files accessible from any platform with an internet connection.
Data Security and Privacy: Privacy and security are crucial aspects of personal cloud solutions. These services employ various encryption methods to protect user data from unauthorized access. Users can also set up additional security measures, such as two-factor authentication, to enhance the protection of their personal information.
Remote Access and Sharing: One of the main advantages of personal cloud solutions is the ability to access any file and share it with others remotely. Users can access their content from any location using web browsers or dedicated apps. They can also share files or folders with family, friends, or colleagues, granting them secure access to specific content.
Additional Features: Personal cloud solutions often offer additional features to enhance the user experience. These may include automatic backups, file versioning, media streaming capabilities, collaborative document editing, and integration with other applications and services.
Nextcloud vs. OwnCloud
Nextcloud and ownCloud are self-hosted cloud storage solutions that put you in control of your data. They offer similar features, allowing you to store, access, and share a file easily. Think of them as your own virtual filing cabinets, but instead of having physical drawers, you have a secure digital space to organize and manage your files.
So, Why Would Someone Need Nextcloud or ownCloud?
Well, imagine you value data privacy and want to keep your data safe on your own server rather than relying on third-party providers. Or perhaps you're part of a business or organization that needs strict control over sensitive information. In this case, both Nextcloud and ownCloud offer feature-rich solution that fits your needs and value data sovereignty.
With Nextcloud and ownCloud, you have the power to build your own cloud storage system tailored to your specific needs. They prioritize data sovereignty, allowing you to encrypt your data and set access controls. Plus, they offer various benefits like security features, file sharing and synchronization, a remote wipe option, a collaboration platform, etc.
Nextcloud, a newer player in the field, builds upon the foundation set by ownCloud. It provides a comprehensive suite of tools and features that cater to both personal and professional needs. With Nextcloud, you can securely store and share a file, synchronize it across devices with the internet, and collaborate with others. It's like having your own private cloud but without relying on external providers.
On the other hand, ownCloud pioneered the concept of self-hosted cloud storage. It allows you to create your own cloud environment on your personal server. With ownCloud, you have complete control over your data, ensuring its privacy and security.
What is Nextcloud?
Nextcloud, developed by Nextcloud GmbH, is a powerful cloud platform that offers a wide range of features and functionalities to empower users in their data management and collaboration needs.
With Nextcloud Hub at its core, users can enjoy a comprehensive suite of collaboration tools and services for secure file storage. Nextcloud Hub serves as the central data center for all your data and collaboration requirements. It is a collaboration platform that provides a seamless and user-friendly web interface where you can easily upload files and collaborate with your team members.
Moreover, Nextcloud supports Cleantalk Pixel, a tool that helps combat spam and ensure a clean and secure collaboration environment.
Nextcloud users benefit from a range of client applications, including desktop clients for various operating systems. These clients enable seamless file synchronization between your devices and the Nextcloud server, ensuring you can always have the latest version of your Nextcloud files, regardless of your location. With the ability to easily integrate new features and expand functionality, Nextcloud makes it possible for users to tailor their cloud experience to suit their specific requirements.
One of the standout features of Nextcloud is its strong focus on user accounts and security. Each user can have their own account, which allows for granular control over access permissions and sharing settings. Nextcloud users can enjoy robust security options, such as encryption and two-factor authentication, to protect their data from unauthorized access and ensure their privacy. With end-to-end encryption, two-factor authentication, and advanced access control settings, Nextcloud gives users full control over who can view their file and how it is secured.
Nextcloud embraces the principles of the open-source community, fostering collaboration and continuous improvement. The open-source nature of Nextcloud means that the source code is openly available, allowing developers and users to contribute to its development and customize it to suit their specific requirements. This vibrant community ensures that Nextcloud remains innovative, adaptable, and always evolving.
For those who prefer on-premises solutions, Nextcloud provides the flexibility to host your own Nextcloud server. Alternatively, Nextcloud can also be hosted in a trusted data center, providing scalability, reliability, and ease of management.
In terms of scale and performance, Nextcloud offers infinite scale capabilities. This means that the platform can handle a growing volume of data and users without compromising on performance or functionality. Therefore, Nextcloud can accommodate the needs of a small team or growing organizations.
What is ownCloud?
ownCloud presents a centralized web interface that serves as the ultimate hub for managing all your documents. With this interface, you can effortlessly handle your files, enabling you to efficiently organize and distribute them from any internet-connected device.
Whether you're engaged in document editing, sharing media files, or collaborating on a project, ownCloud provides a user-friendly environment that streamlines your workflows and enhances productivity.
A standout feature of ownCloud lies in its robust file-sharing capabilities. Sharing files securely is a breeze with just a few simple clicks. Whether you're collaborating with fellow ownCloud users or individuals without an ownCloud account, you can seamlessly share files, facilitating efficient communication and collaboration.
Whether it's within your organization or with external partners, ownCloud empowers you to work together effortlessly.
ownCloud's versatility extends beyond the web interface. It offers dedicated applications for mobile phones, enabling you to enter and manage your files on the go. These mobile apps provide a seamless experience, allowing you to upload, download, and synchronize files between your mobile phone and the cloud server. This flexibility ensures that your files are accessible at all times, regardless of your location or the device you're using.
Moreover, ownCloud integrates seamlessly with other applications and services, expanding its capabilities beyond file storage and sharing. Through integrations with popular productivity tools, you can edit documents collaboratively, sync contacts and calendars, and even create and manage your own customized business apps. ownCloud acts as a central platform, enabling you to consolidate your digital activities and streamline your workflows.
When it comes to security, ownCloud prioritizes data protection and privacy. By leveraging encryption and advanced access controls, you can ensure that your files are secure and only accessible to authorized individuals. ownCloud also offers the option to create public links, granting controlled access to specific files to external parties. This makes it convenient for sharing files with clients, partners, or other stakeholders while maintaining complete control.
Beyond file sharing and storage, ownCloud provides a host of additional features designed to enhance your productivity and collaboration. These include document editing and versioning, enabling multiple users to work on the same file simultaneously and track changes effortlessly.
With shared folders, teams can collaborate seamlessly, accessing and modifying files in a unified workspace. ownCloud's communication features facilitate efficient team collaboration and ensure smooth information flow within your organization.
Side-by-Side Comparison - ownCloud vs. Nextcloud
It's important to understand the main differences of each platform and determine which one best suits your needs. So, let's dive into the details!
| | | |
| --- | --- | --- |
| Feature | ownCloud | Nextcloud |
| File Storage and Sync | ✓ | ✓ |
| Collaborative Tools | ✓ | ✓ |
| End-to-End Encryption | ✓ | ✓ |
| External Storage Integration | ✓ | ✓ |
| App Ecosystem | ✓ | ✓ |
| Mobile Applications | ✓ | ✓ |
| Calendar and Contacts | ✓ | ✓ |
| Version Control | ✓ | ✓ |
| Activity Monitoring | ✓ | ✓ |
| Administration and Control | ✓ | ✓ |
| User Management | ✓ | ✓ |
| Document Editing | Collabora Online (Integration required) | OnlyOffice (Integration required) |
| Virtual File System | - | ✓ |
| LDAP and Active Directory | - | ✓ |
| Advanced Sharing Options | - | ✓ |
| Data Loss Prevention | - | ✓ |
Document Editing
Both Nextcloud and ownCloud offer integration with document editing platforms.
Nextcloud integrates with Collabora Online, while ownCloud integrates with OnlyOffice. These integrations allow users to collaborate on documents in real time, providing a seamless experience for teams working on shared files.
Virtual File System
Nextcloud supports a virtual file system, enabling users to handle files on-demand without taking up local storage space. This feature allows for more efficient storage management, as files are downloaded only when they are needed.
ownCloud, on the other hand, does not currently offer a virtual file system.
LDAP and Active Directory
Nextcloud provides native support for LDAP and Active Directory, making integrating with existing user directories and authentication systems easier.
ownCloud also offers this feature, allowing for seamless integration with existing user management infrastructure.
Advanced Sharing Options
Nextcloud offers advanced sharing options, such as password-protected links, expiration dates for shared files, and the ability to set specific permissions for shared folders. These options provide greater control and security when sharing files.
ownCloud also supports basic file sharing but does not provide the same level of advanced sharing options as Nextcloud.
Data Loss Prevention
Nextcloud has built-in data loss prevention mechanisms, including file versioning and the ability to restore deleted files from the trash bin. These features ensure that data can be recovered in case of accidental deletions or modifications.
ownCloud also offers similar data loss prevention mechanisms.
Pricing Options
OwnCloud and Nextcloud offer various pricing options based on the type of deployment and additional features required.
Here is a simplified breakdown of their pricing structures.
ownCloud
Community Edition: Free and open-source.

Enterprise Edition: Pricing available upon request, offering additional enterprise-grade features and support.

Hosting Partners: Pricing varies depending on the chosen hosting provider and the desired storage capacity.
Nextcloud
Community Edition: Free and open-source.

Nextcloud Standard: Pricing starts at 2,500 per year for 50 users, including support and updates.

Nextcloud Enterprise: Pricing is available upon request, offering advanced features, scalability, and dedicated support.
Which One to Choose?
When comparing ownCloud and Nextcloud, both platforms offer similar core features, including file storage, synchronization, collaboration, and security. The decision between the two ultimately depends on users' specific needs, budgets, and preferences for more features.
It is recommended to carefully evaluate the feature sets, pricing structures, and support options offered by ownCloud and Nextcloud to determine which solution aligns best with your requirements.
By considering the comparison and referring to user reviews and testimonials, you can make an informed decision and choose the personal cloud solution that suits you best.
Exploring Alternatives: Top 10 Cloud Solutions Beyond Nextcloud and ownCloud
When it comes to personal cloud solutions, not every user may find Nextcloud and ownCloud suitable for their specific needs. Whether due to functionality, pricing, or other preferences, it's essential to explore alternative cloud solutions that offer comparable features and benefits.
We present a handpicked selection of the top 10 alternatives to Nextcloud and ownCloud, providing users with a diverse range of options to consider.
| | | | | | | | | | |
| --- | --- | --- | --- | --- | --- | --- | --- | --- | --- |
| Cloud Solution | Key Features | Open- source | Calendar Sharing | Group Messaging | File Versioning | Collaboration Tools | Encryption | Supported os | Price Range |
| Dropbox | User-friendly interface, seamless synchronization | No | Yes | No | Yes | Yes | SSL/TLS | Windows, macOS, Linux | Freemium |
| Google Drive | Integration with Google ecosystem collaboration | No | Yes | Yes | Yes | Yes | SSL/TLS | Windows, macOS, Linux | Freemium |
| Microsoft OneDrive | Seamless integration with Windows, productivity tools | No | Yes | Yes | Yes | Yes | SSL/TLS | Windows, macOS, Linux | Freemium |
| iCloud | Seamless integration with Apple ecosystem | No | Yes | No | Yes | Yes | SSL/TLS | macOS, iOS | Freemium |
| pCloud | Robust security, flexible storage options | No | Yes | No | Yes | Yes | TLS | Windows, macOS, Linux | Freemium |
| Mega | End-to-end encryption, generous free storage | No | No | Yes | Yes | Yes | AES-128 | Windows, macOS, Linux | Freemium |
| Box | Secure file sharing, compliance, business focus | No | Yes | Yes | Yes | Yes | TLS | Windows, macOS, Linux | Subscription- based |
| SpiderOak | Zero-knowledge privacy policy, data protection | No | No | No | Yes | Yes | AES-256 | Windows, macOS, Linux | Subscription- based |
| Tresorit | End-to-end encryption, privacy- focused | No | Yes | No | Yes | Yes | AES-256 | Windows, macOS, Linux | Subscription- based |
| Sync.com | Secure cloud storage, easy sharing and collaboration | No | Yes | No | Yes | Yes | TLS | Windows, macOS, Linux | Freemium |
| Nextcloud | Self-hosted, open-source, extensive collaboration features | Yes | Yes | Yes | Yes | Yes | SSL/TLS | Windows, macOS, Linux | Self-hosted |
| ownCloud | Self-hosted, open-source, file syncing and sharing | Yes | Yes | Yes | Yes | Yes | SSL/TLS | Windows, macOS, Linux | Self-hosted |
Frequently Asked Questions
Are the apps in the Nextcloud App Store free?
Many apps in the Nextcloud App Store are free of charge and can be installed without any cost. However, some apps may have a premium or subscription-based pricing model, requiring a purchase or license to access certain advanced features or functionalities.
Can I synchronize files between my mobile phone and the cloud server using the mobile apps and mobile clients?
Yes, mobile apps and clients provide file synchronization capabilities. You can synchronize your contacts, calendars, and conversations or choose specific folders or files to synchronize between your mobile phone and the cloud server. Any changes made on one device will be reflected on the desktop and other apps as well.
Are there any limitations on the number of local folders I can sync?
The Nextcloud desktop client does not impose any specific limitations on the number of folders you can sync. You can select and sync as many folders as your storage capacity allows.
How do I install Nextcloud on my server?
The installation process typically involves the following steps:
Download the Nextcloud software package from the official website.

Install and configure a web server (e.g., Apache, Nginx) with PHP support.

Create a new database and user account on your database server.

Configure the necessary server settings, including specifying the database details.

Run the Nextcloud installation wizard, which will guide you through the setup process.

Create an admin account and set the desired configuration options.

Complete the installation and access your Nextcloud instance through a web browser.