How to Make a HIPAA-Compliant Website in 2023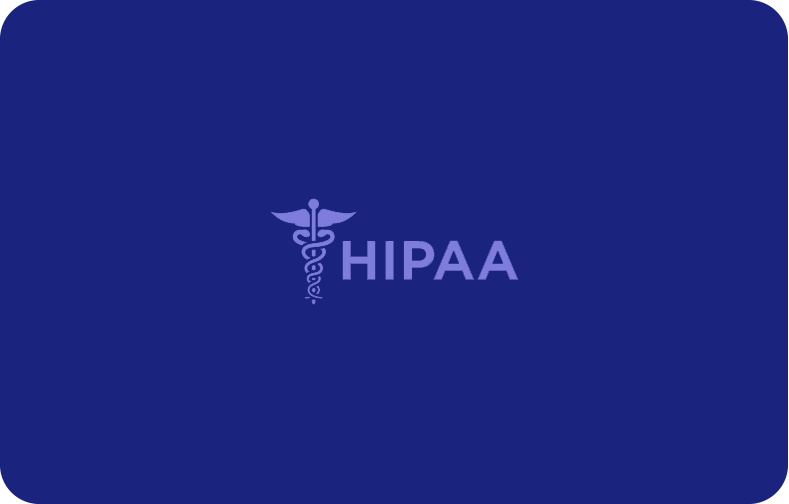 Title description: Want to make your healthcare website safer? Follow the rules mentioned in this guide to ensure that your website is HIPAA-Compliant.
Search Engine Description: Read the article to learn more about HIPAA Compliance, its significance in the healthcare industry, and the rules laid out to make your website HIPAA compliant.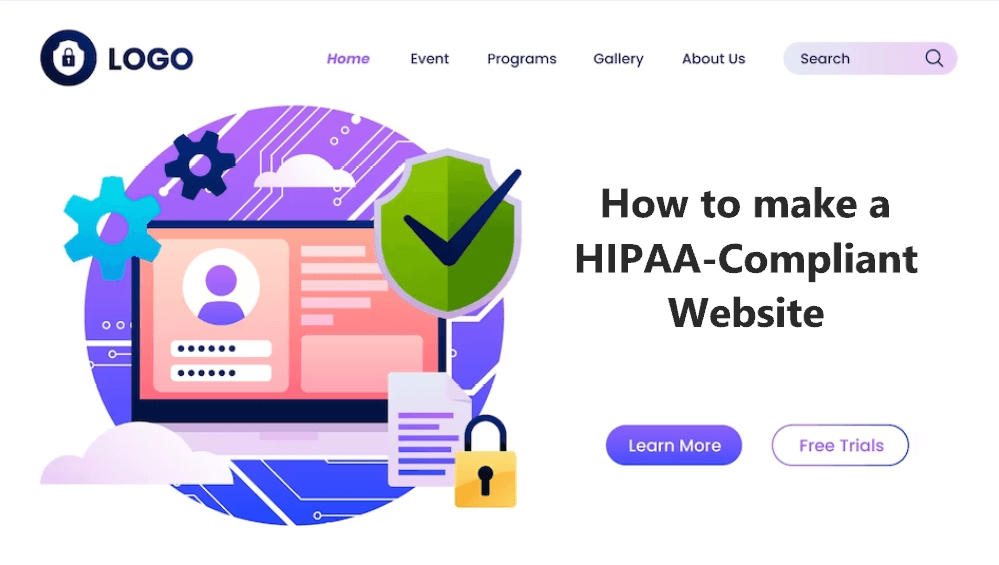 The healthcare industry is massive, with more than $3 trillion spent annually on it. With so much money involved, it's no surprise that the industry has attracted its fair share of hackers and crooks looking to steal patient data.
A website is an integral part of an organization (i.e., medical practice). Soon, HIPAA compliance is becoming a big deal. There are lots of terms thrown around here and there; however, you don't want to get overwhelmed!
This article will help you understand what a HIPAA-compliant website is and ensure that you meet all requirements to protect your business and secure yourself against potential lawsuits.
Understanding What HIPAA Means for Your Site
Healthcare providers should know that there's no one-size-fits-all solution to HIPAA-compliant web hosting. But understanding the HIPAA website basics can help any healthcare services provider to make educated decisions about their site's security and privacy. That means understanding what HIPAA means for your site and how to make it compliant with this federal law.
What is HIPAA?
In the United States, protected health information may only be used and disclosed by a set of government regulations known as the Health Insurance Portability and Accountability Act (HIPAA).
The Office for Civil Rights (OCR) and the Department of Health and Human Services (HHS) both enforce HIPAA compliance laws (OCR). Healthcare businesses must instill a HIPAA-compliant culture throughout their operations to safeguard the confidentiality, integrity, and availability of confidential information.
What is Protected Health Information (PHI)?
PHI is any personally identifiable information directly related to a patient's healthcare. This personal health information includes patients' phone numbers, email addresses, IPs of their devices compromised patient information, etc. However, any anonymous data gathered through contact forms is not protected health information (PHI) and is not subject to HIPAA compliance requirements.
What are the implications of HIPAA for my website?
How you manage sensitive patient data and information can significantly affect how HIPAA-compliant your website is. Therefore, you must comprehend what these regulations mean for your site before you begin building one.
The 3 HIPAA Compliance Rules
Healthcare organizations must conform to three main HIPAA Compliance Rules: the HIPAA Privacy Rule, HIPAA Security Rule, and HIPAA Breach notification rule.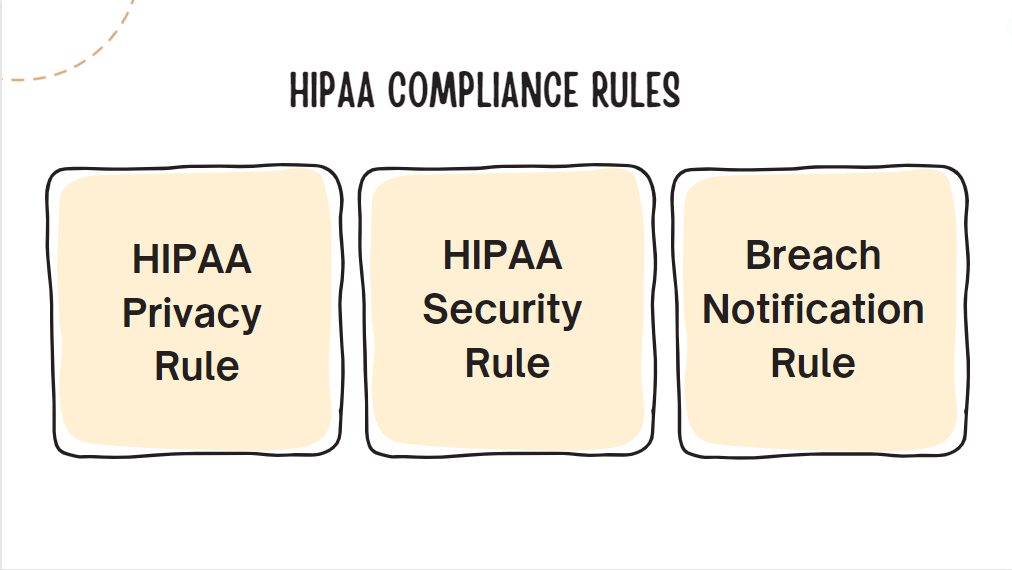 HIPAA Privacy Rule covers the saving, accessing, and sharing of medical and personal information of any individual (ePHI). The HIPAA Security Rule covers national security standards to protect electronic health records and data that are generated, obtained, preserved, or transferred. Whereas Breach Notification Rules are designed to compromise patient information.
Four main sections of the HIPAA Security Rule Standards and Implementation Specifications were designed to list essential security measures that support compliance.
These include physical (e.g., risk assessment, staff training), administrative (e.g., alarm and security systems), technical and policies, procedures implement systems, and documentation (e.g., data encryption, audit controls).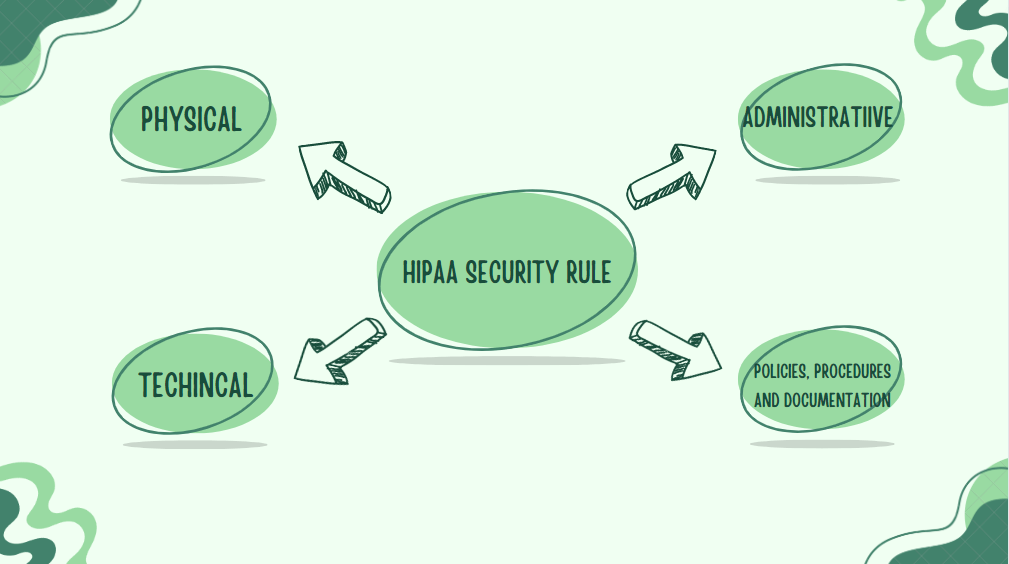 I have discussed the details of these four sections below:
1. Physical security measures
Limited facility access and control with established permitted access are examples of physical safeguards. All covered entities, or businesses that comply with HIPAA guidelines, must have access and usage rules for computers and other electronic devices individually identifiable medical information. Transferring, removing, discarding, and making use of electronic media and protected health information are all included in this.
2. Administrative precautions
Risk analysis is a prerequisite of the Administrative Safeguards rules for covered entities' security management procedures. Some other responsibilities of people involved in health and human services under HIPAA enforcement rule like assigning security personnel, information access management, etc. Additionally, healthcare workers should also provide HIPAA compliance training to their staff.
3. Technical safeguards
The technical security measures that HIPAA-compliant organizations must comply covered under the Security Rule include: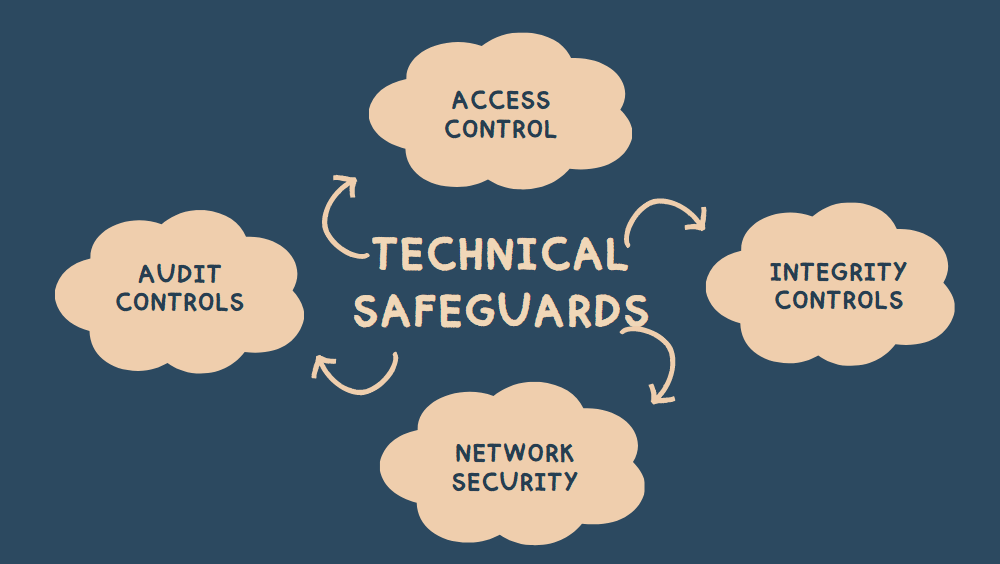 Access control
All covered entities are mandated to set up technical policies and procedures that restrict access to electronic PHI to those permitted to prevent any potential data breach.
Audit controls
To maintain track of activity on hardware and software, audit reports or tracking logs must be put in place. This is particularly helpful for locating the origin or reason for any security violations.
Integrity controls
Integrity controls, or the means put in place to ensure that ePHI hasn't been changed or deleted, are also covered by technical policies. IT disaster recovery and offsite backup are essential to prevent electronic media faults or failures.
Network security
According to this safeguard, HIPAA Compliant Hosts must implement technical policies and procedures that permit only authorized individuals to access Electronic Protected Health Information (ePHI). This applies to all means of data transmission, including email, the Internet, and even private networks like private clouds.
Policies, procedures, and documentation
To conform with the security requirements, a HIPAA-Compliant host must implement policies and procedures that are reasonable and appropriate.
Written security policies and procedures, as well as written records of required actions, activities, or assessments, shall be kept by a covered entity for six years following the earlier dates of their inception and their final effective date.
Periodic updates
In response to alterations in the organization's culture or the environment that influence storing PHI, a covered entity must periodically evaluate and update its documentation (e-PHI).
How to make a HIPAA-Compliant Website?
A website that stores and transmits PHI should comply with the requirements of HIPAA. Healthcare companies must consider some factors, as shown in the picture below, to ensure that their website is HIPAA Compliant.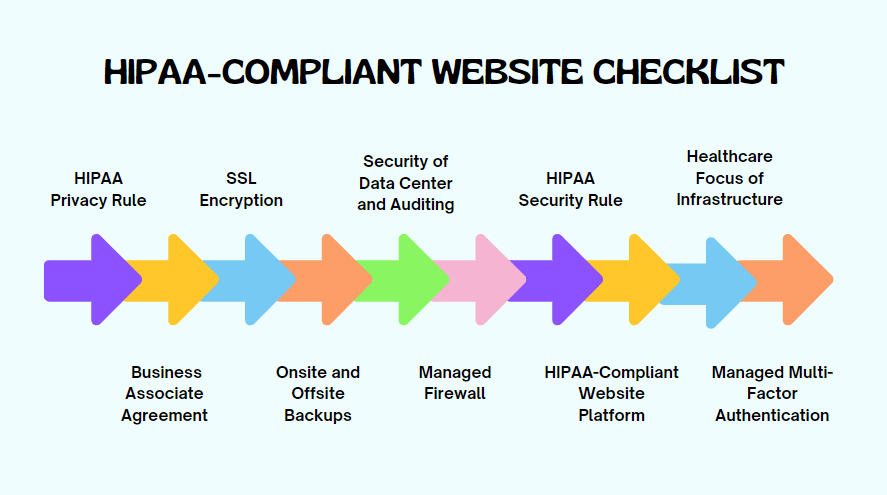 The details of the sections of your HIPAA Compliant Website Checklist are mentioned below:
HIPAA Privacy Rule
Your website must comply with privacy regulations, an essential component of HIPAA security. This Privacy Rule applies to all hospitals, plans, clearinghouses, and business partners.
According to this rule, safeguards be in place to protect PHI. The rule also defines patients' rights concerning their information, including requesting errors and obtaining a copy of their health information.
Business Associate Agreements
You must sign a HIPAA business associate agreement when you want your website handled through third-party service providers. In this business associate contract, it must be verified that your health information is encrypted and transmitted via a secure website for compliance.
However, you must be aware that your web design team has direct business connections, but they have subcontractors and business associates who provide independent service.
Ensure that your website has an SSL certificate
Secure communications between your site and its host are provided through SSL. Consider the situation: the water can leak when sealed with the bag's lid. Similarly, obtaining an SSL certificate is a helpful way to protect your data from malicious activities.
You must switch from the insecure HTTP protocol to the secure HTTPS protocol and deploy a secure sockets layer (SSL) [TLS] encryption certificate for your website. All information traveling between secure user authentication the client device and the server is encrypted using this protocol.
Onsite and Offsite Backups
The definition and significance of Onsite and Offsite Backups are mentioned below:
Onsite Backups
A system backup of locally stored data is known as an onsite backup. Usually, this kind of backup is carried out on the company's property.
Data protection against natural disasters, theft, and other sorts of calamity is made possible via local backups. They offer protection for disaster recovery, particularly if the company relies heavily on computers.
Offsite Backups
Offsite backups are a sort of data protection that gives businesses access to a copy of the production system data that is kept in a different location from the original data.
You can always replicate your daily backups offsite if you need a disaster recovery tool. Replicated offsite backups are easily retrievable; they can be done very easily when resetting is requested.
Security of Data Center and Auditing
Your website provider requested healthcare services must be secure and audited. Looking past those healthcare law certifications to an audit based on the knowledge of the American Institute for Certified Public Accountants (AICPA), Statement on Standards for Attestation Engagements 18 (SSAE 18; formerly SSAE 16), SOC 2 and SOC 3 is one way to get a better sense of a host's security posture.
Managed Firewall
A managed firewall is another mandatory prerequisite for making a HIPAA-compliant website. Robust security response, regular device health checks, log monitoring, and control over network entrance and egress points are all features of a well-managed firewall.
Thus your online healthcare system should have stateful filtering, worldwide blacklisting, virtual private network (VPN) connectivity, load balancing, redundancy via a secondary firewall, monitoring, and reporting.
HIPAA Security Rule
Your HIPAA Compliant website must comply with the HIPAA Security rule, which provides an industry standard for protecting electronic medical records. The ePHI Act requires adopting reasonable physical, technical, or administrative safeguards to ensure that the organization can ensure patients protected health information in a safe and secure ePHI environment. The fastest method to meet HIPAA compliance requires research on web hosts.
HIPAA Compliant Website Platform
You must use a HIPAA-compliant website platform to ensure that your website complies with HIPAA regulations.
The requirement for security measures will be driven by the various ways patients can utilize your website. The issue directly relates to ePHI, regardless of how your company handles its creation, transmission, receipt, or maintenance.
You should ensure that HIPAA regulations protect all data if you collect information through forms on your website. Any form that collects health information should safeguard the information against unwanted online access and data breaches, just like any ePHI.
Healthcare Focus of Infrastructure
To make a HIPAA Compliant Website, you must ensure nobody is trusted with your hosting. HIPAA-compliant websites require a high level of protection. Because security and compliance matters, ensure you get an experienced web host who provides HIPAA compliant solution and compliance solutions.
However, choosing the correct host is a crucial first step for enterprises that handle ePHI; you need one that is equally committed to upholding the HIPAA Compliance rules as you are and has deployed technical, administrative, and physical precautions that demonstrate its dedication.
To begin, determine whether your hosting company can deliver a website that satisfies the requirements of HIPAA and the Health Information for Economic and Clinical Health Act (HITECH) of 2009.
Managed Multi-Factor Authentication
To make your website compliant with HIPAA guidelines, you need sign-on access to a managed multi-factor authentication system. To ensure the health of the devices, the system needs to run diagnostics on them.
Checking for outdated programs and imposing security measures can stop infected and high-risk devices.
HIPAA compliance is not a laughing matter. Indeed, if your site gathers patients' health information, you are responsible for protecting their personal data and privacy.
The standards that govern this topic can be tricky as well as confusing. After all, the bar itself is set by a body of regulations, and those regulations contain specific language you need to follow to remain compliant.
Fortunately, these standards don't change often, so once you've studied them and learned how to interpret them correctly; you'll know what to do for the foreseeable future.
However, after you've put in the time and effort to create a HIPAA-compliant website and your site is ready for launch, make sure that you keep those status updates coming.
It's particularly important to work with a qualified professional like a lawyer or web designer if your website will be used by any medical services, facilities, health practitioners, or insurance companies.
Frequently Asked Questions
Are All Webforms Required to be HIPAA Compliant?
If you are using a website, you may be required to follow the HIPAA rules regarding collecting your health information from the forms.
For example, forms that require only names, emails, or telephone numbers are unnecessary. However, if a medical, insurance or social security application requires information, it has to conform to HIPAA rules.
Does my website platform need HIPAA-compliant, and do I need HIPAA-compliant web forms?
To be HIPAA-Compliant, your webpage needs compliant tools. To ensure compliance, consider how your website will be used and how a user can access your site affects their needs. You are concerned with the ePHI. You have created, transmitted, received, or maintained it by any organization.
When submitting a form on the site, you must guarantee your information is secure. Any data collection form should be protected like any ePIA to prevent unauthorized access and possible data leaks.
Why should healthcare providers choose a HIPAA-Compliant website?
Healthcare providers must attain a compliant website to the requirements set out by the health insurance portability and accountability act. As the HIPAA-Compliant website checklist mentions, every healthcare website must be protected on several fronts. Clarity provides secure and reliable PHI security for websites that comply with HIPAA standards.