Best VPS Windows Canada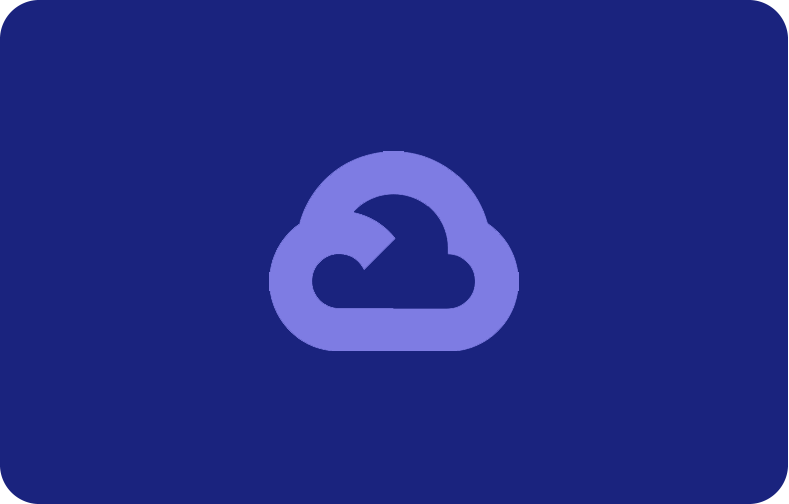 In the world of web hosting, Virtual Private Servers (VPS) have gained immense popularity due to their ability to balance shared hosting and dedicated servers.
If you're a business or individual looking for the best Windows VPS hosting services in Canada, you've come to the right place.
This blog aims to guide you through the landscape of Windows VPS hosting in Canada, helping you identify the best providers to meet your hosting needs.
How To Choose the Best VPS Hosting Provider in Canada?
When hunting for the right Windows VPS hosting provider in Canada, keep these essential factors in mind for a hassle-free experience:
Performance that Counts:
Look for providers with powerful hardware and resources to ensure your websites and apps run without a hitch. This ensures your visitors get a speedy and responsive experience.
Reliability is Key:
Opt for hosts with a strong track record of keeping websites up and running. A reliable web host also means minimal downtime, keeping your site accessible to visitors.
Easy Scaling:
As your online presence grows, your hosting should be able to grow with you. Choose a host that allows you to easily upgrade your server's resources as needed without causing any disruptions.
Support When You Need It:
Technical issues can pop up, so it's important to have responsive customer support. Look for hosts that offer 24/7 assistance to help you whenever problems arise.
Location Matters:
Selecting a host with servers located in Canada can improve loading times for your Canadian audience. This is especially important if your target audience is primarily located in the country.
Balancing Price and Value:
While price matters, don't base your decision solely on it. Compare features, performance, and support in relation to the cost. A slightly higher investment can lead to better results.
By considering these straightforward factors, you'll be well-equipped to choose a Windows VPS hosting provider in Canada that aligns perfectly with your needs and sets the stage for your online success.
7 Best VPS Hosting Providers in Canada in 2023
VPS Server: The Ultimate VPS Hosting Choice in Canada
Are you ready to take your online journey to the next level? Look no further than VPS Server – your ultimate partner for VPS hosting excellence in Canada.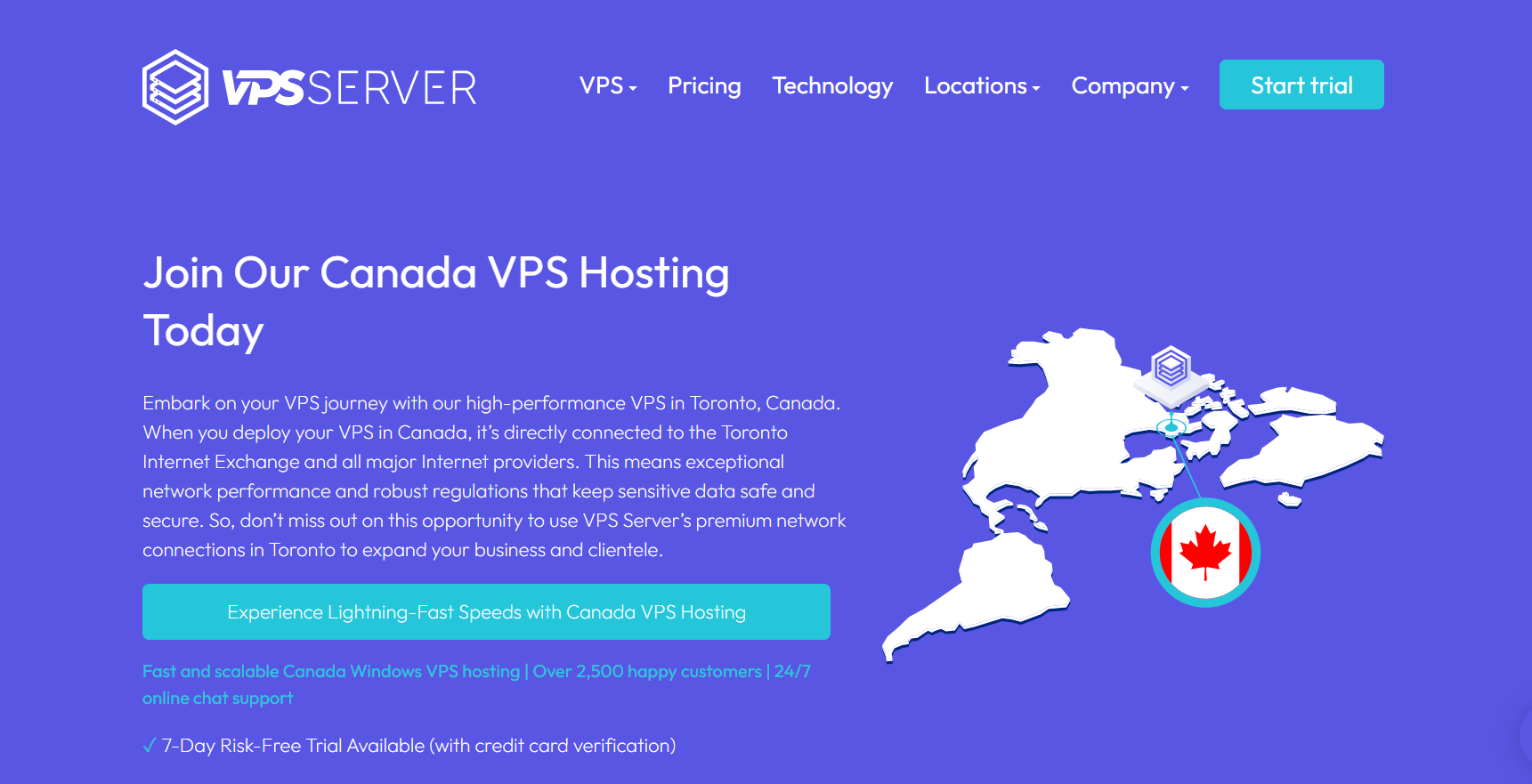 In a world where your digital presence matters more than ever, choosing the right hosting provider is paramount. And that's where the VPS Server steps in, offering an experience that's nothing short of exceptional.
Why Does VPS Server Stand Above the Rest?
Picture this: Your VPS, hosted in the vibrant hub of Toronto, Canada, is directly linked to major Internet providers through the renowned Toronto Internet Exchange. It's not just hosting; it's an immersion into a network that thrives on speed, reliability, and robust data security regulations. With VPS Server, you're not just choosing a host – you're choosing a path to expansion and success.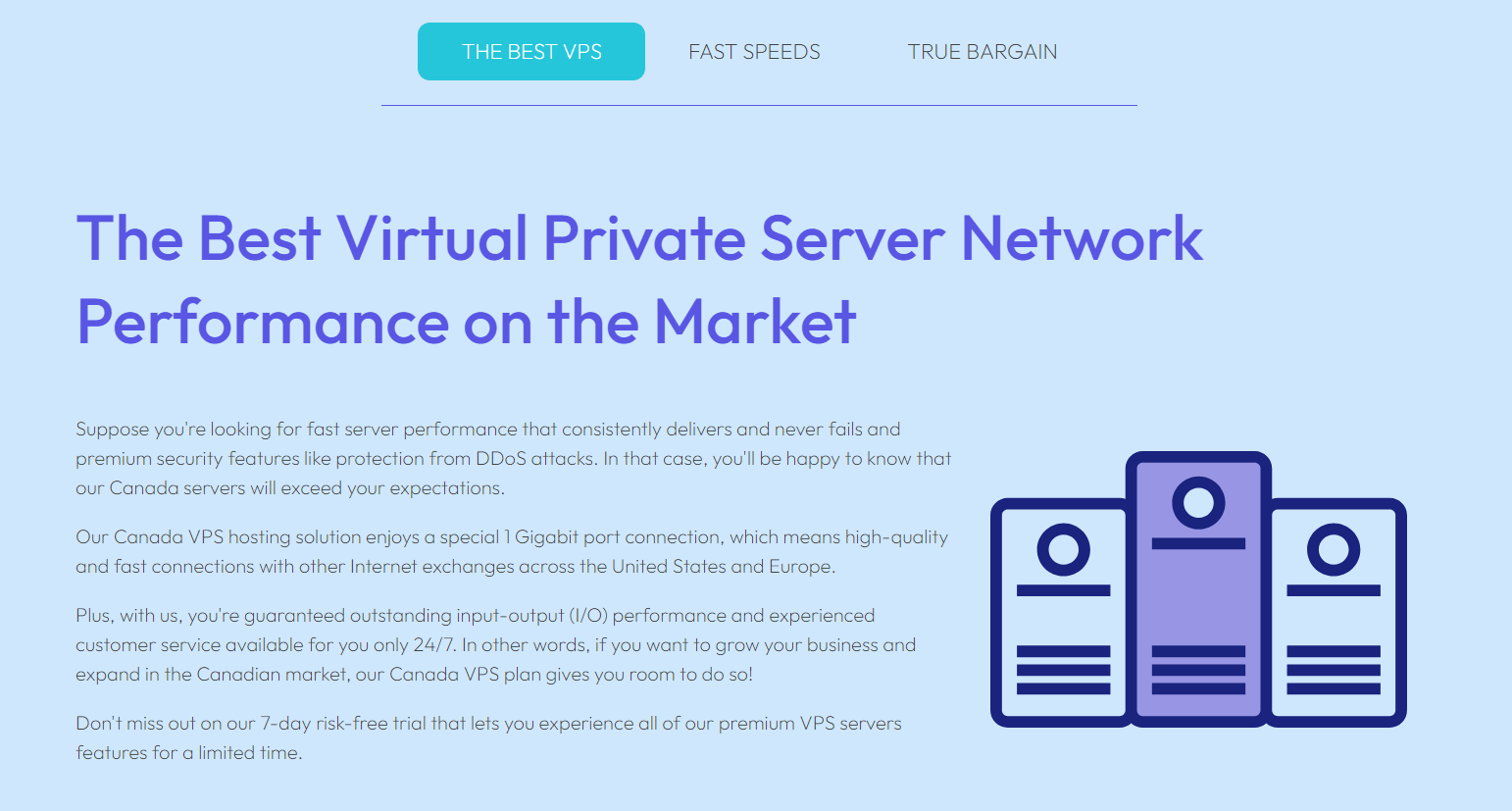 A Look at What Sets Us Apart:
Experience Unrivaled Speed and Scalability:
VPS Server's Canada Windows VPS hosting isn't just fast – it's blazingly so. Focusing on performance and scalability, we cater to your growing needs. Our range of plans ensures that whether you're just starting or already thriving, you have the right resources at your disposal.
Support That Never Sleeps:
Technical questions can arise anytime, so our 24/7 online chat support is here for you. Your success matters, and our responsive support team ensures that your concerns are addressed swiftly, allowing you to focus on what truly matters – your business.
Explore with Confidence:
We're so confident in the quality of our services that we offer a 7-day risk-free trial. Dive into the VPS Server experience without hesitation and witness firsthand the power of top-notch hosting.
Why VPS Server is Your Ideal Choice for Canada:
Security That Never Compromises:
Canada is renowned for its robust data privacy laws, ensuring that your sensitive information is shielded from cyber threats and unauthorized access. Your data security is our top priority.
Stability and Peace of Mind:
In a constantly changing world, Canada's stability and peaceful environment offer a solid foundation for your business. Thus, when you choose VPS Server for Canada, you're not just investing in cloud hosting alone; you're investing in unwavering support for your digital ventures.
Performance Meets Proximity:
Canada's proximity to many data centers in the United States brings strategic advantages. Reduce latency, enhance site performance, and tap into the vast US market by hosting your VPS with us.
Rock-Solid Infrastructure:
Canada boasts a robust infrastructure with high-speed Internet, reliable power, and advanced data centers. By selecting VPS Server, you're tapping into a wealth of resources that empower your online presence.
A Price That Fits:
We're not just about premium quality; we're about affordability, too. Our hosting plans cater to startups and businesses, offering secure environments, full root access, and ample disk space – all at a budget-friendly cost.
We offer a wide range of flexible Premium, CPU-optimized, and Memory-optimized VPS plans, which are shown in the images below: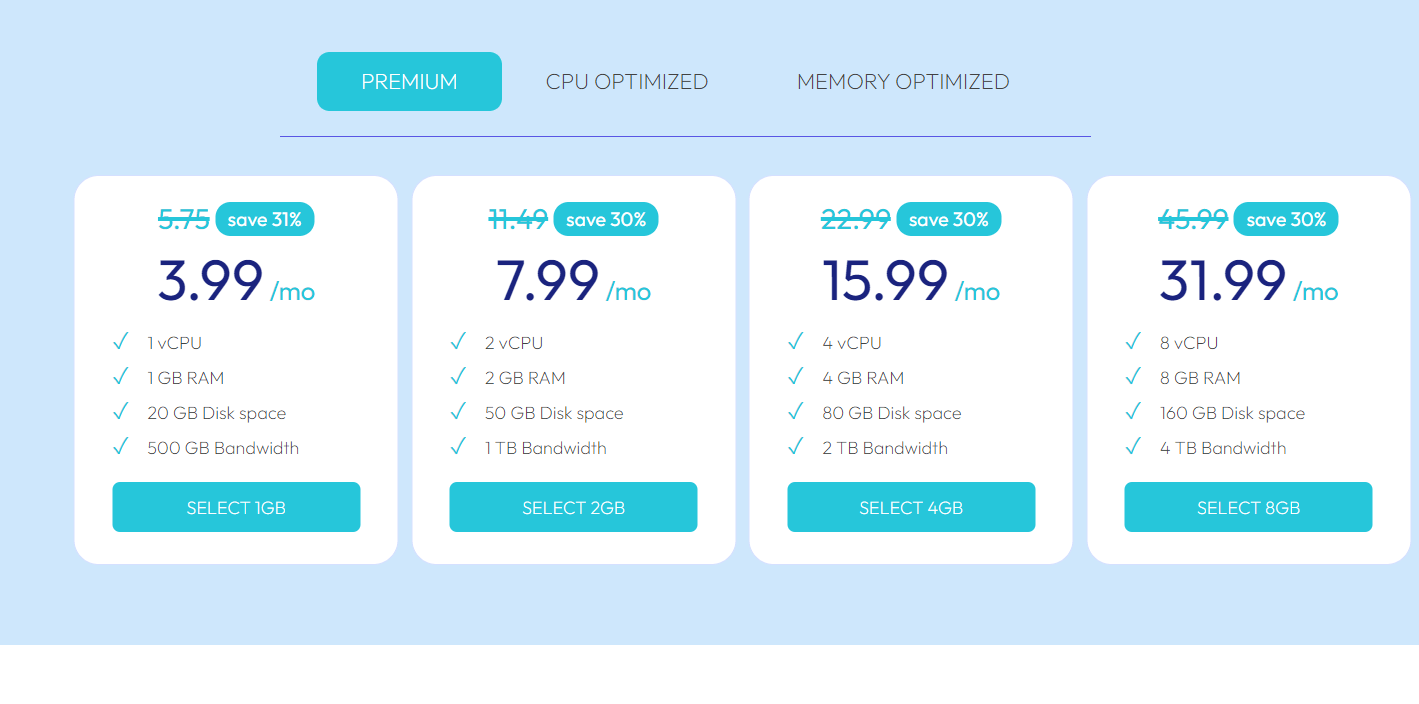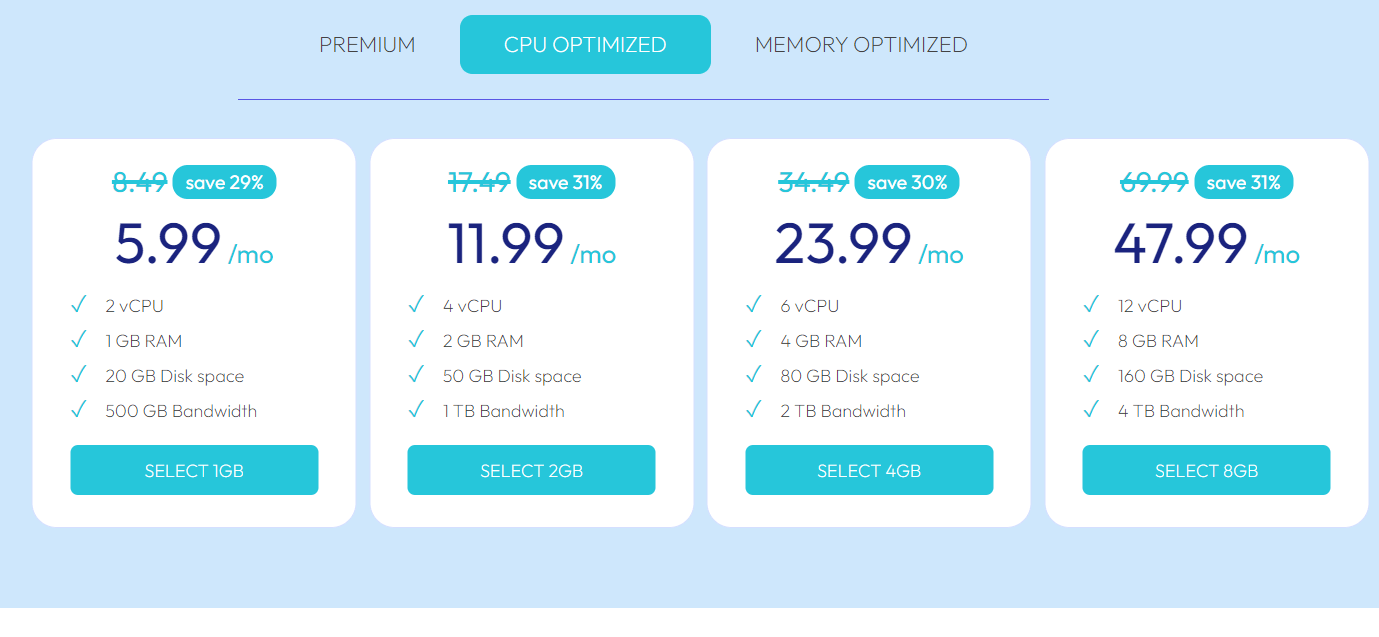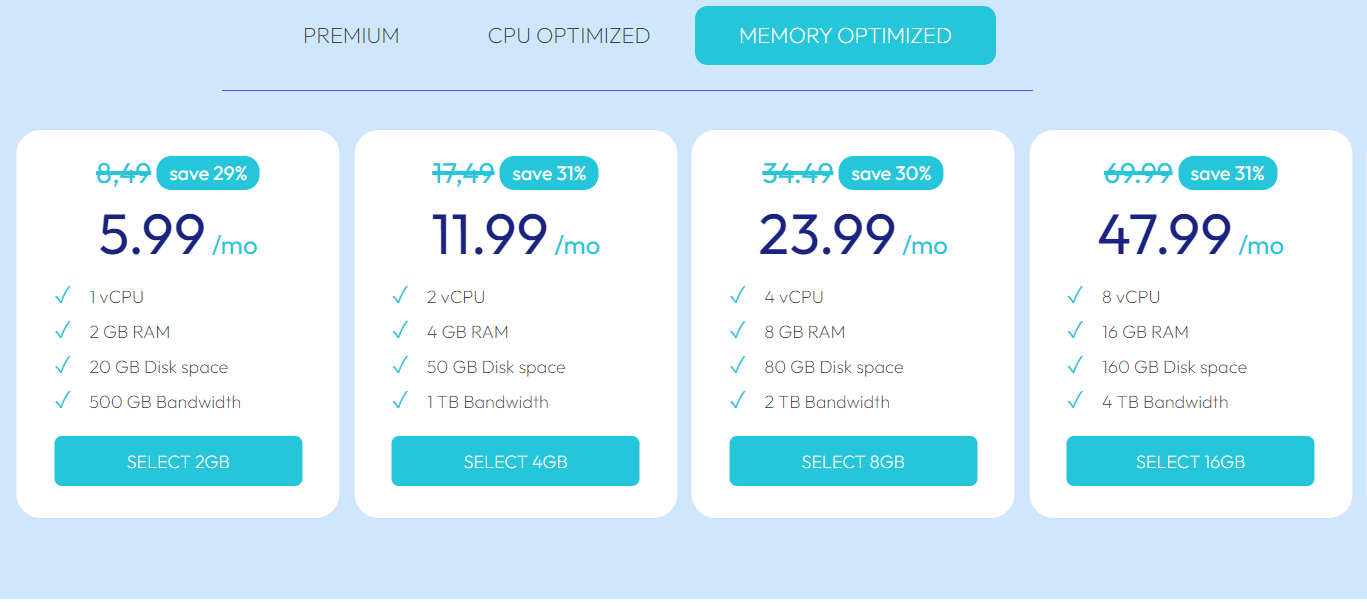 Seamless Experience, Maximum Impact:
Hosting a VPS server with us means enjoying the benefits of a dedicated server without the hassles. Say goodbye to manual updates and complex firewall configurations – with VPS Server, you're set for smooth sailing.
Unlock Unmatched Performance:
Experience network speeds that redefine hosting excellence. With unlimited bandwidth and our dedicated 1 Gigabit port connection, your Canada VPS hosting ensures high-speed links across Internet exchanges in the United States and Europe.
Great for Trading Bitcoins: Ideal for Cryptocurrency Traders
When it comes to cryptocurrency trading, VPS Server is your winning partner:
Unrivaled Uptime:
Virtual private servers offer stability and uptime, essential for seamless Bitcoin trading, even during volatile periods.
Enhanced Security:
Our VPS servers have top-tier security features, safeguarding your Bitcoin assets and sensitive data.
Customization that Counts:
Tailor your VPS plan to match your trading strategy. Choose the right RAM storage and CPU power for optimal trading volume.
Global Accessibility:
Windows VPS servers offer access from anywhere, ensuring you're always connected and in control of virtual machine.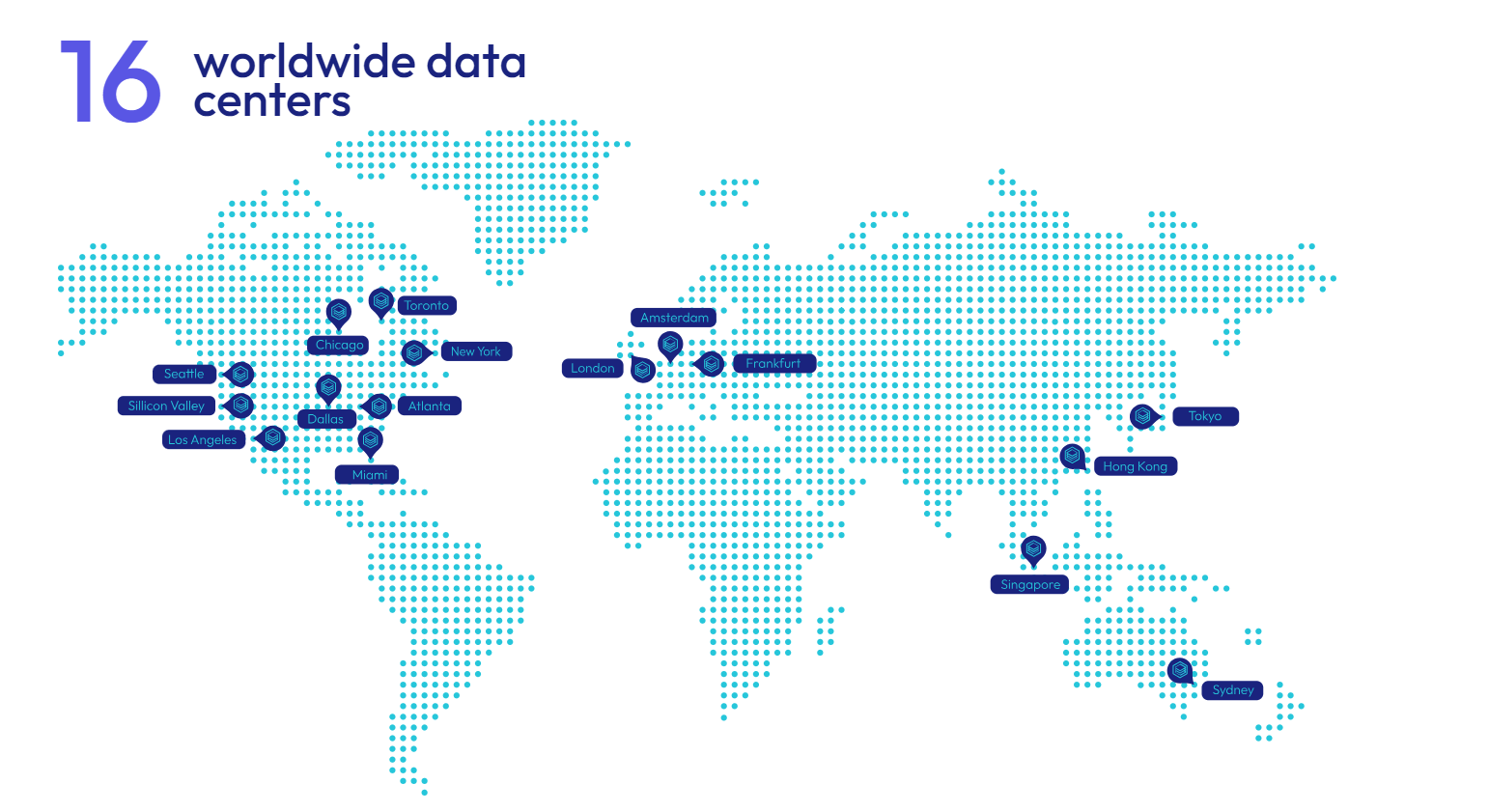 Final Verdict:
In conclusion, if you demand top-notch server speed and top-tier security, VPS Server is your go-to. Our Canada VPS hosting boasts a dedicated 1 Gigabit port connection, forging powerful links across Internet exchanges in the United States and Europe.
With VPS Server, you're not just getting remarkable input-output (I/O) performance – you're also backed by 24/7 customer service. It's a solid foundation for expanding your business in the Canadian market. Thus, sign up for our 7-day risk-free trial today and immerse yourself in a world of hosting excellence that's designed to elevate your online journey.
Kamatera Windows VPS: Elevate Your Hosting Experience with a Leading VPS Service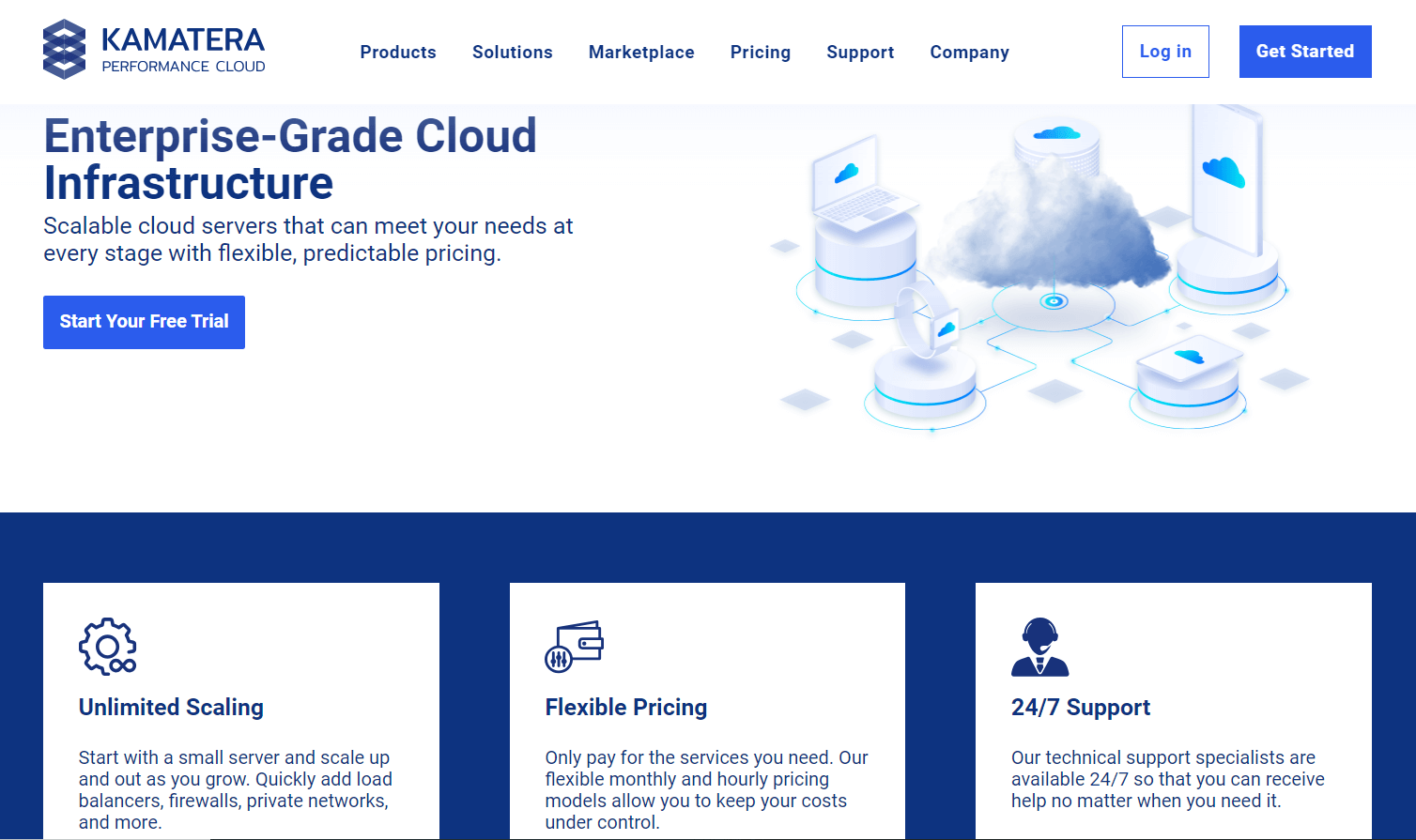 Unveiling the Excellence of Kamatera's VPS Hosting Solutions
In the realm of top-tier, VPS hosting services providers, Kamatera stands tall as a reliable and dynamic choice that offers a range of customizable solutions. Catering to businesses of all sizes, Kamatera has earned its place among the best VPS hosting service providers for Canadian companies.
Let's explore the aspects that make Kamatera an exceptional choice in the world of the VPS hosting servers.
Empowering Your Business with Customization
At the core of Kamatera's offerings is the ability to tailor VPS hosting solutions to suit your unique needs. Their servers have robust hardware and advanced virtualization technologies, ensuring unmatched performance. Whether you're a startup seeking a solid foundation or a well-established enterprise with specific requirements, Kamatera's flexibility allows you to curate the perfect hosting environment.
Exceptional Customer Support: Your Partner in Hosting
Navigating the intricacies of VPS hosting can be daunting, but not with Kamatera. With their 24/7 customer assistance, you're never alone on your hosting journey. In addition, Kamatera provides an array of videos and documentation that empower users to troubleshoot and resolve issues independently.
Seamless Setup and User-Friendly Approach
Simplicity is a cornerstone of Kamatera's philosophy. Their user-friendly setup process ensures that businesses new to VPS hosting can embark on their journey with ease. This streamlined approach minimizes barriers and accelerates your transition to a powerful VPS hosting solution.
Choice and Versatility: Linux or Windows, Toronto or Ontario
Flexibility is a hallmark of Kamatera's service. You can choose between Linux and a Windows server for your Canada VPS hosting, aligning with your preferences. Furthermore, Kamatera offers the option to deploy servers in either Toronto or Ontario, enhancing the level of customization.
Reliability and Performance That Surpass Expectations
Kamatera's VPS hosting is synonymous with reliability, thanks to redundant storage and network infrastructure. They bolster this with automated failover and backup solutions, ensuring that your critical data and applications are safeguarded and accessible round the clock.
Unlocking Innovation with Vertical Scaling
Kamatera introduces a distinctive feature in the form of "Vertical Scaling." This innovation empowers users to adjust resources within their virtual machine – CPU, RAM, and storage – without the complexities of migration. This unprecedented flexibility ensures that your hosting seamlessly evolves alongside your business needs.
Budget-Friendly Pricing for Premium Quality
Kamatera's pricing starts at an affordable 4, providing 1 CPU, 1024 MB RAM, 20 GB SSD storage, and 5,000 GB/month data transfer at 10 Gbit/sec. This accessible entry point allows businesses to experience the power of quality VPS hosting without straining their budget.
The pricing of their VPS hosting plans is shown in the snapshots below: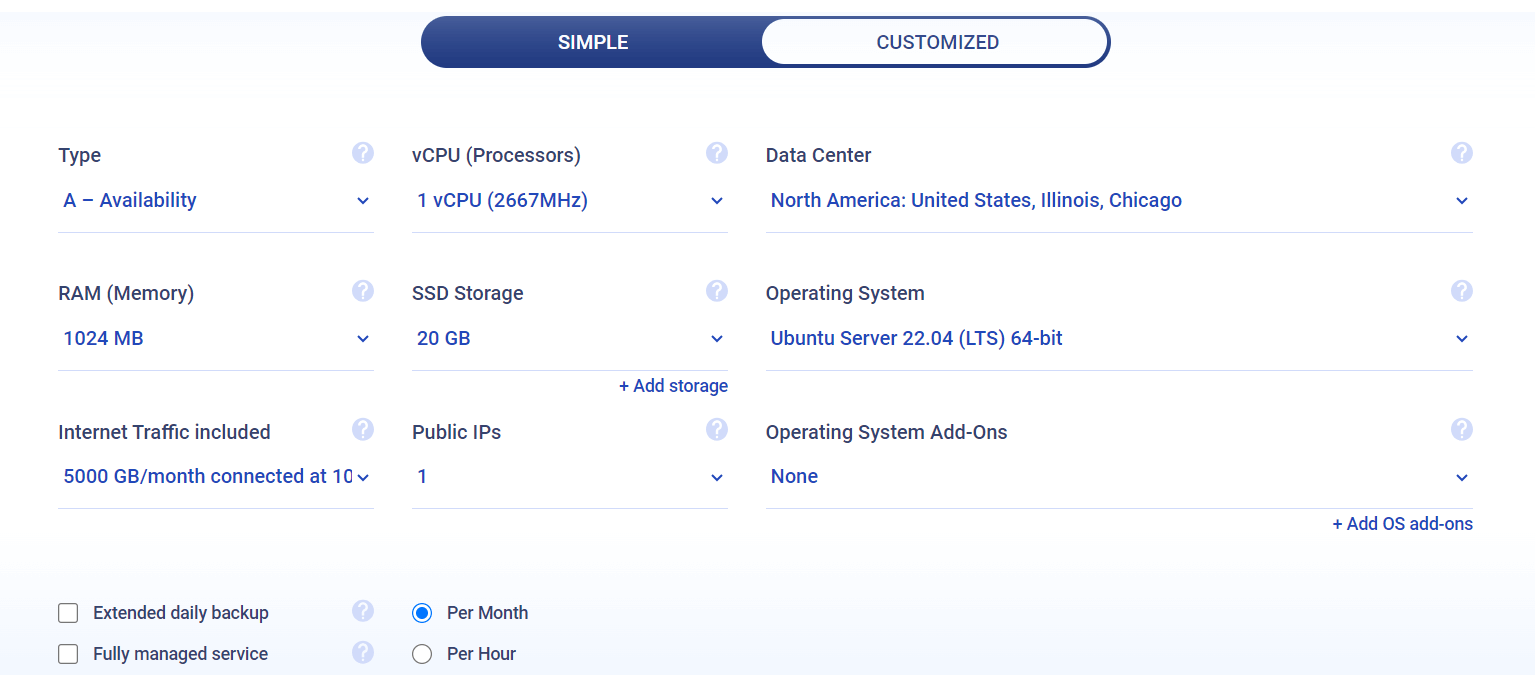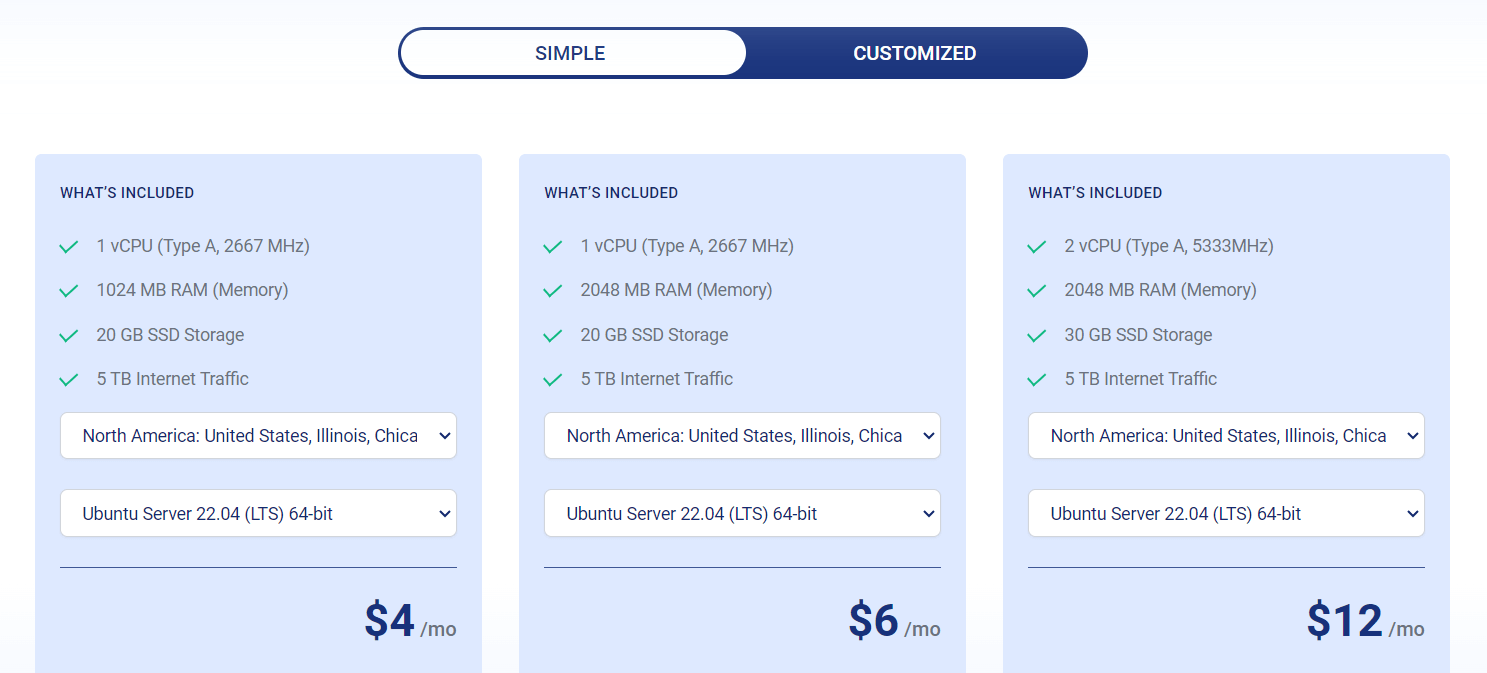 Final Verdict:
Kamatera's VPS hosting solutions encompass scalability, high performance, and adaptability. As a prominent player among the best of VPS services and web hosting providers, Kamatera is synonymous with innovation and reliability. Embark on a hosting journey that empowers your business by signing up with Kamatera today.
Experience firsthand why Kamatera is a choice that makes a difference in the world of VPS hosting with its 30-day risk-free trial.
HostPapa VPS Hosting: An Impressive Choice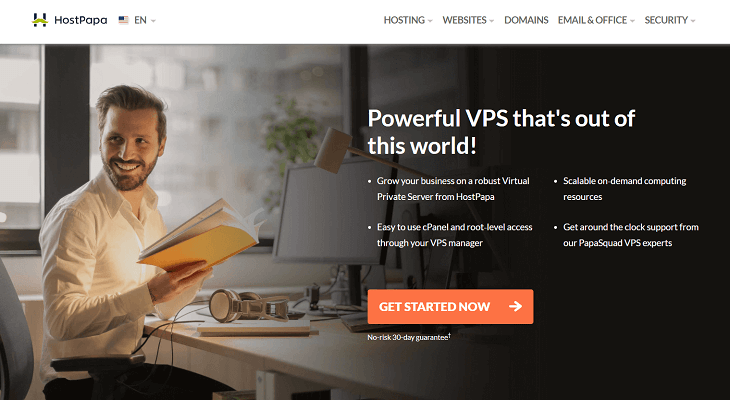 Exploring HostPapa's Outstanding VPS Hosting
Of all the best VPS hosting services in Canada, HostPapa shines as a standout name. With a complete package of features designed for excellence, HostPapa stands strong as a leading player in the best VPS hosting name in canada.
What Makes HostPapa Special
HostPapa embodies the best of Canadian hosting. Their VPS hosting is fully managed, ensuring a smooth experience. With cPanel integration, attractive pricing, and a range of enterprise options, HostPapa sets a high standard for other VPS hosting companies.
Superior Performance
HostPapa's strength lies in its impressive server performance. Their servers, located across Canada, offer fast loading times and overall great performance. This ensures your website stays responsive and engaging.
A Look at VPS Plans
Step into the world of HostPapa's best VPS hosting services – the place where strength, control, and support come together to enhance your online presence. With various plans tailored to different needs, HostPapa ensures your website's reliability and performance.
These versatile VPS hosting plans are shown below: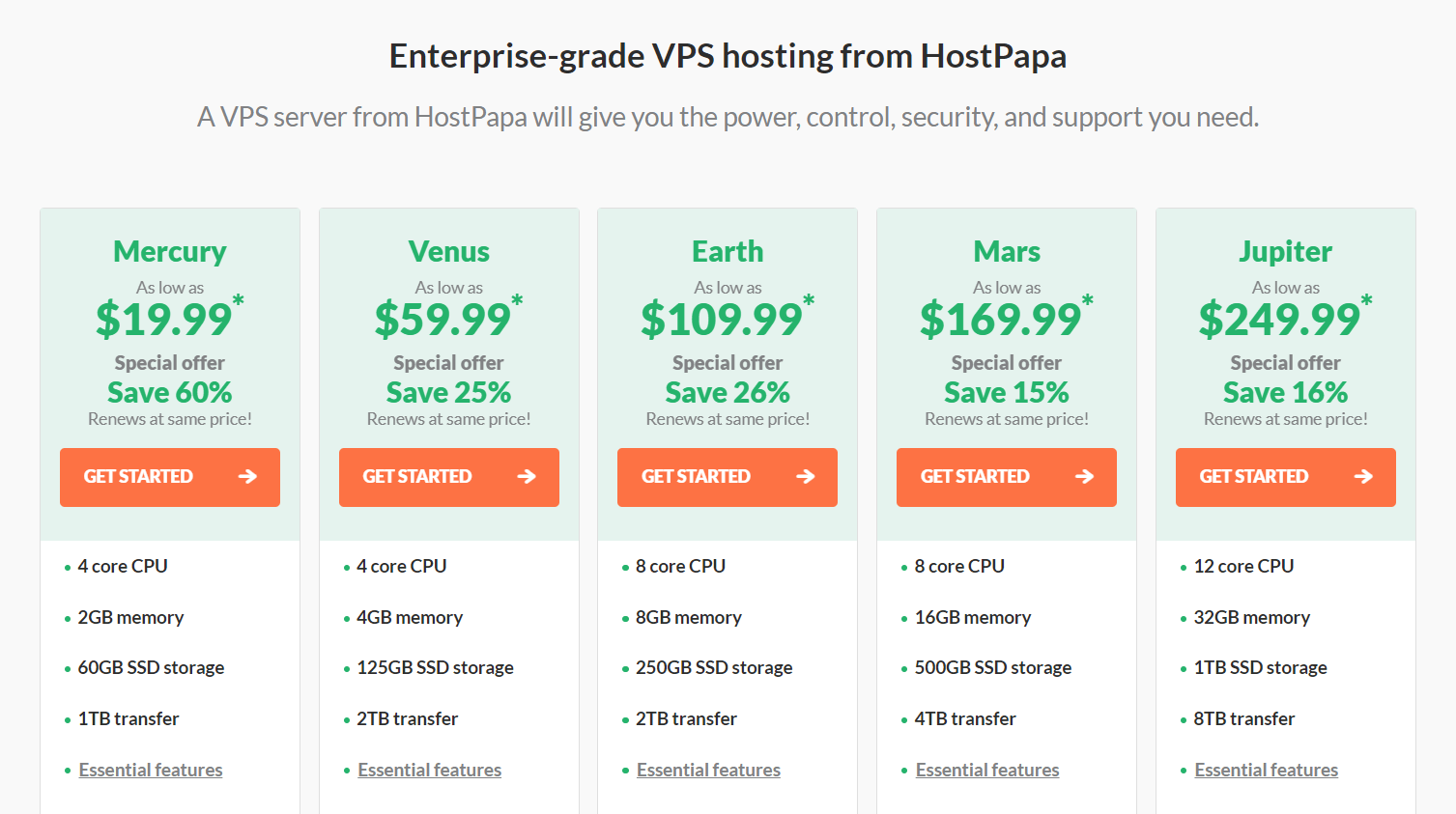 Thus, whether you're a beginner or expanding your online business, HostPapa's plans offer a solid foundation for your website's success. Choose the plan that fits your needs and experience top-notch VPS hosting from a trusted partner.
Final Verdict:
Out of the many VPS hosting providers in Canada, HostPapa is a choice that balances quality and cost. With various plans and a reputation for great performance, HostPapa is more than a hosting provider – it's your ally in online achievements. You can sign up and try their 30-day risk-free trial today to check out whether their services are suitable for you or not.
Bluehost VPS: Where Power Meets Versatility
In the realm of VPS hosting, Bluehost stands as a versatile and well-established web hosting company. While it might not claim the throne in any single aspect, it comfortably secures a top position across the board, making it a preferred choice for a diverse range of websites – from budding bloggers to bustling eCommerce ventures.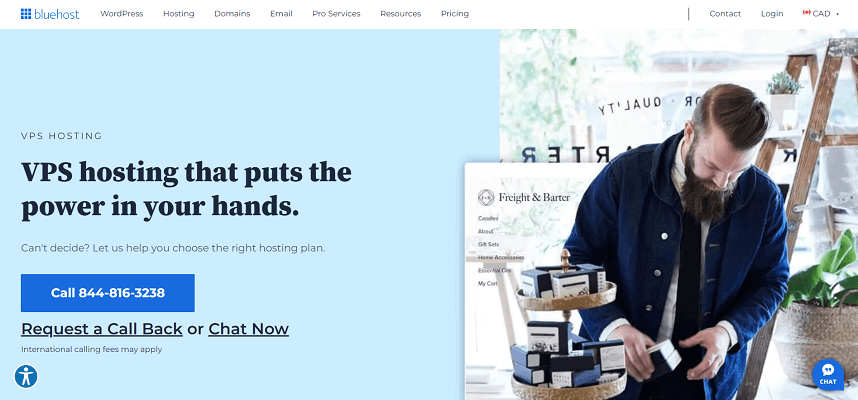 Key Features of Bluehost VPS Hosting
Familiarity in Shared Hosting: Bluehost brings its renowned hosting expertise to the VPS arena, ensuring a seamless transition for those familiar with its shared hosting services.
cPanel Inclusion:
Bluehost adds convenience with cPanel integration, simplifying website management and enhancing user experience.
Root Access:
Enjoy complete control and customization freedom through full root access, empowering developers and system administrators.
Fully Managed Solutions:
Bluehost offers fully managed VPS hosting options, freeing you from technical intricacies and letting you focus on your website's growth.
WordPress-Friendly:
For the ever-growing WordPress community, Bluehost ensures a user-friendly environment to flourish.
Resource Range:
Bluehost caters to varying needs, with VPS plans offering 2-8 GB RAM and 2-4 core CPUs.
Exploring Bluehost's VPS Plans
Bluehost offers flexible hosting plans, to accommodate your needs, whether you're building a single high-performance site or an array of them. Their plans adapt to your ambitions, ensuring scalability and optimal performance.
These plans are shown below: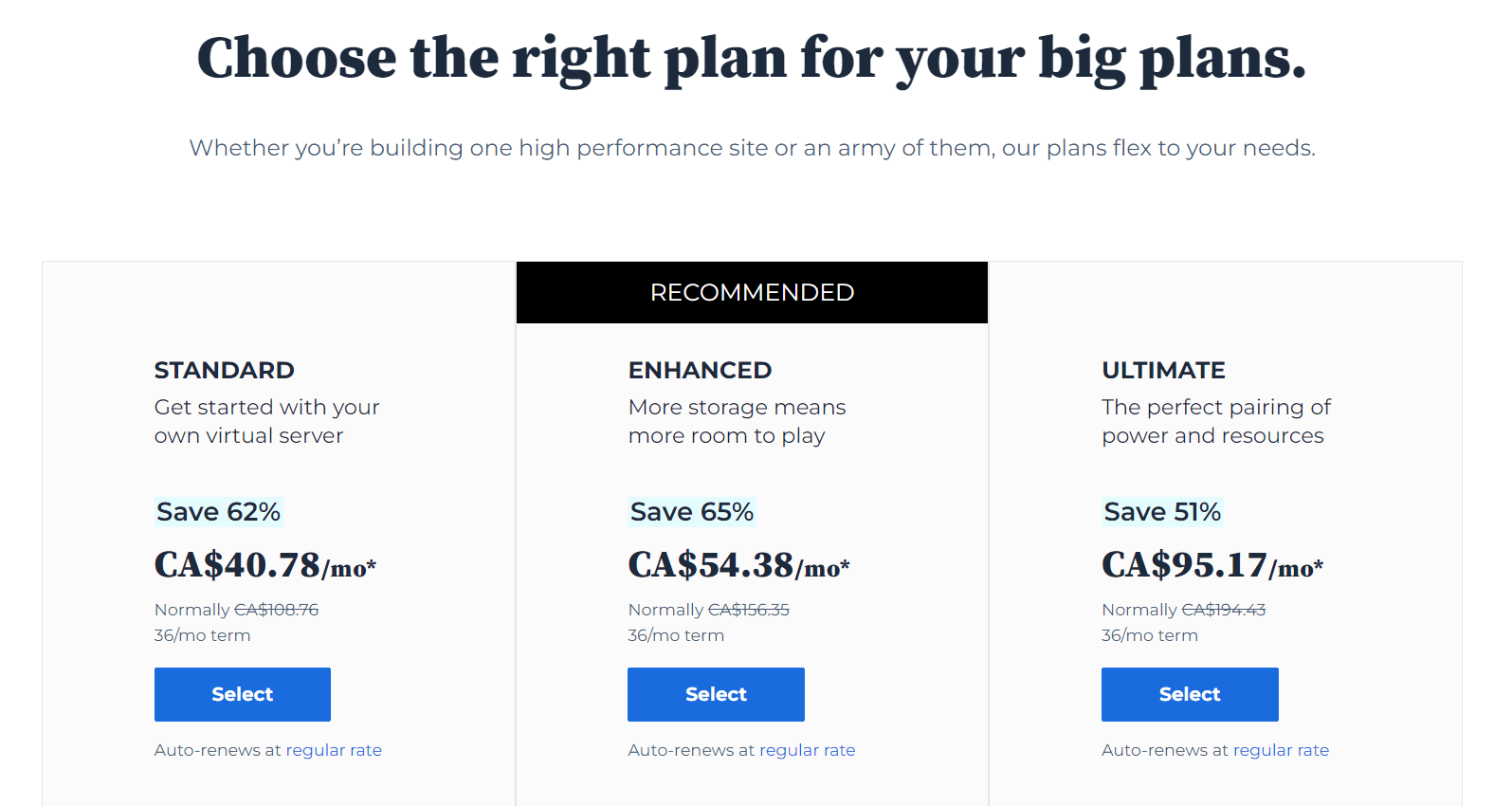 A Suite of Advantages at Your Fingertips
Bluehost arms you with tools for free domain boundless website creation:
Multi-Server Management: Seamlessly manage multiple hosting services under one roof, be it VPS, shared, or dedicated hosting.

Access Control: Create passwords for specific access, enhancing ownership control, server administration, and master access.

Unlimited Possibilities: Unleash your creativity with unlimited FTP accounts for seamless file management on your virtual server.

Domains and Websites: Host unlimited domains and websites, shaping your server environment to your unique requirements.

Unlimited Bandwidth: Drive unlimited traffic to your VPS websites, abiding by the Acceptable Use Policy.

Dedicated Power: Revel in dedicated server resources – RAM, CPU, and storage – ensuring your projects perform exceptionally.

24/7 Support: Rely on Bluehost's experts, available around the clock, to assist you with any queries.

User-Friendly Dashboard: Navigate a unified dashboard, streamlining website management, performance analysis, and more.

Lightning-Fast Performance: Bluehost employs high-performance SSD hard drives, outpacing standard SATA drives for swift website experiences.
Final Verdict
Bluehost's full VPS web hosting offering combines versatility, managed solutions, and a robust resource range, making it a compelling choice for both novices and seasoned website owners.
While challenges in customer support responsiveness have surfaced, the endurance and breadth of Bluehost's offerings solidify its place among the best VPS hosting providers in Canada. Whether you're launching a high-performance site or seeking room to expand, Bluehost flexibly caters to your ambitions.
HostArmada: Empowering Your Online Business with Managed Cloud VPS Hosting
As the digital landscape rapidly evolves, so does the need for hosting solutions that offer reliability, scalability, and exceptional performance.
HostArmadaemerges as a prominent player in the VPS hosting arena, offering Managed Cloud VPS Hosting that caters to the demands of businesses poised for expansion.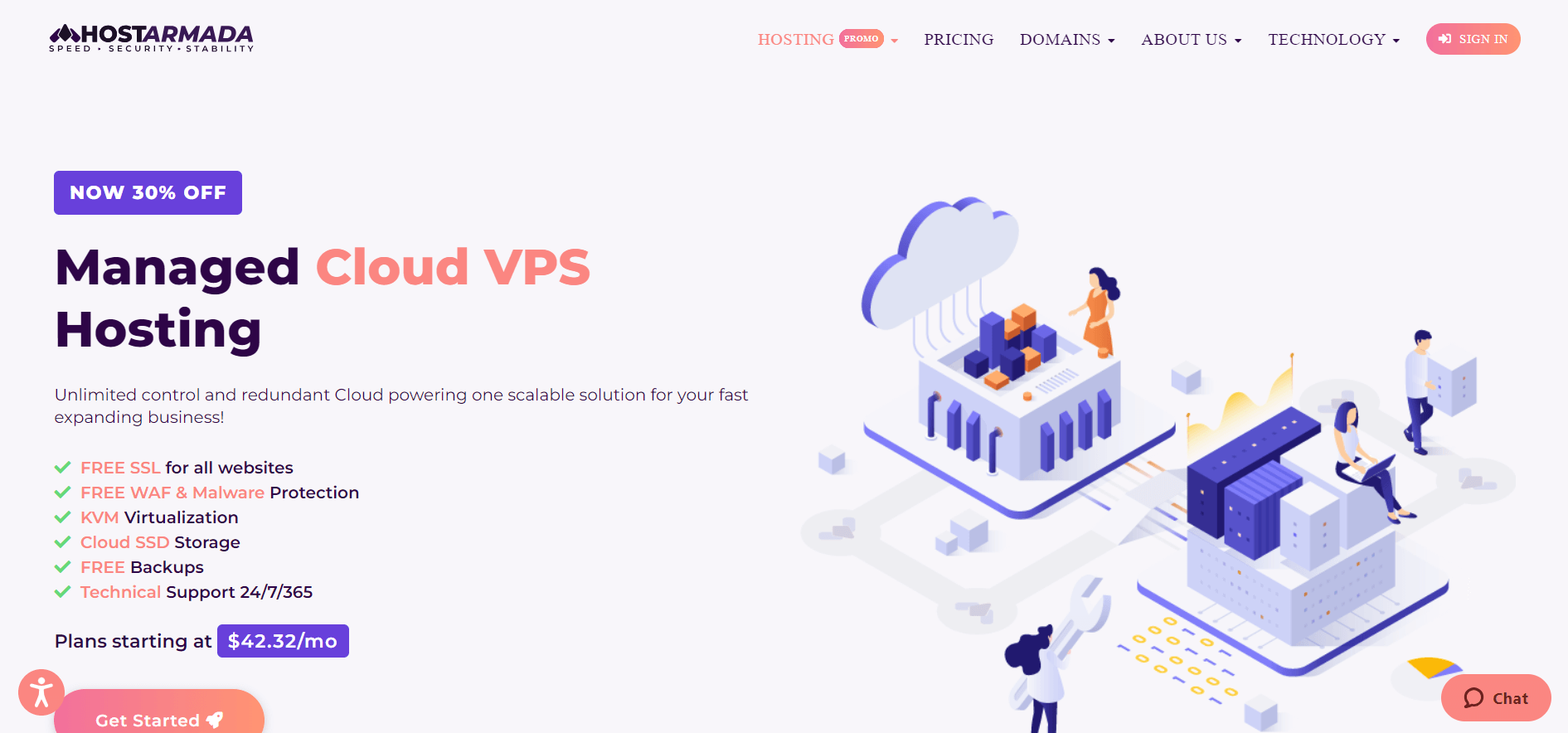 With an array of cutting-edge features and a dedication to customer satisfaction, HostArmada secures its place among the very best VPS hosting service providers in Canada.
Key Features That Elevate HostArmada
Unlimited Control with Redundant Cloud: HostArmada's Managed Cloud VPS Hosting presents a scalable solution for businesses with ambitious growth plans. Experience unlimited control over your virtual environment, backed by redundant cloud infrastructure.

FREE SSL and Malware Protection: Every website benefits from enhanced security, thanks to free SSL certificates and a proactive Web Application Firewall (WAF) with malware protection.

KVM Virtualization: HostArmada utilizes KVM virtualization, ensuring robust isolation and optimal performance for your applications.

Cloud SSD Storage: Enjoy the speed and reliability of Cloud SSD storage, contributing to lightning-fast read/write times and exceptional uptime.

FREE Backups: HostArmada prioritizes data integrity with automated cPanel backup services, coupled with options for daily and monthly backups.

Technical Support 24/7/365: Round-the-clock technical support ensures that you have assistance whenever you need it.

Plans Starting at 42.32/mo: HostArmada offers various plans to suit various needs, starting at an attractive price point.
Optimal Performance: Cloud SSD VPS Hosting
Full ROOT Level of Access on Demand:
With HostArmada's Cloud SSD VPS Hosting, you're in command. On-demand access to the root user of the Operating System gives you complete control.
Cloud SSD Technology for 99.9% Uptime:
Embrace cloud-powered VPS Hosting for unmatched uptime and reliability. SSD-powered storage guarantees high-speed read/write operations.
24x7 Technical Support:
HostArmada is committed to ensuring your success. Their human-powered technical support team is ready to assist with website transfers, installations, and any website-related issues.
Excellent Customer Rating:
Thousands of satisfied customers have contributed to HostArmada's stellar reputation, making it one of the most positively reviewed hosts.
A Range of Hosting Plans to Suit Your Needs
HostArmada offers a variety of plans to cater to your project's demands. Each plan is meticulously crafted to offer the ideal combination of resources as shown below: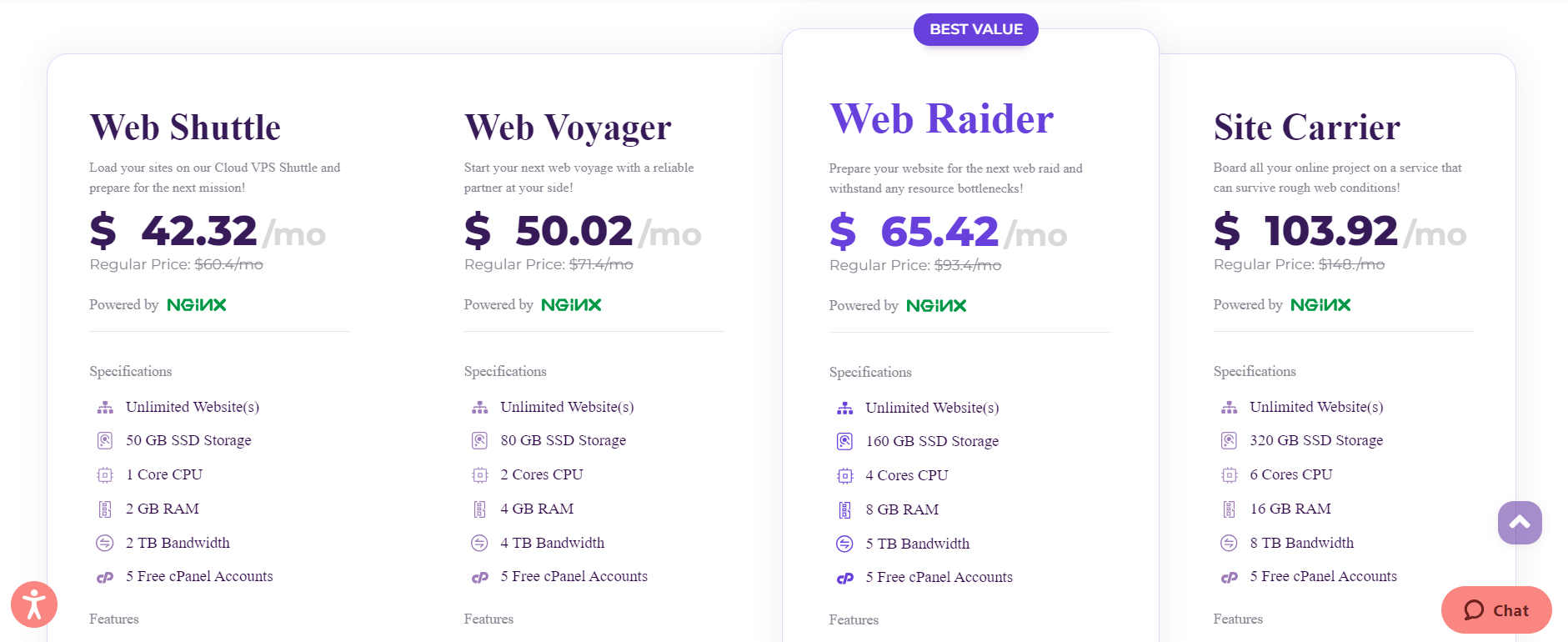 Unmatched Support and Performance
HostArmada's Managed Cloud SSD VPS Hosting extends beyond the ordinary to provide exceptional service:
Server Monitoring: Internal monitoring tools ensure prompt identification of incidents and proactive responses.

1-click Application Installer: Easily deploy and configure application instances, maintaining different versions in distinct folders.

Consistent Backups: Enjoy automated cPanel backup services with options for daily and monthly backups.

Nginx Web Server Cache: Optimize loading speeds and resource utilization with an intuitive caching mechanism.

Managed Web Hosting: HostArmada's routine maintenance ensures optimal server performance and uptime.

Latest Services for Optimal Performance: Always up-to-date core services allow for quick bug fixes and vulnerability patching.
Root Access and Security:
Root level of access empowers advanced users, while IP-based firewalls and free SSL certificates protect your websites from threats.
Global Data Centers for Visitor Reach: HostArmada's strategically located data centers ensure your visitors experience optimal performance, regardless of their server location here.
Final Verdict:
HostArmada's Managed Cloud VPS Hosting brings a fusion of performance, support, and security to your online ventures. With plans tailored to various requirements and a commitment to customer satisfaction, HostArmada stands as a beacon of excellence in the world of managed VPS and hosting. Whether you're embarking on a new web voyage or require the power to withstand resource challenges, HostArmada's Managed Cloud VPS Hosting is a compelling choice to elevate your online presence.
Hostinger VPS Hosting: Empower Your Online Presence with Affordability
When it comes to both VPS services and hosting servers in Canada, Hostinger stands out as an attractive choice for those seeking a VPS service or host, which can strike a balance between power and affordability.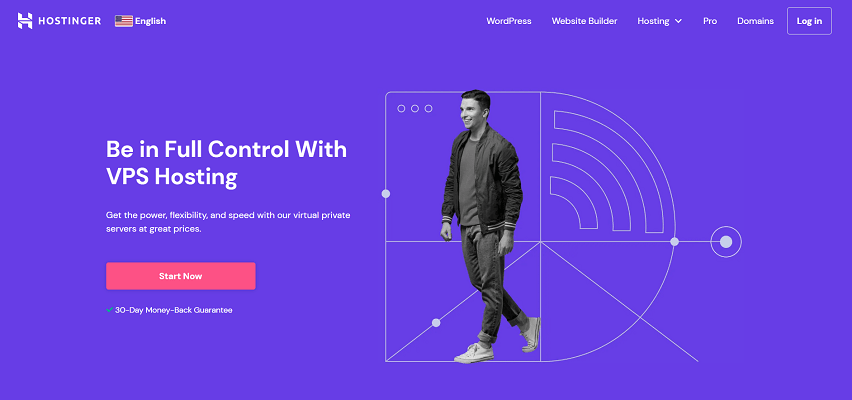 Let's delve into the details of what Hostinger's VPS hosting has to offer:
A Range of VPS Plans
Hostinger understands that not all websites have the same requirements. That's why they offer four distinct VPS plans, catering to a wide spectrum of needs – from small-scale projects to more resource-intensive endeavors.

Seize Control of Your Hosting Environment
With Hostinger's VPS hosting, you're in the driver's seat. This hosting solution empowers you to configure your server according to your needs, update software, and ensure security measures are in place. While Hostinger's support is available, it's worth noting that the VPS hosting solution used here requires a level of hands-on management.
Tailor Your System
Flexibility is key, and Hostinger acknowledges that. You can select your preferred operating system – whether it's CentOS, Ubuntu, or others. Additionally, choose the control panel that suits you best, from familiar options like cPanel to alternatives such as Plesk.
Consistent Performance
Hostinger's servers offer a commendable level of reliability. While there might be occasional fluctuations in loading speeds, the uptime remains steady. It's important to consider that Hostinger's budget-friendly pricing doesn't compromise on overall performance.
Support with a Learning Curve
Hostinger's support team is accessible through live chat. However, it's important to remember that Hostinger's VPS hosting falls into the semi-managed category. This means you'll need some technical know-how or the willingness to learn as you navigate server management.
Cost-Effective Hosting
One of the standout features of Hostinger's VPS plans is their affordability. These plans are designed to provide substantial hosting capabilities without breaking the bank. Remember that certain extra features, like daily backups, come with an additional cost.
Final Verdict:
Hostinger's full VPS hosting plan is a cost-effective entry point for those harnessing greater hosting power. If you're ready to take on the responsibility of managing your server and are looking for dependable performance at an affordable price, Hostinger's full VPS hosting plan is a compelling option. Just remember that newcomers might need to embrace a learning curve as they dive into the world of server management.
Empower Your Website with HostGator's Trusted Hosting.
In the ever-evolving landscape of web hosting services, HostGator is a name that stands out. Established in 2002, this company has not only weathered the test of time but also set up its international office in Canada back in 2006.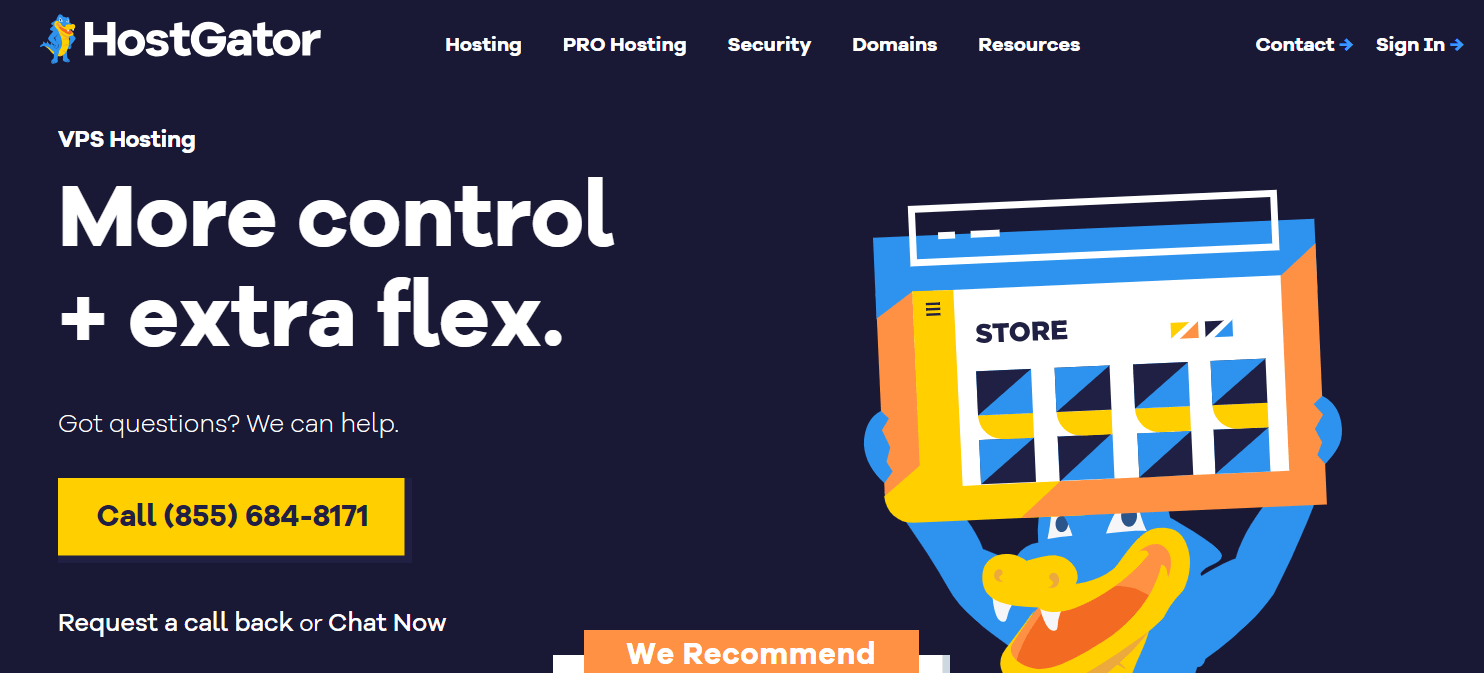 This move showcases its commitment to serving the Canadian market with top-tier hosting solutions. So, let's take a closer look at what HostGator brings to the table, with insights from HostingCanada's thorough evaluation of its speed, reliability, and cost-effectiveness.
Putting HostGator's Performance Under the Microscope
Forget jargon and technicalities. HostGator's performance isn't just measured in vague terms; it's backed by hard numbers and real-world statistics. HostingCanada's meticulous testing process covers multiple major Canadian cities and provinces, ensuring a comprehensive view. The results from four key testing locations provide a clear picture of HostGator's prowess:
Montreal: Impressive uptime at 98.6% and an average load time of 1,912ms.

Toronto: Strong uptime of 98.9% and an average load time of 2,012ms.

Vancouver: Consistent uptime at 97.5% and an average load time of 2,182ms.

Winnipeg: Solid uptime at 98.09% and an average load time of 1,658ms.
The Uptime and Loadtime Equation
Simply put, uptime measures how often a hosting company or provider's services are available and functioning as they should. For example, Montreal experienced just 1.4% downtime, roughly equivalent to 122 hours in a year. This level of uptime is indeed robust, ensuring your website's accessibility.
Loadtime, on the other hand, delves into the speed aspect. HostGator's average load time of 2,000 milliseconds or less translates to swift webpage loading. This means your users won't face annoying delays while navigating your site.
Crunching HostGator's Pricing Numbers
While speed and reliability are paramount, let's talk price. HostGator offers various plans catering to different needs as shown in the snapshot below: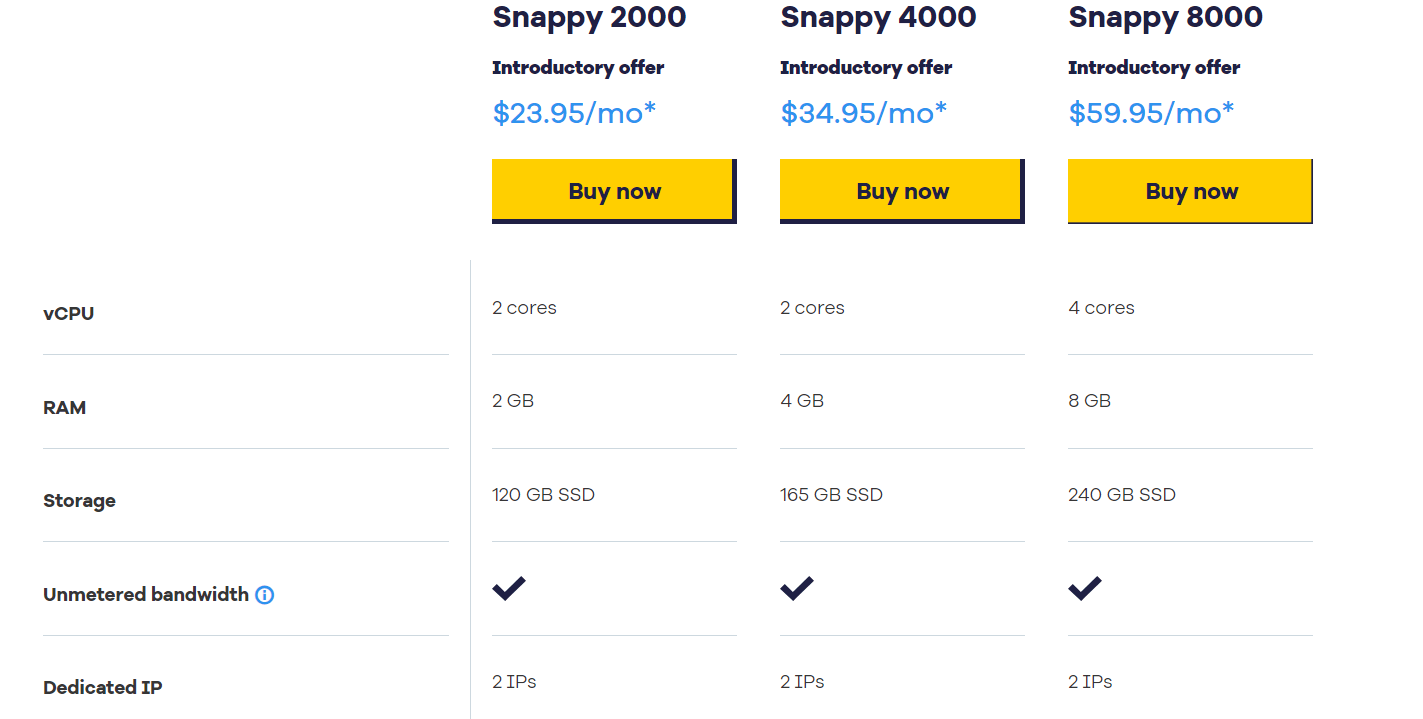 Beyond Hosting: HostGator's Value-Added Perks
HostGator goes beyond the basics to offer added advantages:
Free SSL Certificate: Secure transmissions between your site and user browsers.

Ad Spend Credits: 100 credits for Google Adwords and Bing advertising to monetize your site.

Email Hosting: Configure domain-specific mailboxes supporting IMAP and POP3 protocols.

Language Support: Launch websites in Python, PHP, Perl, and more.

Customer Support: Round-the-clock assistance via email, phone, and live chat.
HostGator: The Balanced Choice
HostGator is like a reliable companion that strikes a balance. It delivers performance, dependable support, and those extra touches that make a difference. With uptime guarantees and responsive technical help, it's a hosting option that fits both newcomers and seasoned pros.
Final Verdict
With a track record spanning two decades, HostGator has established itself as a trustworthy hosting player. Its budget-friendly plans, bolstered by features like SSL certificates and ad credits, make it a compelling choice for individuals and businesses alike. Whether you're starting fresh or transitioning an existing project, HostGator's commitment to reliability and customer satisfaction makes it a host worth exploring.
Bottom line: Navigating the Choices for a Powerful Web Hosting Service
When you're ready to elevate your web hosting game beyond shared hosting, Virtual Private Servers (VPS) emerge as a robust option. VPS hosting occupies a sweet spot between affordability and performance, providing you with dedicated server resources to power your online ventures. As you embark on this journey, consider these essential aspects:
Managed vs. Unmanaged VPS Platforms: A Crucial Decision
One of the first forks in the road is deciding whether to opt for a managed or unmanaged hosting VPS platform. A managed VPS comes with pre-configured settings, often including the Linux VPS and essential web development extensions. This approach gets your website up swiftly but offers limited customization. In contrast, an unmanaged VPS host provides you with a blank slate – you manage the software, configurations, and maintenance.
Key Features to Evaluate
When comparing VPS plans for Windows servers, consider the following features:
Dedicated Cores and RAM: Number of cores and guaranteed RAM for optimal performance.

Storage: HDD/SSD space for files and data.

Bandwidth: Monthly data transfer limit.

Operating System: Choice of Linux or Windows.

Virtualization Software: Xen, OpenVZ, KVM, etc.

Security and Backups: Measures against threats and data backup solutions.

Technical Support: Availability, responsiveness, and communication channels.

Web Server Performance: Speed, CPU power, SSD usage, and scalability.

Systems Administration: Control panel options for easier management.

Cloud Optimization: Utilizing cloud technology for speed and scalability.
Cloud VPS: Speed Meets Innovation
Cloud VPS enhances speed through solid-state drives (SSD), multi-core servers, and advanced RAM technology. This results in significantly faster loading times, improving user experience.
Operating System Choice
VPS hosts usually offer Linux, a popular open-source option, or Windows for Windows enthusiasts. Unmanaged plans provide more OS flexibility, allowing complete customization.
Web Server Performance
Evaluate CPU power, SSD availability, bandwidth speed, and scalability. Inquire about the ability to add resources without reinstallation.
Choosing Virtualization Software
Selecting the virtualization software (Xen, OpenVZ, KVM, etc.) dictates available features and configurations.
Customer Service and Technical Support
Quality customer service and technical support are essential. Look for 24/7 response, multiple communication channels, and a dedication to problem-solving.
Cloud Optimization Unleashed
Cloud-optimized VPS harnesses cloud technology for blazing-fast loading times. Features like server load balancing and burstable resources ensure seamless performance during traffic surges.
Security and Backups
Ensure the web host provides robust security measures against cyber threats. Inquire about DDoS protection, firewalls, and backup strategies.
Systems Administration: Control or Command
Choose between using a control panel for a user-friendly experience or utilizing the command line for more advanced control. Popular control panels include cPanel, Plesk, Webmin, and Virtualmin.
Deciding the Best VPS: A Holistic Approach
Choose a used VPS plan based on your system administration preferences, customization needs, and technical expertise. Managed accounts offer convenience, while unmanaged accounts provide freedom.
Other Types of Web Hosting Services To Consider
Discovering Alternatives Beyond VPS Hosting
While you search for the perfect VPS hosting service, you might come across different kinds of other hosting plans and wonder if they could be a better fit for you. Sometimes, they could be, but it all depends on what you need, how much you can spend, and your technical know-how.
In addition to the best VPS hosting providers, here are some common types you might want to think about:
Shared Hosting: Starting Simple
If you're just getting started with a new website or brand, shared hosting could be a good choice. It's affordable and often managed for you, so you don't have to worry much. But it might be slower and less secure since you share resources with other websites.
Cloud Hosting: Boosting Traffic
Cloud hosting is kind of like VPS hosting and could work well for businesses with busy websites that need extra resources. One cool thing about cloud hosting is that your site is stored on many remote servers, which should mean less downtime. Also, many cloud hosts let you add more resources whenever needed.
Dedicated Hosting: Maximum Power
Dedicated hosting is the priciest option, but it's also the most stable, secure, and resource-rich. It's perfect for big businesses with lots of regular visitors and big traffic surges, like during sales events.
Reseller Hosting: For Agencies
If you run a web design agency, reseller hosting might interest you. It's like buying hosting in bulk and then selling it to your clients under your own brand. You pay less for hosting and can set your own prices for clients.
Picking What's Right for You
As you consider these hosting choices, remember to match them to what your website needs, your budget, and how comfortable you are with technology. Each type has its strengths, so by choosing wisely, you can make the most out of your hosting journey.
Frequently Asked Questions
What exactly is a Virtual Private Server (VPS)?
A Virtual Private Server (VPS) is a virtualized server environment created by partitioning a physical server into multiple isolated virtual servers. Each VPS operates as an independent server with its own dedicated resources, operating system, and various server configuration used.
How does VPS hosting differ from shared hosting?
Unlike shared hosting, where resources are shared among multiple websites, VPS hosting allocates dedicated resources to each virtual server. This provides greater control, performance, and customization options compared to the limitations of shared hosting.
Can I install my preferred operating system on a VPS?
Yes, most VPS hosting providers offer a variety of multiple operating systems and system choices, including popular options like Linux distributions (Ubuntu, CentOS) and Windows Server. This flexibility allows you to select an OS that suits your application's requirements.
What is the significance of full root access?
Root access grants you administrative control over your VPS. With root access, you have the freedom to install software, configure settings, and make modifications to your server's operating system. It's essential for advanced customization and server management.
What is the difference between managed hosting and unmanaged VPS hosting?
Managed VPS hosting comes with a pre-configured environment, including updates, security patches, and technical support. Unmanaged VPS hosting provides you with a blank slate, allowing you to set up and manage your virtual private server entirely on your own.
How does scaling work with VPS hosting?
VPS hosting allows for vertical scaling, where you can upgrade or downgrade resources like CPU, RAM, and storage as your website's demands change. This provides the flexibility to accommodate traffic spikes or increased resource requirements.
What is the significance of a control panel in VPS hosting?
A control panel, like cPanel or Plesk, simplifies server management tasks by providing a graphical interface. It enables users to manage domains, databases, email accounts, and other server settings without needing extensive command-line knowledge.
What security measures should I consider for my VPS?
Ensure your VPS is protected with measures such as a firewall, DDoS protection, regular security updates, and intrusion detection systems. Regular backups are also crucial to prevent data loss.
Can I host multiple websites on a single VPS?
Yes, a VPS can host multiple websites using virtual hosts or containers. You can set up separate directories for each website and configure the web server software to handle requests for different domains multiple server locations.
How can I optimize the performance of my VPS?
Optimizing VPS performance involves utilizing caching mechanisms for content delivery networks (CDNs), reducing server response times, optimizing database queries, and ensuring efficient use of server resources.