Unlock Your Website's Search Potential: 10 of the Best SEO Tools to Increase Rankings in 2023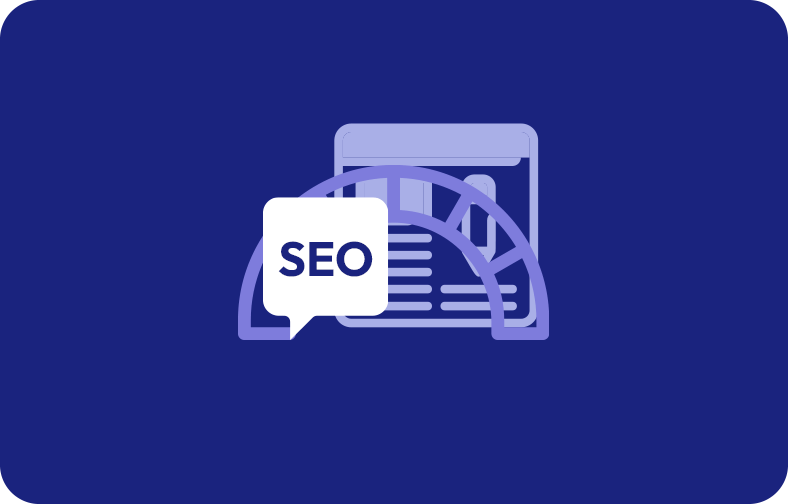 If you have a blog and have been trying to rank higher in the search engines like Google, it is time to start using SEO tools. These will help you greatly because they will help you do things efficiently.
This is like a time-saver as well. You don't need to spend hours manually scanning through numerous pages of content after making some changes or tweaks to your website's design. But, with some valuable tools, these problems can be resolved quickly, not to mention helpful too!
SEO is tricky and something only Google is good at. So to ensure you keep your website in the right place, use some of the best SEO tools.
People spend thousands of dollars on SEO tools every year. But what are the best SEO tools to increase your website's search volume? In this article, we'll dive into this topic and examine 10 of the best SEO tools you can use to improve your SEO today.
Major components of SEO
Before diving into the importance of SEO and our favorite SEO tools, we must understand its four major components that can improve your website's search results. These components are interdependent, and their connection determines google's search results.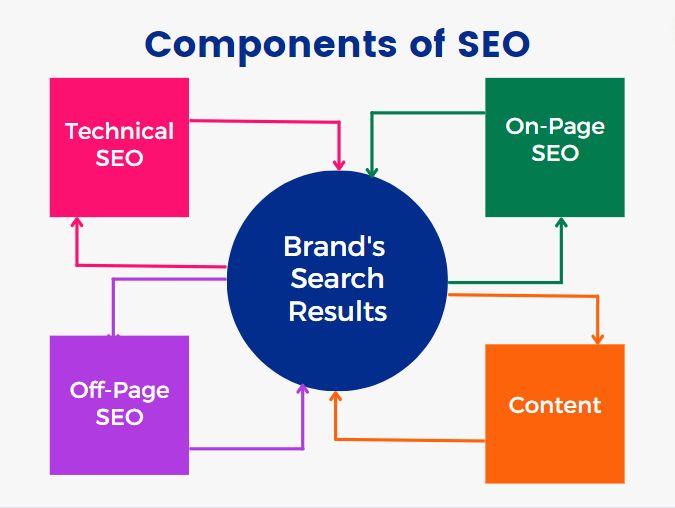 These four components, including Technical SEO, Off-Page SEO, On-Page SEO, and Content, are listed below:
Technical SEO
Technical SEO refers to ensuring a website conforms to the technical requirements of modern search engines to obtain higher organic rankings. Most content management systems already automate technical SEO, but other factors must be considered to improve technical SEO.
tips to enhance technical SEO:
To improve Technical SEO on your website, consider the following guidelines:
Clearly define the keywords on your website.
Make sure your website is mobile-friendly. Don't overlook your mobile customers because more and more people conduct online research while on the go.
Ensure your website operates as quickly as possible to avoid losing potential customers due to slow loading times.
Off-Page SEO
Off-page SEO refers to SEO strategies used to raise a website's rankings outside of the website itself. These strategies include guest posting, backlink building and development, social media marketing, and more. It aims to increase the trust and authority visitors and search engines place on your website.
tips to improve your site's off-page seo:
To enhance the Off-Page SEO of your website, follow these steps:
Establish relevant links between your website and other websites. Although having as many links as possible can seem rational, focusing on the connected ones will provide the client with a more targeted and selective experience. Less is often more.
You must first choose how to engage with other websites through blogging, market segmentation, or reviews. Knowing how you want to be perceived outside your website is equally important as knowing your audience.
On-Page SEO
A well-designed and well-written website should be the treasure at the end of the search rainbow for potential customers. It's crucial to use emotional appeals while creating brand loyalty.
If your keyword strategy is optimized for metatags and other site components like images, you can retain readers' attention for longer. Accessibility and specificity are crucial when selecting how to optimize web pages.
tips to improve your site's on-page SEO:
For effective On-Page SEO on your website, consider the following guidelines:
Be aware of your target audience: A thorough insight into your audience and communication preferences is essential for efficient on-page SEO.
Include important keywords in page titles: This helps Google recognize what your website is about and hence match your content with the searcher's query.
Content
Your website is ultimately just a delivery system for your products. As a result, you must provide comprehensive content that aids in clients' understanding of your services, thereby improving your SEO.
Tips to improve the content SEO of your website:
To boost the Content SEO of your site, follow these steps:
Build your buyer persona keeping in mind
Decide why customers need you over competing businesses that provide the same product or service. Determine what qualifies you as an expert. Provide value to the visitors.
Search Engine ranking factors
Information about 1,922 ranking factors for the world's fourth-largest search engine, Yandex, was leaked three days ago. Former Google employees created Yandex as a Google clone.
Results from Google and Yandex are about 70% comparable. Even though there would be numerous variations between search engines, it sheds light on how ranking variables are calculated.
Out of the hundreds of SEO metrics and ranking factors, the four most interesting, as described by Koray Tugberk and Jake Ward on LinkedIn, are mentioned below:
PageRank:
PageRank Gains Importance in Source Weighting. This is because AI and automation will bloat the web, and PageRank and Exogenous Factors will provide the true authority signals.
Keywords:
Keywords in a URL are a ranking factor.
Crawl depth:
Crawl depth is a ranking factor. Hence, keep your important pages closer to the main page.
Backlinks:
Backlinks from high-authority websites are more important link-building than internal ones from an SEO perspective. Internal link building aids Google bots in crawling the website faster, and the users stay on the website longer. You must also check your web pages for Broken links, which create a bad user experience and hurt SEO.
User Retention:
Retaining users is also a ranking factor. Thus, building good products would benefit your SEO.
Advanced Semantic SEO:
Every SEO will require advanced semantic SEO. New websites with 60,000 articles will surpass websites that have been around for 20 years in search engine results. Because of this, SEOs must have sophisticated semantics and linguistics capabilities.
Filtration of AI-generated data:
Google will begin to err in filtering spam- and AI-using websites. To filter AI-generated data, Google was compelled to examine and audit "momentum," or the frequency of content publication.
Indexing and relevance thresholds:
The relevancy and indexing thresholds will rise. This is because a bloated web demands the addition of distinctive value through organizational signals and real-world experience.
Before we jump to the list I have curated, let's see what to expect from SEO. Shall we?
Why do we need SEO?
If you're new to the world of digital marketing, or even if you've been around for a while, there's a good chance that you have questions about SEO. Is it worth it? Can I make money with it? How much do people pay for something like this?
The answer to all these questions is yes! According to the latest research, 75% of searchers won't click past the first page of search engine results pages(SERPS).
Benefits of SEO
The three main benefits of search engine optimization are listed below:
Organic search results:
When you have a website that ranks high in Google's search results, it allows you to get more organic traffic from search engines like Google and Bing.
Quality of organic traffic:
If your website is well-optimized and has a good content management system (CMS), then it will help you get better-quality traffic which is more likely to convert into leads or sales
Quantity of organic traffic:
Having more than one page on your website means that there could be multiple opportunities for bloggers to write about your product or service, increasing the chances of generating more traffic without spending more money on paid ads or PPC campaigns.
However, SEO is not a magic bullet. It's a strategy that can help your website rank higher on search engines, but it will not make you millions overnight.
"SEO doesn't happen in a vacuum. Every situation offers a unique set of variables."
-Eric Enge, General Manager at Perficient Digital
Thus, SEO can help you reach new customers, grow your business and increase revenue. SEO tools help you reach these goals.
What are SEO tools?
Before we delve into the most competent SEO tools available today, we must understand what functions these tools perform. SEO tools examine a website's potential for high placement on search engine results pages. They offer details about backlinks, keywords, and insights into online SEO competition; Google's algorithm considers all those factors.
As an SEO professional, you should monitor the domain to optimize for search. For that, you should consider analyzing some factors of your website, including keywords, content, backlinks, domain, and traffic. There are four basic SEO tools models: freeware, one-time payment, monthly or annual payments, and payment per search volume.
With continuous updates, Google can identify low-quality or duplicate content, and your website's search rankings may suffer if you post duplicate content, false information, or have excessive backlinks to duplicate content.
Thus, read the next section to ensure you use the best SEO software to optimize your website.
Top SEO tools, 2023 Verdict
SEO tools are essential for any business that wants to get more visitors and increase sales. Beginners and experts can use them, but many SEO tools are available.
Some of them are free, while others require a monthly subscription fee. Some work better than others, but they all have strengths and weaknesses.
With many tools available to help your SEO efforts, knowing which ones are worth the investment can take time. Thus, I have compiled a list of 10 of the best SEO tools you should use to make your website a success:
SurferSEO
SurferSEO is the most user-friendly SEO tool for beginners and experts alike. This is the best SEO tool to start your SEO journey, but it's also a great way to learn more about SEO.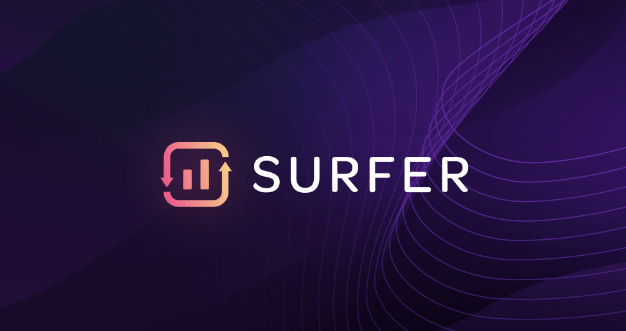 It is easy to use and has excellent features, like the Content Planner, which provides great keyword ideas for your website's optimization. This tool helps you find the secondary and relative keyword difficulty, build topic relevance and create a robust content strategy.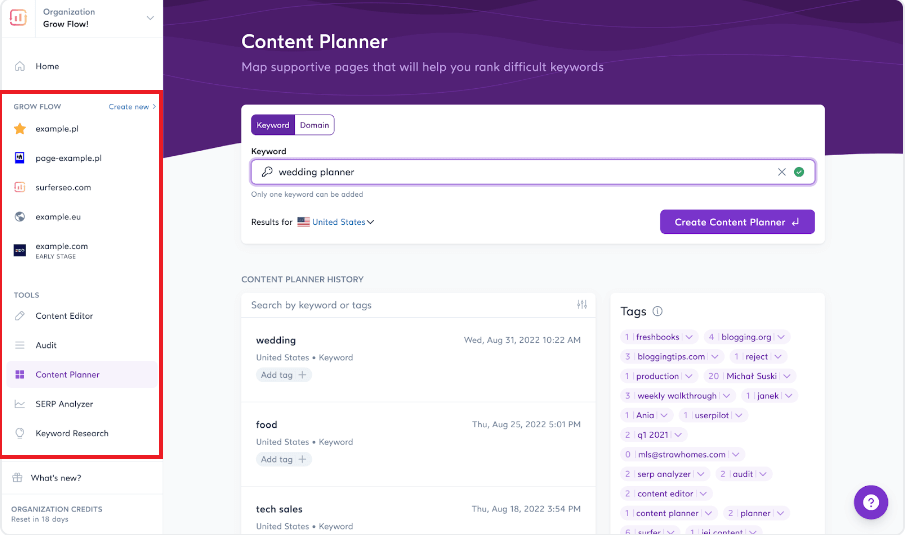 The dashboard of SurferSEO is shown above. You can see various extraordinary SEO tools such as Grow Flow, Content Editor, Audit, Content Planner, SERP analyzer, and Keyword Research tool.
Grow Flow sends you a list of manageable tasks to help you expand your domain. Several tasks include adding missing keywords, inserting broken links, suggesting fresh material, and learning about your competitor's backlinks.
Due to this tool's numerous features and options can take time to find what works best for your site. However, many comprehensive guides are available online to help you make maximum use of this free tool.
SurferSEO Pricing:
Check out the difference between annual and monthly subscriptions of SurferSEO from the snapshots below:


pros and cons:
The pros and cons of using Surfer SEO are mentioned below:
Pros:
Has a better AI assistant than the rest of the tools in this list, like Semrush. This assistant optimizes content and keyword ideas to help websites rank higher on Google.

It develops a content strategy with the help of its keyword tool that generates relevant keywords with the help of AI so users can establish themselves as an authority on a subject.

Quickly generates an article outline to guarantee the best possible content organization.

Offers recommendations for the type of material to write to get ratings.

Provides thorough page assessments that may be used to find content gaps and offer solutions.
Cons:
The keyword research tool isn't as sophisticated as Semrush or Ahrefs, and the keyword difficulty score isn't accurate.

Thus, SurferSEO is a great SEO tool that helps you find your audience, increase brand awareness and improve website traffic.
Semrush
Semrush is one of the most popular tools among professionals for improving SEO performance, and for a good reason. It's a comprehensive tool suite provides excellent SEO metrics and can help you do everything from keyword research to competitor analysis. The tool also offers a lot of helpful tutorials to guide beginners about using this tool.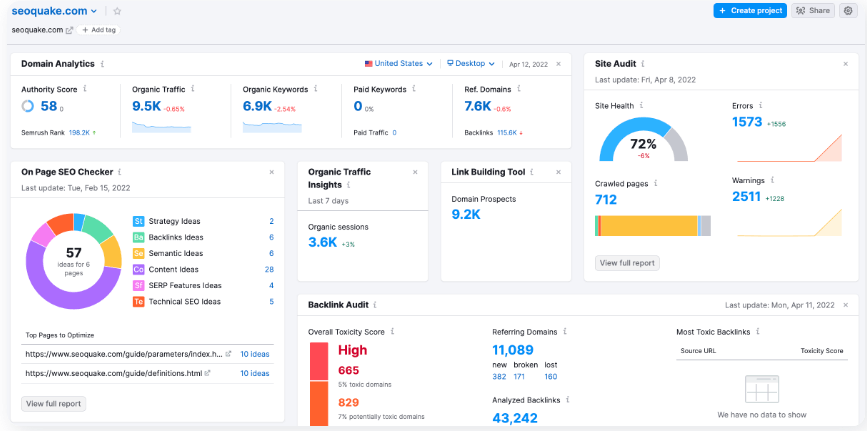 The image above shows the Semrush dashboard, which is quite simple. The first thing you can see is Domain Analytics which shows an overview of the current keywords and traffic from organic and paid sources.
The widgets for each aspect of your most recent SEO job are below. These include SEO tools like link-building tools, a recurring site audit, backlink auditing, and brand monitoring to optimize your website.
Semrush is the only SEO tool I examined that can serve as a social listening platform, even while tools like Moz and Ahrefs are integrated with social media sources, monitor brands, and track mentions.
Semrush pricing:
Semrush has been around for several years, but it's still one of the best tools for SEO experts. The pricing and plans of Semrush are mentioned below: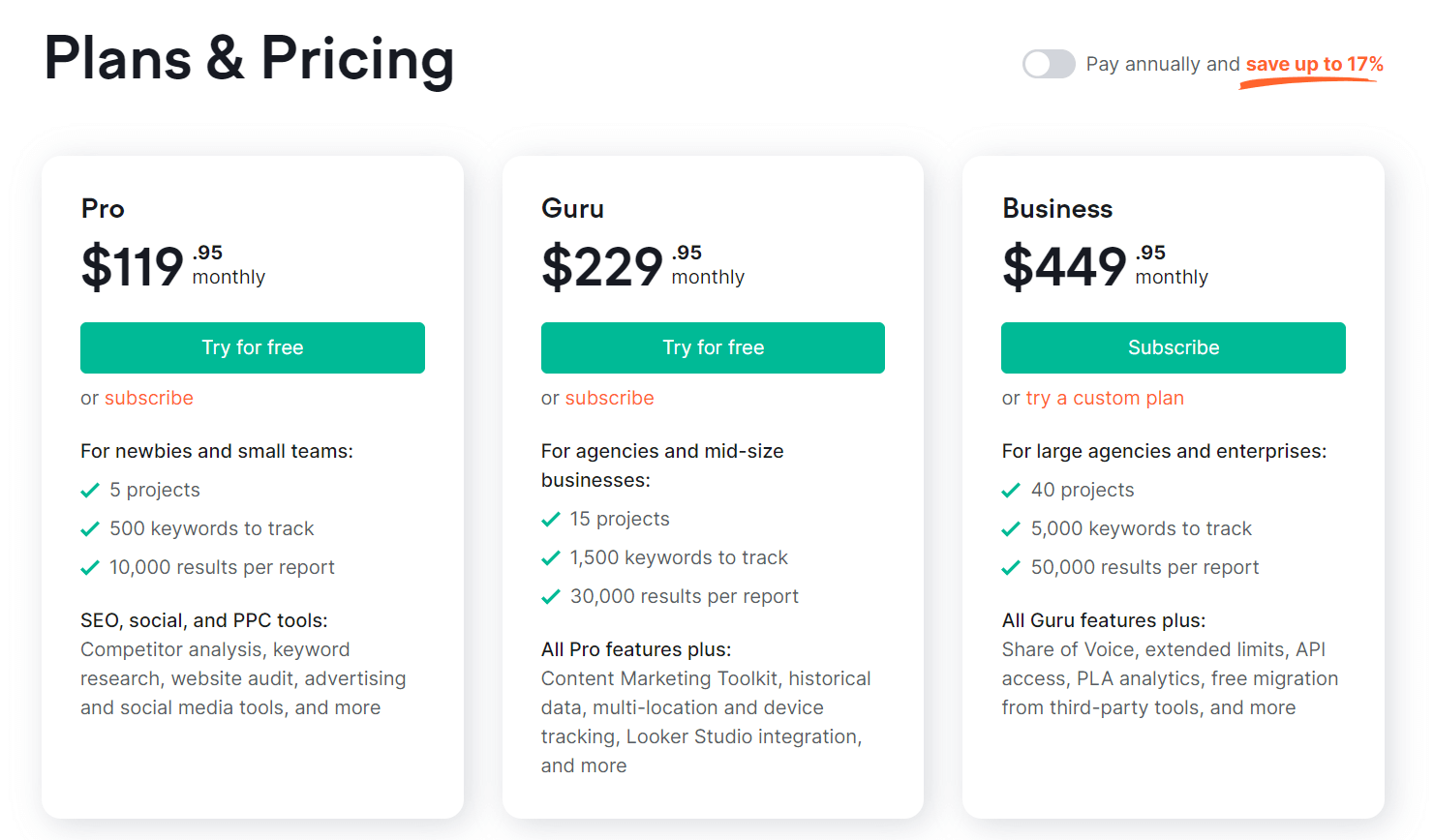 This SEO tool also offers a free trial, perfect for beginners who want to test their new site before committing to paid plans. The platform offers a 7-day free trial, so there's no risk in trying them out before committing to more expensive plans.
Pros and cons:
The pros and cons of using Semrush are mentioned below:
Pros:
Semrush's brilliant content marketing toolset makes keyword search and topic research easy for your website's optimization.

User-friendly interface that offers easy navigation.

A suite of SEO tools, including site audits, keyword research, gap analyses, backlink analytics, and keyword tracking.

Excellent customer support.
Cons:
Inaccurate and misleading traffic predictions.

Quite expensive price plans, especially for small businesses.
Majestic
I have placed Majestic in third position in this list because it has many features that make it easy for anyone to use. It provides much information about your competitors' websites so you can understand what they are doing now and how they can help you improve your site.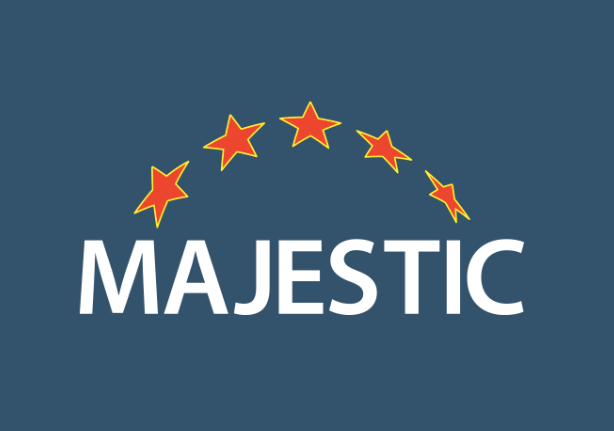 The main focus of Majestic is backlinks or nofollow links. A comparison of Majestic's link data with three other popular SEO tools, Ahrefs, Semrush, and Moz Pro, is shown below.

However, this tool is not just a simple backlink checker; it is also a great keyword tool and offers useful features, such as keyword optimization and content analysis tools, as shown in the picture below.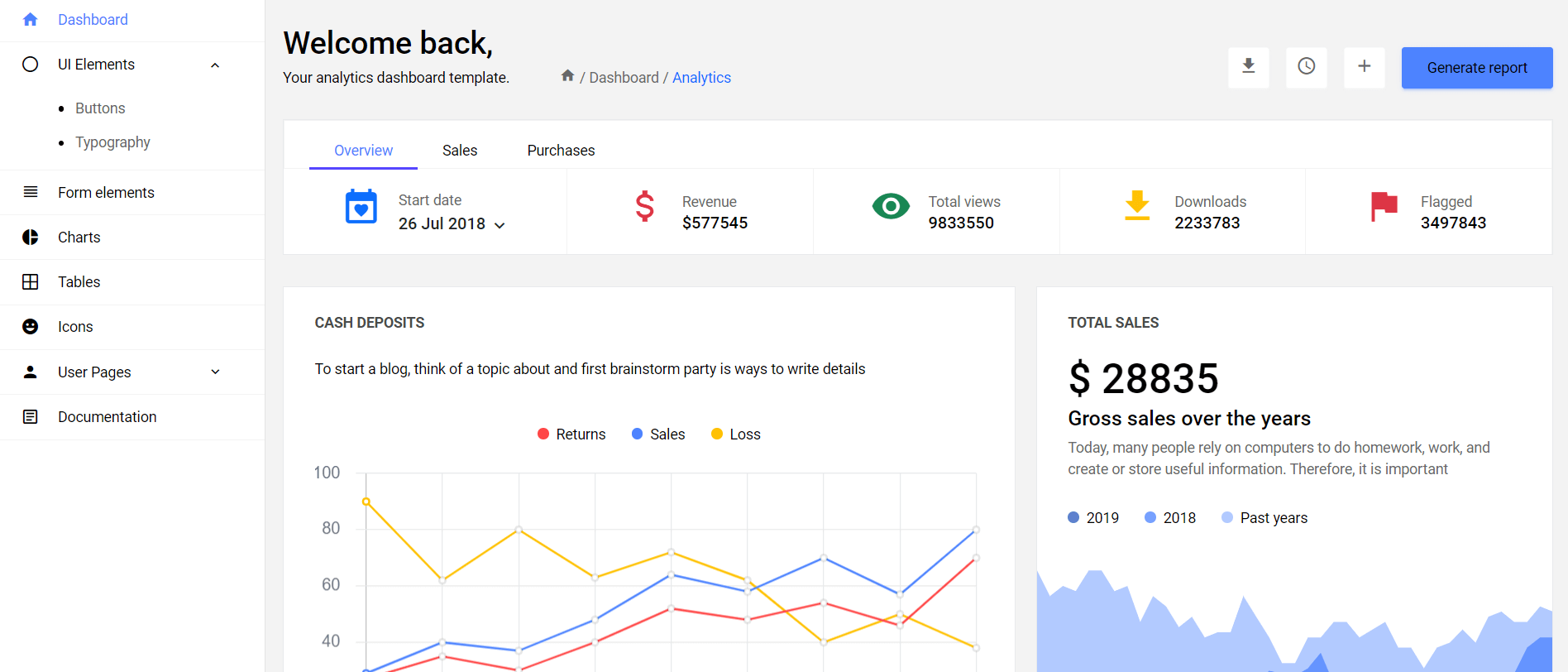 Pros and Cons:
The pros and cons of using Majestic are listed below:
Pros:
Reviewing backlinks is done quite effectively. When developing a complete historical backlink review platform as the core of their functionality, Majestic set the bar.

With Majestic, competitor SEO analysis is precious because you can track the ongoing SEO efforts of your rivals by pulling past data in addition to all current SEO data.

The search explorer tool is quite helpful. You can check the Majestic index to see specific keywords and meta tags used in SEO. This is incredibly helpful for large websites with a lot of ongoing content.
Cons:
Beginners may find it confusing until they understand what they're seeing. There is a lot of misconception about Citation Flow and Trust Flow.

Only tools at the PRO level (minimum $99/mo) that are beneficial or necessary are available. Therefore, if you're starting, it can be expensive.
Majestic Pricing:
The pricing plans of Majestic are shown below:

Majestic is instrumental if your business invests much money in ongoing SEO campaigns. Majestic, in general, is a more sophisticated tool to dive into deep SEO methods and is preferable for SEO experts. I would recommend this to organizations that have invested significantly in SEO.
MozPro
The Moz Pro tool is one of the most comprehensive SEO tools. It has many features will make it easy for you to conduct an SEO audit of your website. It can track your keywords, web presence, backlinks, and onsite and offsite SEO practices.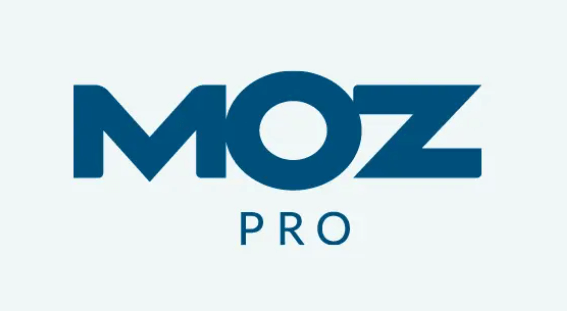 The best functionality of this tool is the Link Explorer. There are over 40 trillion links in Moz's Link Explorer, so you can be sure that this analysis of your site's backlink profile will be comprehensive.
This google analytics tool will be excellent for any SEO agency like Internet Marketing Ninjas since it helps to comprehend how well a site performs in search engine results by monitoring new links and brand mentions. These findings in google analytics are also directly used to link prospecting and content planning.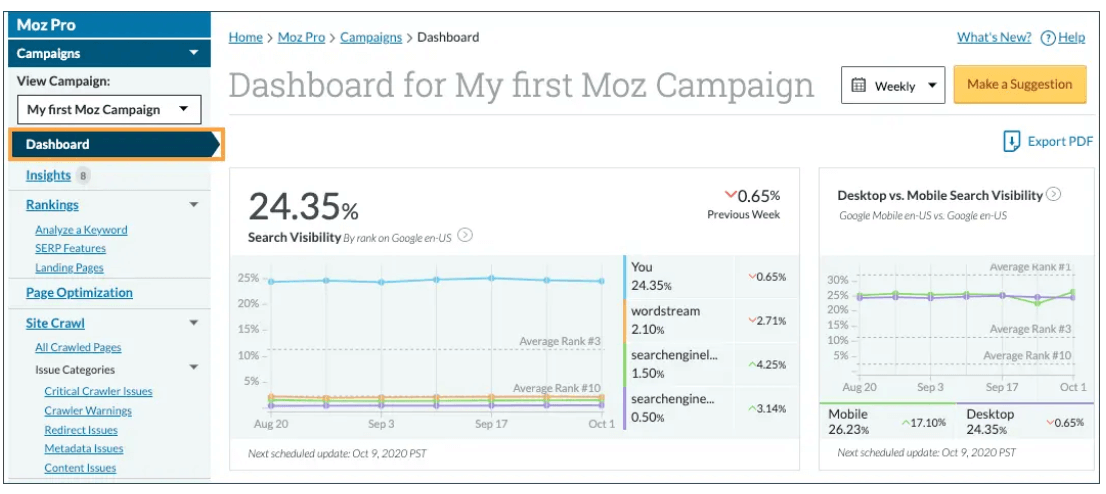 MozPro's dashboard, as shown in the picture above, displays critical features like Site Crawl, Search Visibility, and link metrics. Numerous major technical problems, such as response code errors, missing title tags, and broken links, will be detected by Moz Pro Site Crawl. SEO effectiveness can be dramatically enhanced by correcting these problems. Thus, Moz Pro clients will find this tool to be helpful.
Moreover, Search Visibility provides a brief overview of your site's performance in the organic search results. In the link section of your Moz Pro, you can see your top-level link metrics alongside your competitors. This will help you find worthy prospects, develop a reasonable strategy, and stay updated on your development.
MozPro Pricing:
The pricing plans of MozPro are shown in the image below: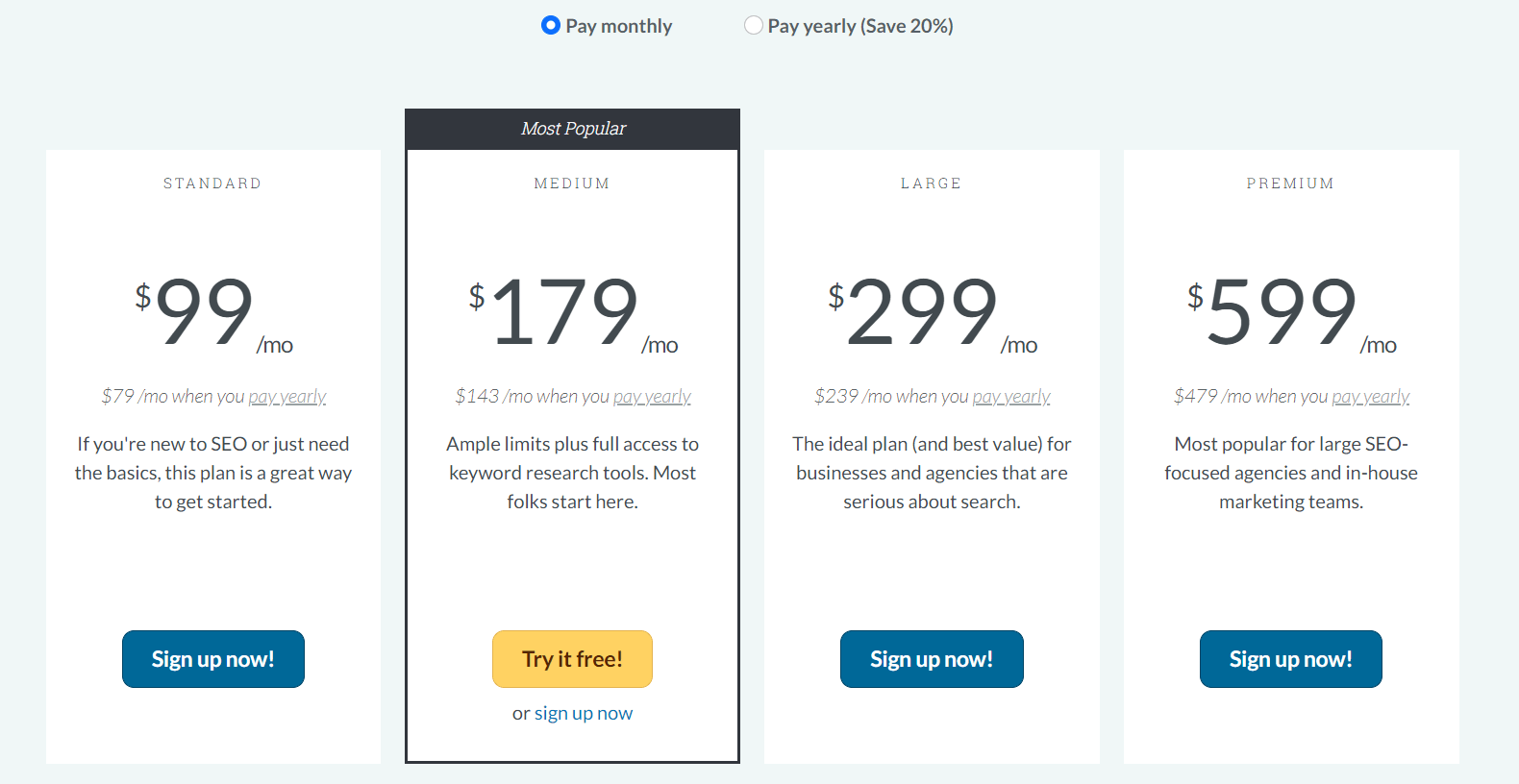 Pros and Cons:
The pros and cons of using MozPro are mentioned below:
Pros:
It has a collection of SEO tools and offers free tools you may use as often as you'd like, such as keyword explore and open site explorer.

It has the top study and resource materials. The numerous video tutorials and tips Moz-Pro offers are created so clients can learn from them.
Cons:
A subscription is mandatory. Although it contains specific free tools, you must subscribe to access the other ones that aren't free.
It's pretty costly. On subscribing, Moz-Pro users need a lot of money to access the crucial tools that aren't available without one. Since the campaigns or keywords are restricted, you must also pay more if your activities are extensive.
Google Search Console
SEO experts developed a web-based tool called Google Search Console to assist companies in keeping track of, troubleshooting, and maintaining their website visibility in Google Search results. The essential features of this free SEO tool include keyword tracking, localization, mobile keywords, a dashboard, and Google Analytics integration.

Like its other product, Google ads, Search console also helps improve your SEO score. Teams may use google Search Console data to evaluate their websites' clicks, impressions, and positions on Google Search and learn more about the search terms that lead users to those web pages.
Marketers use the platform to submit specific URLs and sitemaps (i.e., HTML and XML Sitemap) for crawling and to sign up to receive email notifications when Google finds problems with their websites.

From this tool's dashboard picture above, you can see the Google search console data that includes all the essential SEO metrics of your site, like total clicks, impressions, speed, sitemaps, and Speed and Mobile Usability issues.
In the performance tab, you can view your site's Google Search traffic statistics, including how frequently your site appears in Google Search results, which search terms bring up your site, how frequently users click through to your site from those results, and more.
It also has a URL inspection tool that enables you to determine whether a URL might be indexable and provides details about the version of a given page that Google has indexed. Information covers video, linked AMP, structured data, and indexing/indexability.
The best part is that you can get all this without paying a single penny since this tool is free of cost.
Pros and Cons:
The pros and cons of using Google Search console are mentioned below:
Pros:
Can fix indexing issues and ask that new or updated information be re-indexed.

Get notifications when Google finds difficulties with your site's indexing, spam, or other aspects.

It makes it easier to identify the websites that link to your website and identify bugs with AMP, mobile usability, and further Search options.
Cons:
Beginners may find it challenging to use, and new blogs or websites may be unable to track every click or website activity.

The software does not record every search term a user enters to access a website.
Google Trends
Google Trends is a lifesaving SEO software for SEO specialists. When it comes to finding trending topics, it will keep you ahead of the curve. With the help of this tool, one can quickly determine which keywords are becoming more popular and change their strategy accordingly.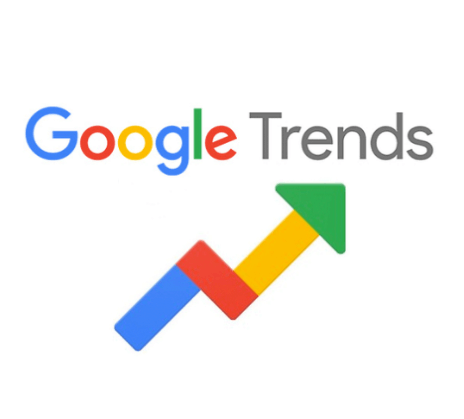 Additionally, this free SEO tool helps one to understand what people are looking for so the user can produce content that satisfies their demands. Furthermore, the option to compare search phrases and categorize results is revolutionary.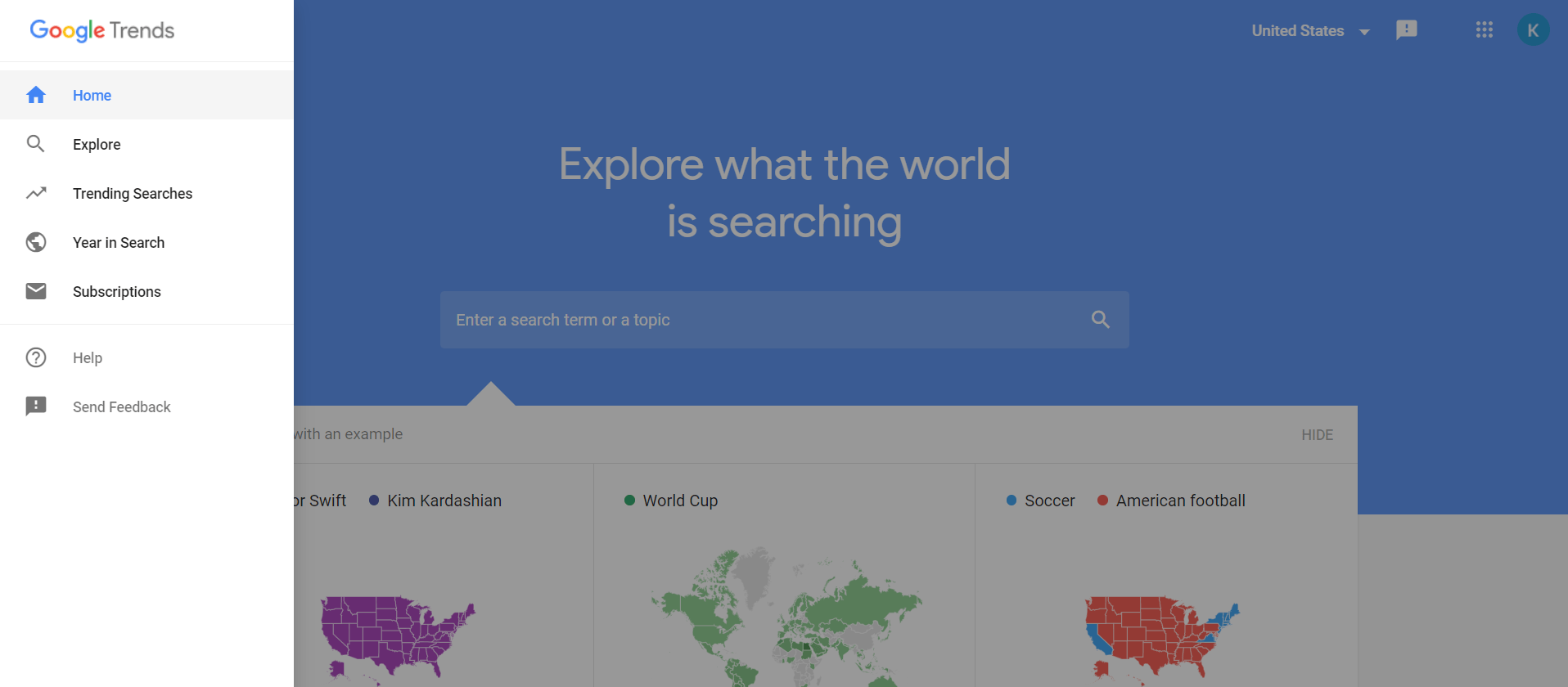 In the dashboard of Google Trends shown in the picture above, you can see various options like Explore, Trending searches, Year in Search, and Subscriptions.
The best among them for SEO is Explore which can be used to compare the data between two or more keywords based on the nation, period, search trend, and categories. It also displays associated topics, broken links, and questions, which is useful for picking the appropriate keywords.
Pros and cons:
The pros and cons of Google trends are listed below:
Pros:
The dashboard provides core web vitals reports based on real-time data from Google.

It is incredibly user-friendly, making it possible for anyone to use it whenever they want, from anywhere.

You can analyze trends connected to any issue and compare products to understand the marketplace.
Cons:
It only offers comparative data, making determining accurate search counts for particular terms impossible.

It doesn't consider the search context or people without internet access.

Due to low search limits, some search items might not be displayed, and the categories used to filter results might not always be visible.
Screaming Frog
Screaming Frog is another robust SEO tool that supports various SEO channels, such as Local SEO, Social SEO, Mobile SEO, and Global SEO. SEO agencies could use this tool since it enables users to track multiple domains in one instance. It also integrates with Web Analytics, such as Google Analytics and Adobe Analytics.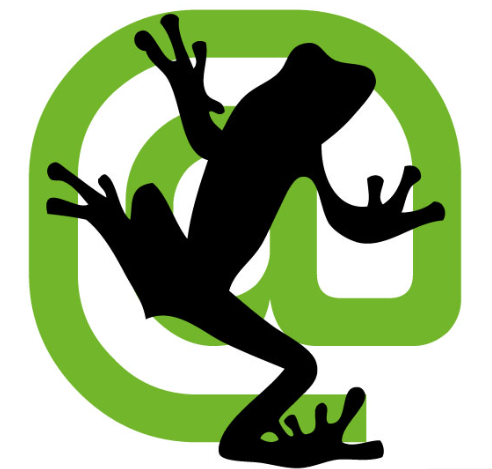 Screaming Frog SEO tool has features that even beginners can use, such as keyword analysis, backlink management, SERP ranking tracking, page grader, competitive analysis, site audit, site management, and task management.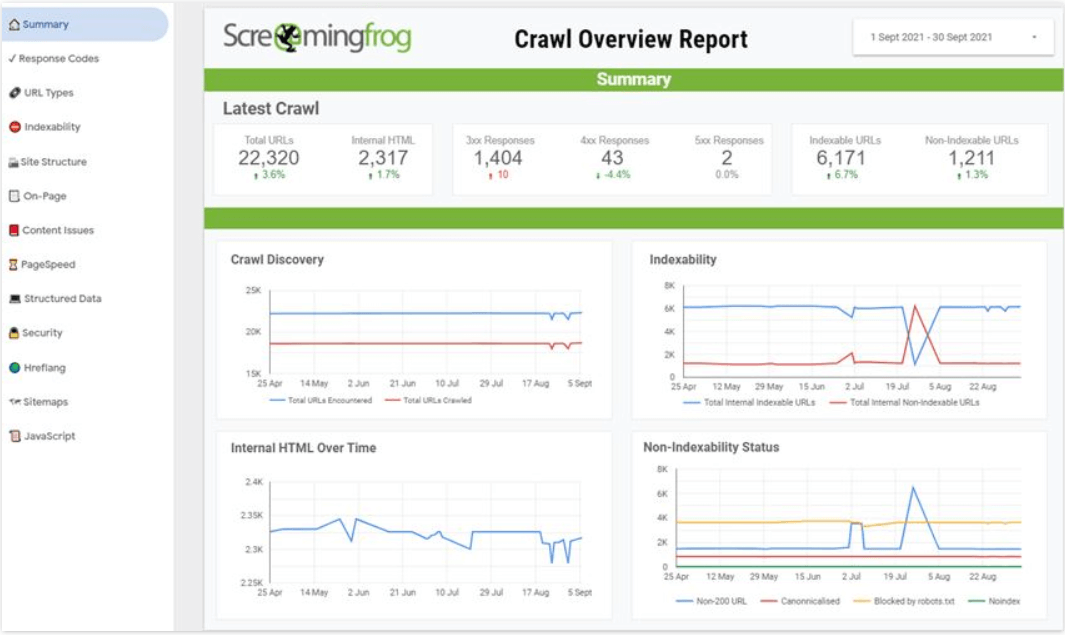 The dashboard of Screaming Frog SEO displays essential tools that help you perform several SEO tasks like Indexability, Site Structure, Content Issues, On-Page SEO, Sitemaps, and page speed. With its search engine bots, you can generate completely automatic Google Looker Studio crawl reports for site health, bug detection, and performance tracking.
Its best SEO features include keyword analysis, SERP ranking tracking, Site audit, and task management.
Screaming Frog Pricing:
Check out the difference in availability of these features in the free version and paid version of Screaming Frog SEO from the screenshots attached below: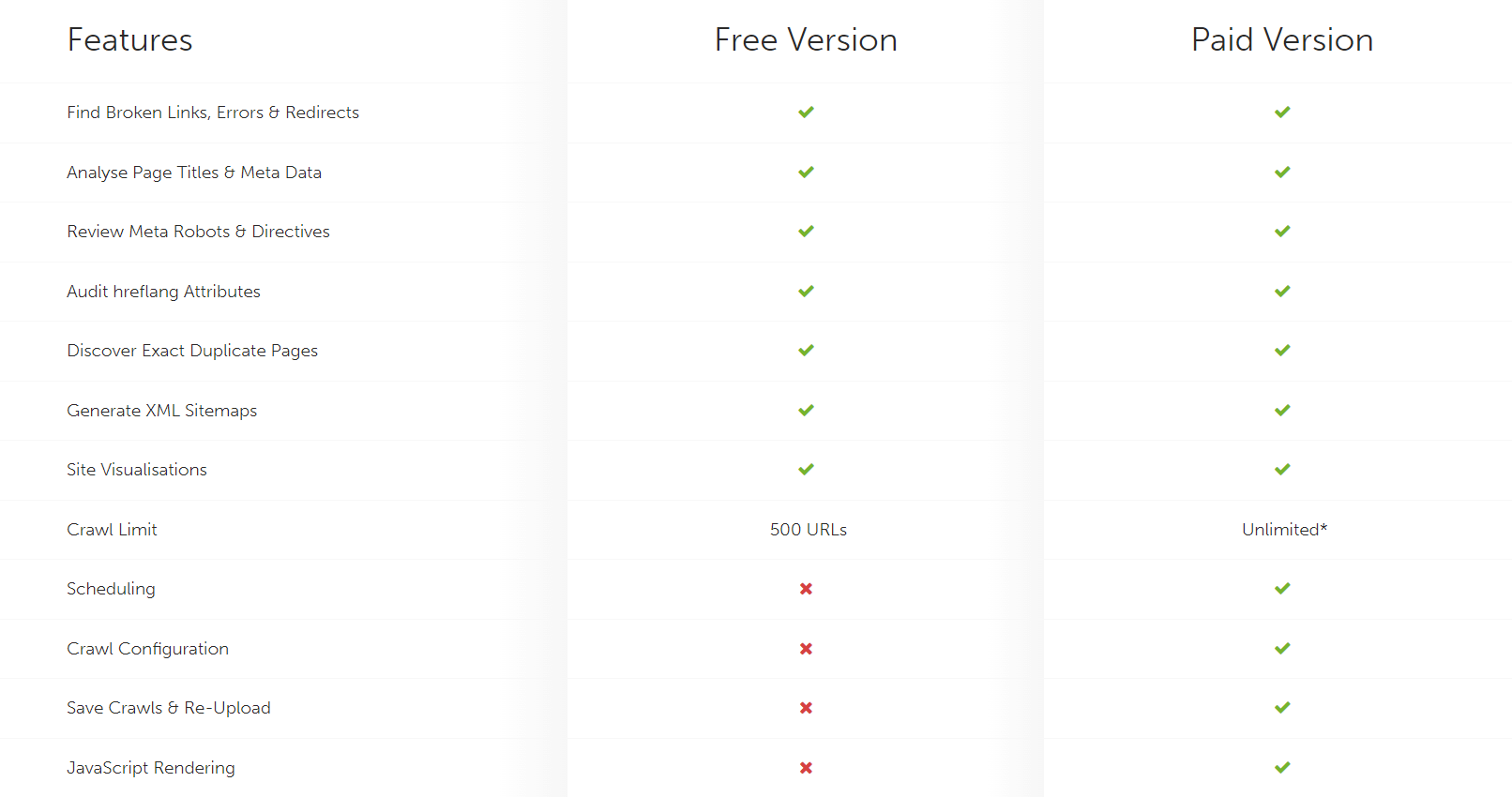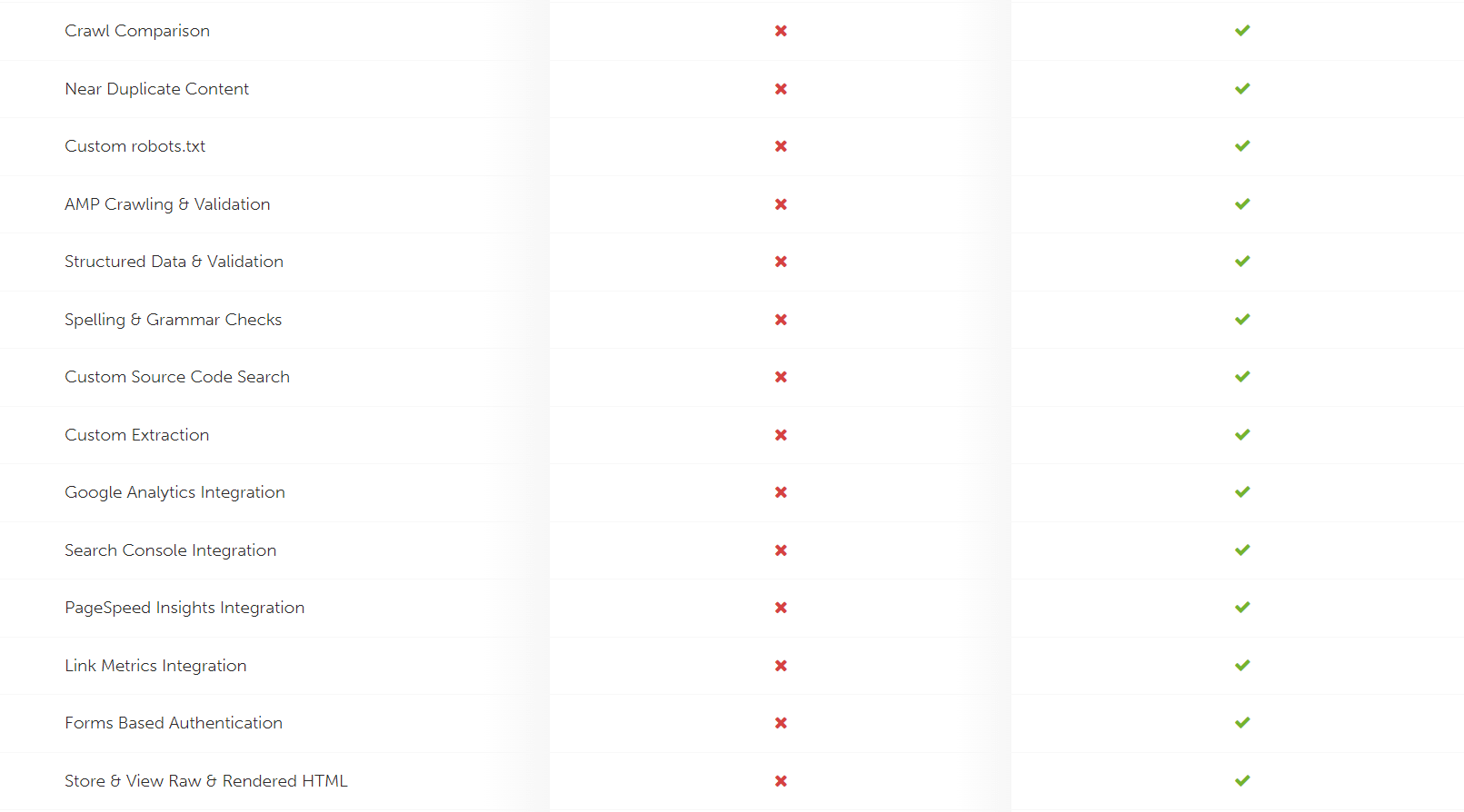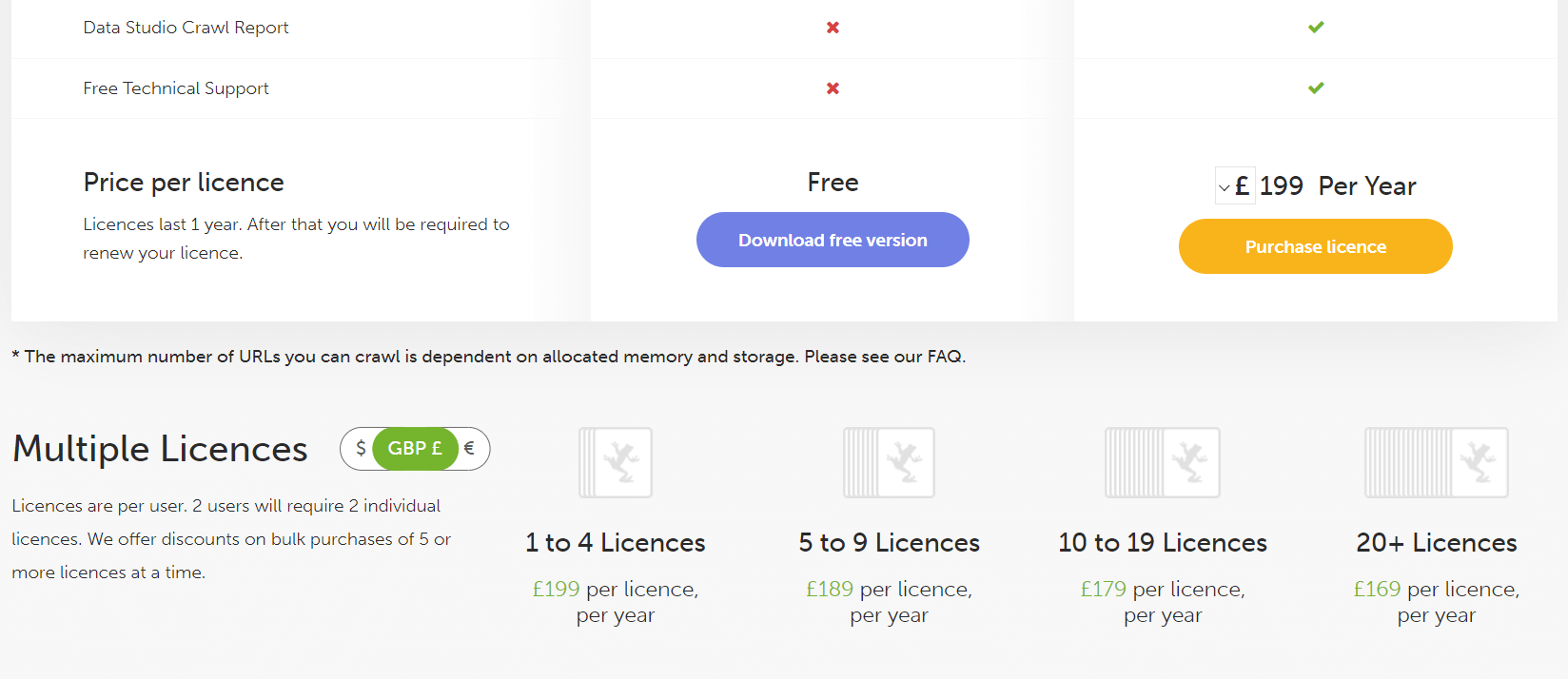 Pros and cons:
The pros and cons of using Screaming Frog are discussed below:
Pros:
You will never be able to tell which links on enterprise-level websites are active or inactive.

Information about how many internal links each web page can be quickly retrieved. This information lets you quickly change your website's architecture to transmit as many internal connections as possible to your primary landing page.

It enables you to examine pages missing the meta title and description. You can also look for pages with duplicate meta descriptions and titles.
Cons:
The maximum crawl speed is 20 URLs/s, although it may be increased by 2.

They should offer hosting services for the crawler or use a web-based solution.
SpyFu
SpyFu is an excellent competitive intelligence tool for SEO and marketing. It provides you with actionable insights into the search campaigns of your rivals and aids in developing your marketing strategies.

It is straightforward to use and gives you access to much information. The User Interface of SpyFu is highly user-friendly and does a great job of making navigation simple. It keeps up with the times by consistently updating its databases.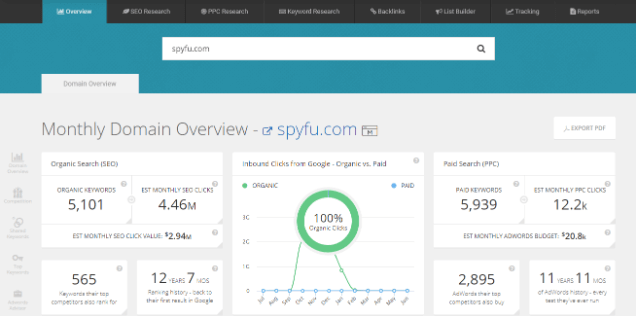 You can see the four key SEO features of SpyFu, including competitor analysis, PPC Research, rank tracking, and keyword research tools. The competitor analysis tool makes it simple to gain an edge over them by watching your rivals learn their marketing tactics. The reports SpyFu provides can also be used to study them and determine the keywords they're ranking for.
Using the PPC Research feature, you may view any website's paid keywords, cost per click, the total number of ads, monthly search volume, and cost. With its rank tracking, SpyFu enables you to monitor the evolution of your Google ads' search ranks. However, you may also monitor the position of your rivals with this tool.
SpyFu Pricing:
The latest pricing plans for this tool are shown in the image below: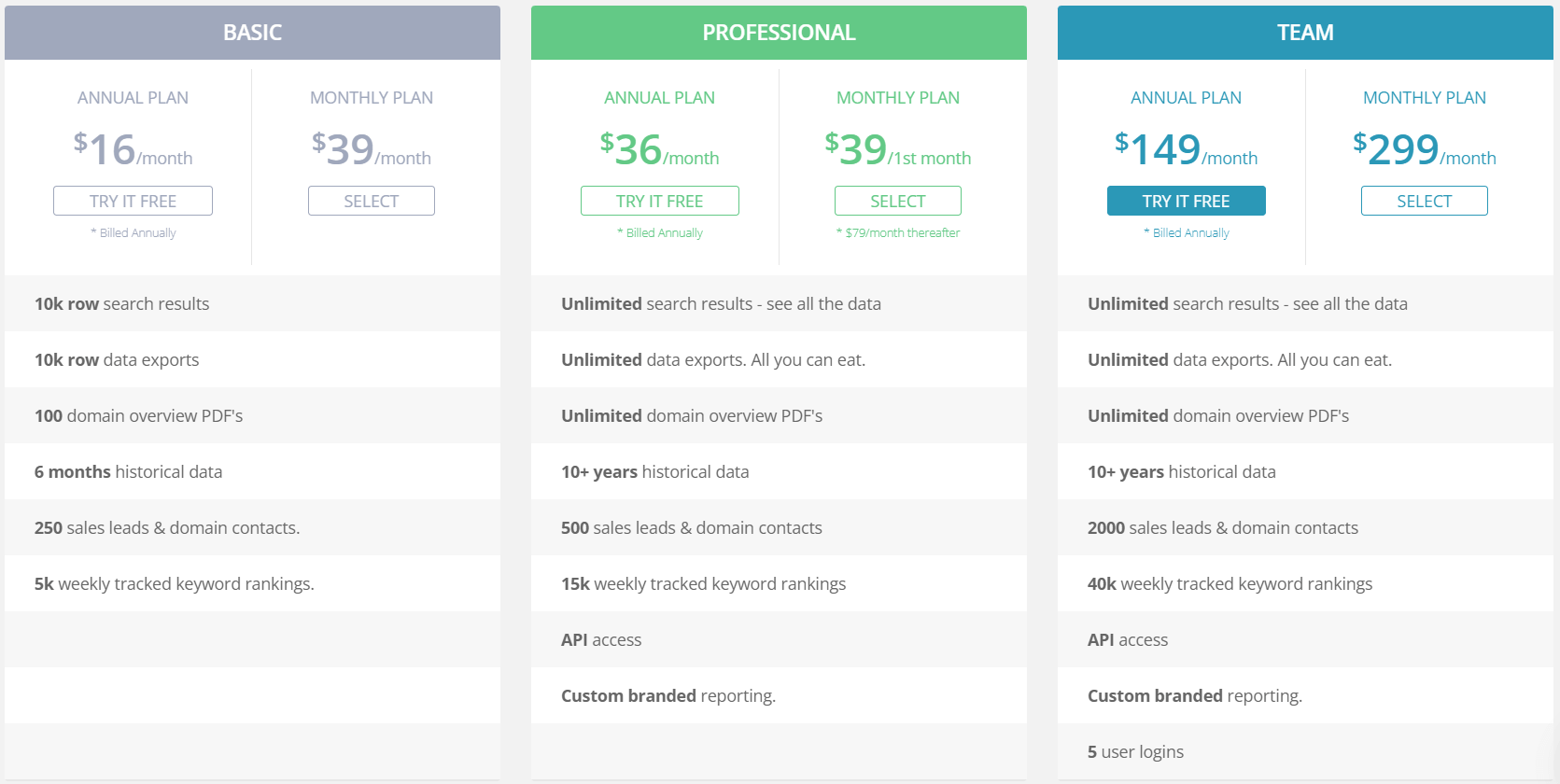 Pros and Cons
The pros and cons of SpyFu are mentioned below:
Pros:
It is excellent at giving competitive insights into specific fields.

It enables us to create a well-informed estimate based on actual analytics to enhance our and our client's sites.
Cons:
The tool is somewhat pricey. Therefore, it's possible that no small business could afford this tool.

Its crawler does not cover the entire web. The database includes the keywords for particular domains. Also, for inexperienced users, the results may be rather difficult.
VWO
VWO is an A/B testing and conversion optimization platform enabling growing companies to perform qualitative and quantitative visitor research, create an experimentation plan, and run ongoing tests on their digital properties.
It combines the complete CRO (conversion rate optimization) process in one location with its five features Plan, Track, Test, Analyze, and Target. Online firms can use VWO's process- and data-driven conversion optimization guidance to increase their conversion rates.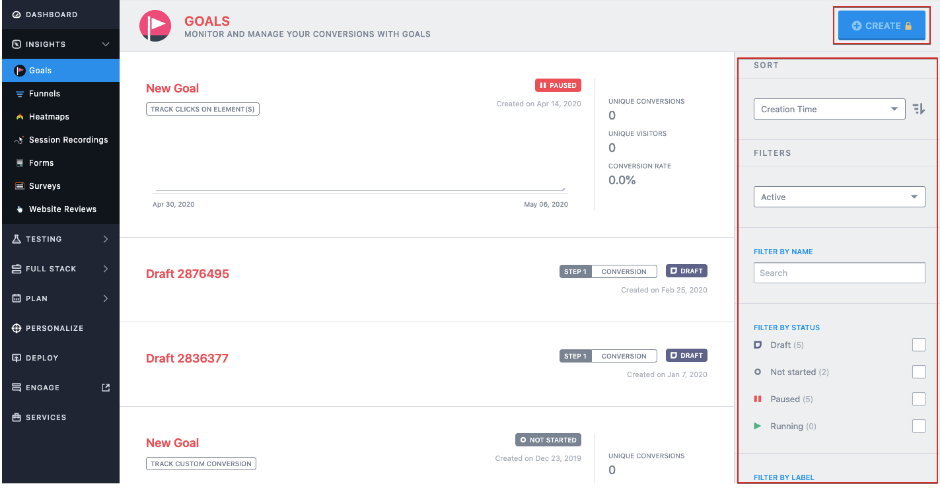 The above screenshot shows the VWO Goals dashboard enables you to manage and track the progress of all your goals. Other features of VWO include a Code editor, an On-page survey, revenue tracking, integrated heatmaps, click maps and scroll maps, and a DIY visual editor.
You can check out the pricing of this tool from the snapshot attached below: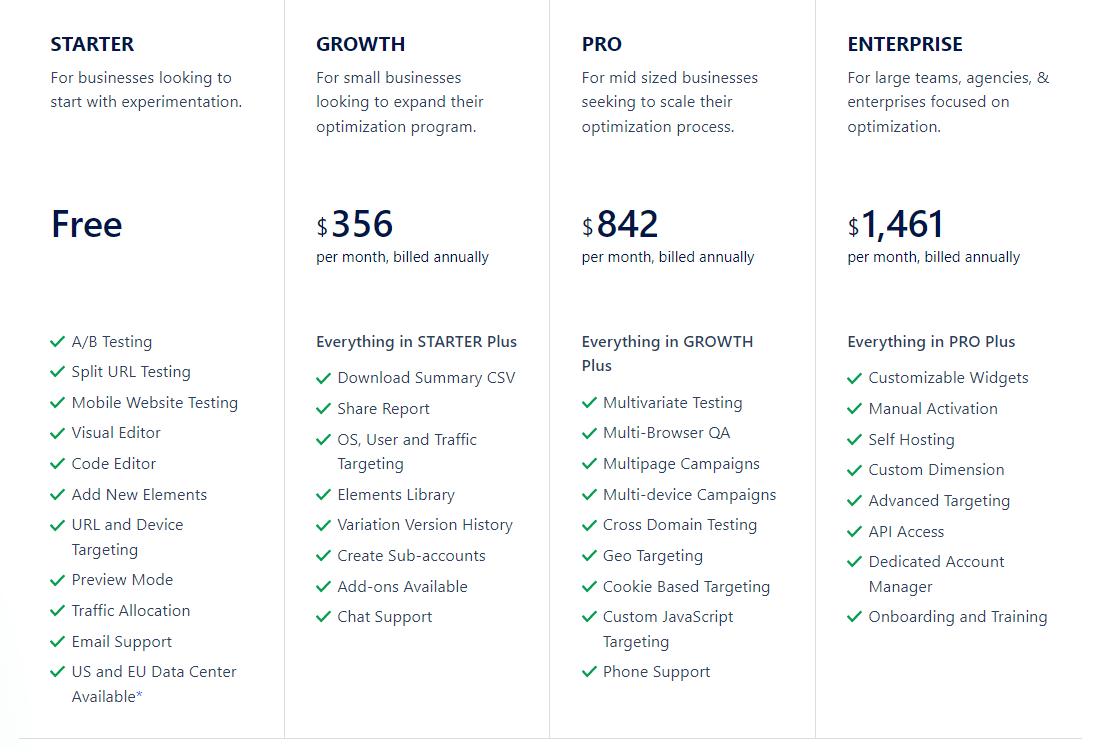 Pros and cons:
The pros and cons of VWO are mentioned below:
Pros
Point-and-click Visual Editor helps you quickly edit any element (text, images, shapes, background, etc.) on your webpage, including Shadow DOM elements.

It provides a massive collection of widgets to test and see how they affect conversion rates.

Its AI tool requires significantly less effort to develop new, compelling headlines, product descriptions, CTAs, and other ideas for well-optimized web pages.
Cons
Real-time data is limited. Sometimes all the traffic traveling to the pages cannot be observed, which slows down the data collection process.

There is no option to share the credits among the teams.
Mangools KWFinder
Mangools KWFinder is one of the best KW search tools available today. Its attractive design, powerful functionality, and seamless interface make it a fantastic option for website owners. However, experienced web admins might benefit from it as well.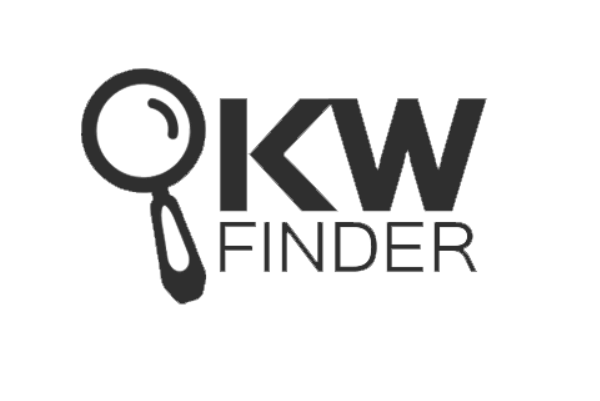 Its best feature is SERP analysis, which helps you determine whether your keyword and selection were appropriate and ranked higher than SERP competitors. More importantly, it can help you decide how competitive keywords are based on their AdWords price. It examines the Domain Authority, Page Authority, Citation Flow, Trust Flow, Links, and Estimated Visits.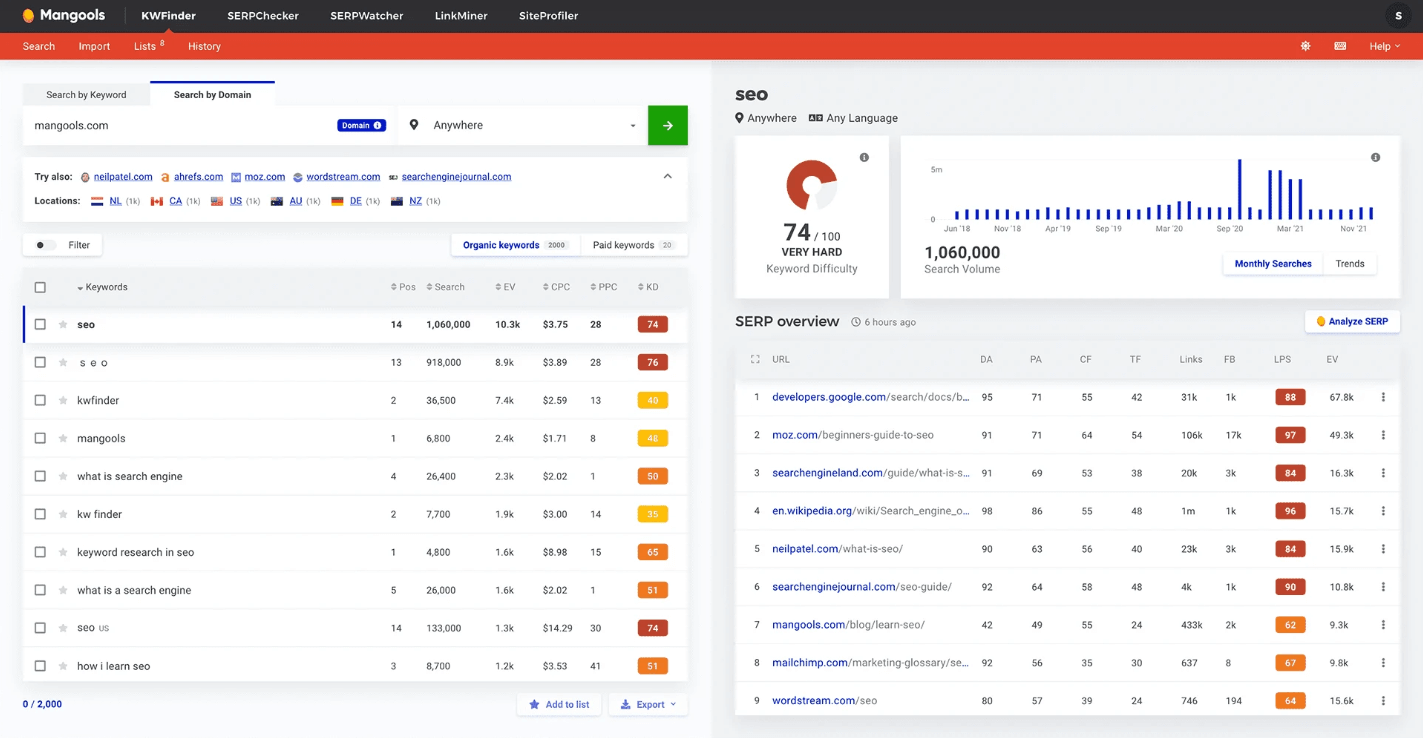 The above screenshot shows many great SEO features of Mangools KWFinder, including SERP analysis, search volumes, trends, filter, search by domain, and search by keywords. The best feature is the keyword tool that helps find related keywords to increase your web traffic.
Mangools KWFinder Pricing:
The pricing plans of Mangools KWFinder are shown below: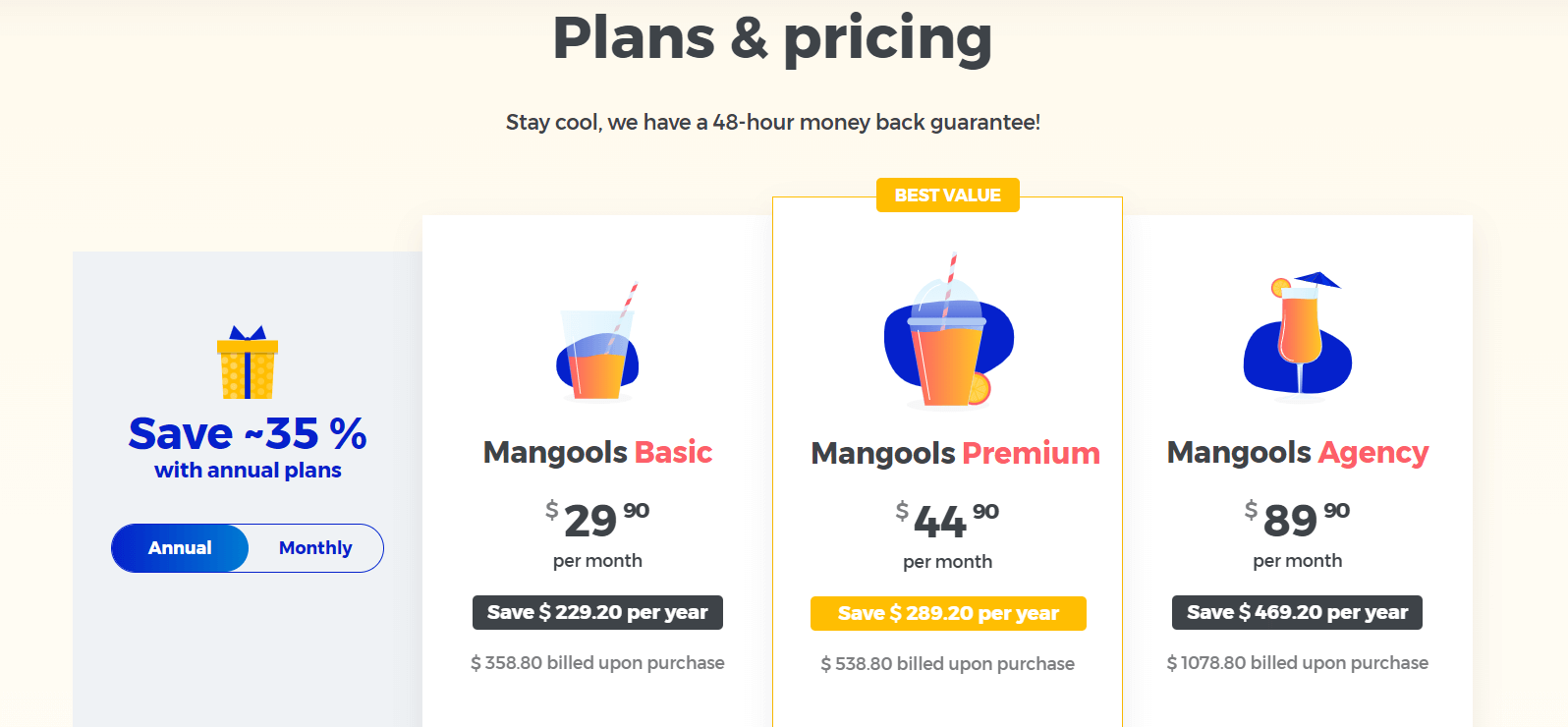 Pros and cons
The pros and cons of Mangools KWFinder are discussed below:
Pros
The user-friendly interface of any keyword research tool is available today.

Strong data aggregation for keyword analysis

Numerous options for finding exceptional keyword opportunities

One of the most affordable tools available for keyword research
Cons
The preview of the SERP Checker cannot be altered.

The results for keywords are capped.

It is not the best tool for researching competitors.
Frequently Asked Questions
Which SEO tool is the best for increasing my website traffic in 2023?
Semrush is one of the most efficient and feature-rich SEO tools accessible right now, according to both users and SEO professionals. You can use Semrush to create and track PPC campaigns, analyze your website in-depth, and raise your overall search engine rankings. It is also one of the best free keyword research tools available today.
Can I manage my website's SEO by myself?
Yes! Your website's SEO can be handled by you alone. You need to know the SEO tools and functions you require. Additionally, you must be familiar with how to use these SEO tools. Many software, such as Semrush, provide comprehensive guides on DIY SEO to help you start your SEO journey.
Which are the best free SEO tools for beginners?
Many great free SEO tools are available today. Some of them also offer premium versions. The best free SEO tools for beginners include Ahrefs, Ubersuggest, Mozbar SEO Toolbar, Screaming Frog, etc. Bing webmaster tool is another free tool which extremely user-friendly and efficient.
Which free SEO tools are the best for small businesses in 2023?
Many free SEO tools can help strengthen your small business's SEO strategy, such as free keyword research tools such as Google Analytics, Google keyword planner, Google Ads, and Google Data Studio. These free SEO tools contribute to optimizing your website and improving your SEO strategy by identifying areas where you can improve your website to boost your rankings and potentially increase traffic to your website.
Conclusion
There are hundreds of SEO plugins and web tools online, and choosing "the right one" is challenging. I assessed and filtered out the top 10 SEO tools based on the most critical ranking factors according to Google. Those that show accurate results if used correctly.
If you still need to start an SEO campaign for your website, it's high time you start. Optimization is a must for any business, big or small.
"On a broad scale, I see SEO becoming a normalized marketing tactic, the same way TV, radio, and print are traditionally thought of as marketing tactics." -Duane Forrester.
Besides being a crucial component for acquiring customers, SEO can also play a vital role in retaining them. Though it is impossible to predict what Google will do next, a marketer can stay updated with Google's changing trends and try to make their website as user-friendly and helpful as possible for the target audience. That way, they will be able to retain the consumers' trust.